U.S. Soccer Development Academy closes its doors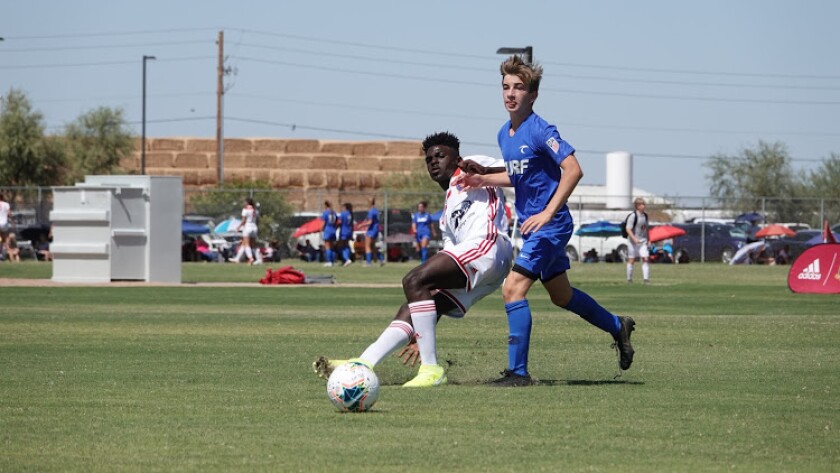 The U.S. Soccer Federation determined on April 15 that operations for its development academy, a national youth league for boys and girls, would be ending, effective immediately.
The federation pointed to financial hardship brought on by the coronavirus pandemic as the official reason the Development Academy was being discontinued.
"This was an incredibly difficult decision to make, but the extraordinary and unanticipated circumstances around the COVID-19 pandemic have resulted in a financial situation that does not allow for the continuation of the Development Academy program into the future," said a statement released by the U.S. Soccer Federation. "We know that suddenly discontinuing a program that has been with U.S. Soccer for many years is shocking, but these unprecedented times required acting now."
The Development Academy started in 2007. Goals for the program included a focus on training in a competitive environment that brought the top players together into the same pool.
"It's hard to have a great training environment without having really good players training alongside of you, competing with you," said Los Angeles Football Club Academy Director Todd Saldaña, who won the under-18 national championship in the Development Academy as the head coach of Pateadores in 2011.
"I think that's part of the buzz about the Development Academy. A lot of players and talent went there, which created a very competitive environment, but also, there were standards of training, a certain amount of hours of training, and even standards in the way each club performed in matches, which I think served its purpose up to a certain degree."
Vanguard University men's soccer coach Randy Dodge said that the Development Academy provided an ideal situation for recruiting.
"That opened up another avenue for us as college coaches to be able to see different kids at the level that we needed to see them at, which was against the best players in the country," Dodge said.
Dodge said that many of the players on the boys' side initially thought that they were on the road to becoming professional soccer players. He said that as time went on, those same players were winding up with college programs.
The Development Academy did not allow for its players to compete for their high school teams.
For players like Kai Peterson, whose goal was to play soccer in college, it was not worth missing out on playing high school soccer.
Peterson, bound for the University of San Diego, finished out his time with the Edison High boys' soccer team as a senior midfielder in the winter.
Craig Peterson has had two sons — Kai and Dane — play academy soccer.
"You can have the highest quality [Development Academy] game, Pateadores versus Galaxy, and it's friends and family," Craig Peterson said. "It's almost routine, like it's another training game. There's no atmosphere. The atmosphere around high school with your friends and the student body, that I think is going to be awesome for those kids to now experience."
The fact that the Development Academy did not allow its players to play high school soccer did not wholly shape the experiences of the players participating.
Dane Peterson, who will enter high school next year, said he enjoyed his time in the academy, remembering the intensity of the practices and the scouts at the games.
"I think it actually helps me that the [Development Academy] is closing because I can still play at the highest level and get to play high school, so it's helping players like me," Dane Peterson said.
High schools may stand to gain from the loss of the Development Academy. The Elite Clubs National League (ECNL) is one of the expected landing spots for non-MLS academy teams. The ECNL calendar does not interfere with the high school season.
Fountain Valley boys' soccer coach Jason Smith said that he knew of up to four players at the school that would have played academy that may now get the opportunity to play for both their club and high school teams.
Malachi Wright, who played forward for the Barons as a sophomore, is contemplating a return to the high school team. He played academy soccer with the Irvine Strikers this year.
Brielle Benedict, a sophomore at Newport Harbor, had played in the Development Academy for Pateadores since seventh grade. Time together had formed a tight team bond, especially through showcase events that took them to places like North Carolina, Florida and Colorado.
"I enjoyed traveling a lot, and I also enjoyed all the friendships I made," Benedict said. "It seemed like we really bonded on the trips because my team traveled together."
Newport Harbor girls' soccer coach Justin Schroeder pitched high school soccer as its own opportunity, noting that the Development Academy could not always deliver substantial playing time to its players, especially at impact positions. High school soccer also had the developmental advantage for underclassmen of being able to play against older players.
"I just think they kind of billed it as opportunities, but if you kind of look at how they did it, it was kind of like taking away opportunities," Schroeder said of the Development Academy. "Kids weren't allowed to play high school, which is a great developmental tool. They don't really have their finger on the pulse of American soccer right now.
"They kind of were just looking at it from their own terms, if we can just get them to train five days a week and this and that, a year-round program, we're going to create all of these better players. In the end, you were kind of taking away opportunities versus adding."
Ocean View boys' soccer coach Lucas Kim, who is also the director for the California Rush soccer club, felt that the Development Academy had become an extension of the existing club soccer model. His best hope would have been that the U.S. Soccer Federation would have handled the costs for clubs looking to join the Development Academy.
"The Development Academy gave top elite players an outlet to be grouped with others in the same level, but unfortunately, the model was married to the similar pay-to-play [format] that clubs had morphed into over the last few decades, which simply created a higher tier in the market that the industry could push."
Support our sports coverage by becoming a digital subscriber.
For more sports stories, visit latimes.com/socal/daily-pilot/sports or follow us on Twitter @DailyPilotSport.
---
All the latest on Orange County from Orange County.
Get our free TimesOC newsletter.
You may occasionally receive promotional content from the Daily Pilot.