U.S. Open of Surfing canceled due to COVID-19 pandemic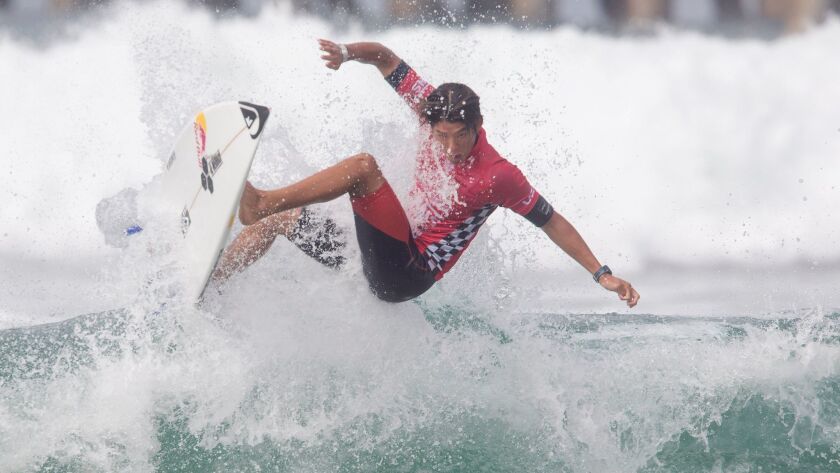 Crowds will not flock to the south side of the Huntington Beach Pier this summer to watch some of the top professional surfers in the world.
The U.S. Open of Surfing, scheduled for Aug. 3 through 9, was canceled Monday due to continued health concerns and current guidelines surrounding the COVID-19 pandemic.
The free-of-charge event is the largest professional action sports competition and festival in the world, and the world's largest surfing competition. It also features skateboarding and BMX biking events.
"The U.S. Open of Surfing has always been about bringing people together in a healthy, fun and interactive environment, and given the size and scale of the event, we can't see a way to do that this year without sacrificing the very thing that makes it so special," said Jennifer Lau, vice president of action sports at IMG, in a statement. "This event would not be the same without the amazing surf, skate and BMX fans who come out to connect and have fun year after year. We can't wait to return in 2021 and will be working harder than ever to stage another world-class event at Huntington Beach next summer."
Vans is the title sponsor of the U.S. Open of Surfing, which was won in 2017 and 2018 on the men's side by Huntington Beach local Kanoa Igarashi. He lost in round four last year, as Yago Dora of Brazil claimed the title.
Sage Hill School alumna Courtney Conlogue has won the women's event twice but lost in final last year to Sage Erickson of Ojai.
"Our mission is to provide an authentic action sports community experience at the U.S. Open of Surfing," Vans vice president of marketing Carly Gomez said in a statement. "It's a unique environment that showcases our incredible network of athletes, artists, and brand collaborators who all represent creativity. We look forward to bringing the evolution of this event to life in 2021 when the event returns to Huntington Beach."
There will be surfing competitions near the pier this summer, as the National Scholastic Surfing Assn. West Coast Regional Championships will be held July 9 through 12. The NSSA National Championships will be Aug. 1 through 8.
Huntington Beach just started allowing passive beach use on Saturday, though social-distancing requirements remain in place.
::
Support our sports coverage by becoming a digital subscriber.
For more sports stories, visit latimes.com/socal/daily-pilot/sports or follow us on Twitter @DailyPilotSport.
---