Column: Joe Surf: Sharks might not be migrating to Baja, as expected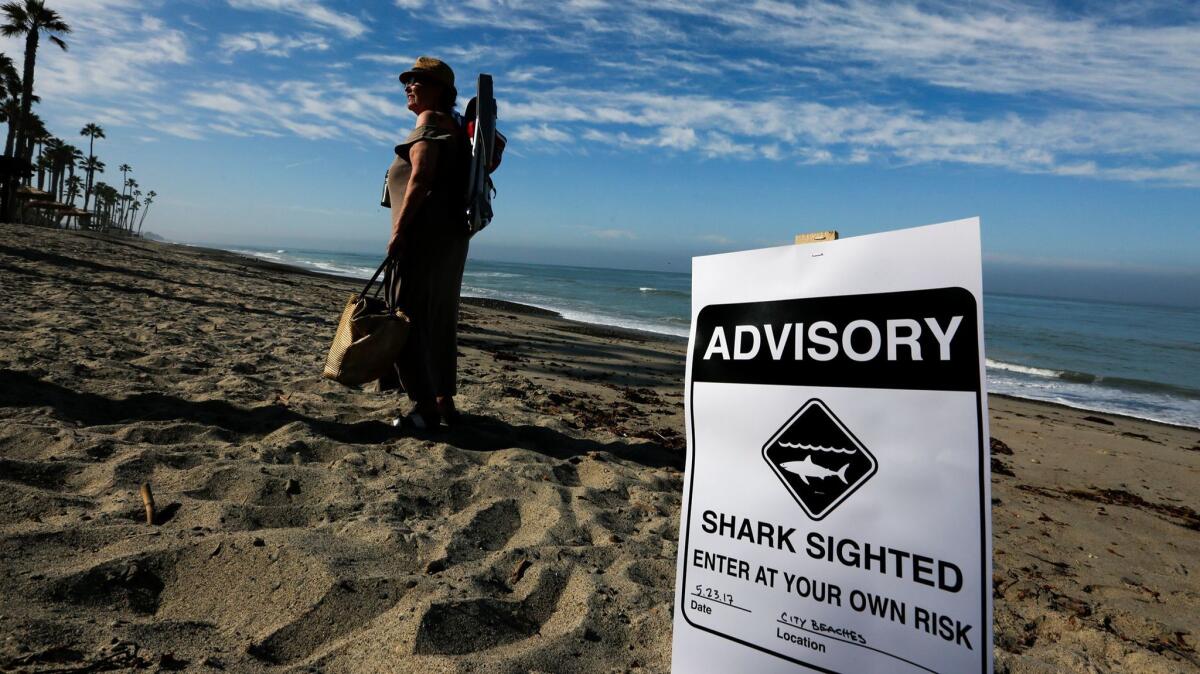 My 14-year-old son regularly nags me to take him to Lowers, even though the Huntington Beach Pier is five minutes away.
I get it. The waves are better there. Problem is, the sharks seem to like it better there too.
I guess that doesn't matter to my son and many of his surfing buddies, who are calling the surf spots in San Onofre and San Clemente "Shark Park."
It's all fun and games until someone loses an eye, right? Or a leg.
Granted, the chances of getting attacked by a shark are slim. But a quote from shark expert Chris Lowe of Long Beach State caught my eye. Basically, the sharks we've seen recently are juvenile great whites. But the general belief was that they would leave once they became adults.
Lowe, however, has a different theory. Usually, those juveniles would have migrated south to Mexico for warmer waters. But they didn't, and they might not leave at all.
"The best evidence I have is that the last two winters none of those animals have migrated south to Baja but one — a 2-year-old, 8-foot shark," Lowe told patch.com. "That, we attribute to El Nino because the water [temperature] never got below 60 degrees.
"The sharks are now getting bigger. They may be able to tolerate slightly cooler conditions. The bigger they get, the less likely they are to migrate. It all depends on feeding here."
In other words, get used to it.
"For 40 years we have had unfettered access to the ocean," Lowe told Patch.com. "We never had to deal with predators because they were gone. I think we need to recognize that these predators are coming back. When we go in the ocean, it is not Disneyland. Your safety is not guaranteed."
Hall of Fame inductees
I'm sure it's only coincidence, but the two surfers who will be inducted into the Surfers Hall of Fame this summer are surfers who have had close encounters with sharks.
Bethany Hamilton and Mick Fanning will be immortalized with their hand and footprints in cement in front of Huntington Surf & Sport at 9 a.m. Aug. 4 during the week of the U.S. Open of Surfing.
Hamilton is an author, motivational speaker and still a great surfer, despite losing an arm in a shark attack in 2003 off Kauai, and Fanning survived unscathed when attacked by a great white while surfing in the finals heat of the J-Bay Open in South Africa in 2015.
"Bethany Hamilton has become a source of inspiration to millions through her story of determination, faith and hope," Huntington Surf & Sport owner Aaron Pai said on his website, hsssurf.com. "We are honored to be able to thank Bethany for her achievements and her contributions to our surfing world! Amazing surfer! Amazing athlete! Amazing person!"
On anning, Pai said: "Mick has overcome some major hurdles in his life while working his way to the top of the sport. Throughout it all, Mick has always shown the heart of a champion and represented surfing in the most positive way! We are honored to be able to thank Mick for his achievements and contributions to our sport of surfing!"
Shark Tours
While the lineups in many surf spots in Orange County have thinned out as a result of the ongoing Great White sightings, there is one place that's getting more crowded.
That would be on the deck of a whale-watching tour boat.
Dana Wharf Sportfishing and Whale Watching has added a "Shark Search Adventure" to the list of offered activities. Davey's Locker in Newport Beach said it might add such a tour with more consistent sightings. Newport Landing as of now has no shark tour.
NSSA Western Regionals
The National Scholastic Surfing Assn. held its Western Regionals recently at the south side of the Huntington Beach Pier, with many locals taking home trophies.
Kade Matson, 15, of San Clemente stole the show, winning two divisions — the Open Men and Open Juniors. Following are the winners in all other divisions.
Open Division
Women — Kirra Pinkerton (San Clemente); Boys — Lucas Owston (Oceanside); Mini Groms — Cannon Carr (San Clemente); Girls — Olivia Pessanha (San Diego); and Super Girls — Sawyer Lindblad (San Clemente).
Explorer Division
Men — Nick Marshall (Encinitas); Juniors — Parker Cohn (Newport Beach); Boys — Jabe Swierkocki (Ventura); Menehuene — Cole McCaffray (Cardiff); Super Groms — Makai Bray (San Clemente); Women — Ella McCaffray (Cardiff); Girls — McCaffray; Super Girls — Eva Hoffman (Santa Barbara); Super Seniors — Mike Lamm (Oxnard); Duke — Lamm; and Women's Longboard — Liv Stokes (Aliso Viejo);
JOE HAAKENSON is a Huntington Beach-based sports writer and editor. He may be reached at joe@juvecreative.com.
All the latest on Orange County from Orange County.
Get our free TimesOC newsletter.
You may occasionally receive promotional content from the Daily Pilot.