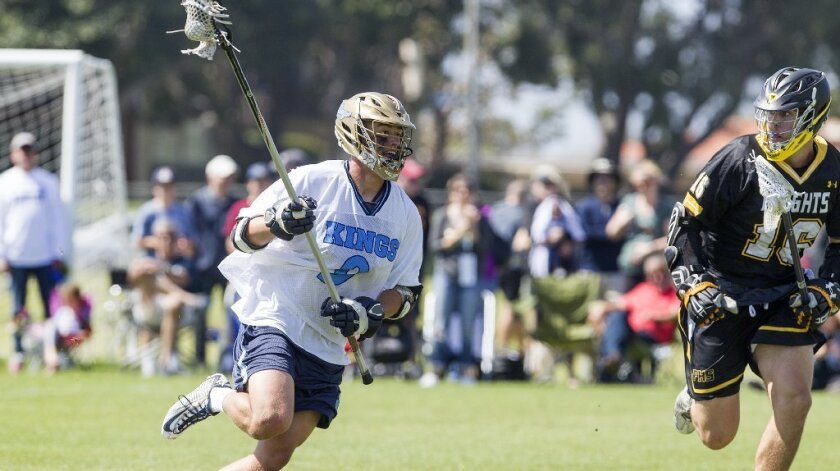 Corona del Mar High senior defender Jordan Pakzad earned U.S. Lacrosse High School All-American honors and was named the U.S. Lacrosse Orange County Player of the Year for leading the Sea Kings to the U.S. Lacrosse Southern Section South Division finals for the second straight year.
Pakzad and senior midfielder Will Favreau are the two CdM players (18-3) making the U.S. Lacrosse All-American team. The top-seeded Sea Kings lost to No. 3 Foothill 9-3 in the South Division championship game.
Sachin Gokhale and Brennan Greenwald received U.S. Lacrosse All-Academic recognition. Gokhale is a two-time recipient.
The CdM players on the U.S. Lacrosse All-Orange County first team, along with Pakzad and Favreau, are Gokhale, a senior attacker, Greenwald, a senior defender, sophomore goalie Kyle Cord and senior faceoff specialist Nick Puglia.
Pakzad, who had three goals, is heading to play at NCAA Division I Rutgers.
Favreau finished with 33 goals and nine assists. He is going to play at Colorado, a Men's Collegiate Lacrosse Assn. Division I program.
Gokhale produced 41 goals and 27 assists. He is attending Cal Poly San Luis Obispo, a MCLA Division I school.
Greenwald, who had two assists, is bound for NCAA Division I Drexel.
Cord made 181 saves and had a .660 save percentage and a 4.52 goals-against average.
Puglia won 181 of 324 faceoffs.
The Sea Kings on the U.S. Lacrosse All-Orange County second team were junior attacker Eric Fries, senior midfielder Ryan Meckler, junior defensive midfielder Blaine Nelsen and junior defender Landon Whitney.
The third team included CdM junior midfielder Bobby Purcifull, senior midfielder Kyle Young and sophomore defensive midfielder Kenan Ressler.
Huntington Beach senior long-stick midfielder Ricky Masters and junior goalie Grady Mercier were honorable mentions.
The two helped the Oilers win the Sunset League title and reach the U.S. Lacrosse Southern Section South Division playoffs. Huntington Beach (9-10, 6-2 in league) was the No. 16 seed in the postseason, and it lost at CdM 11-1 in the opening round.
— From staff reports
---