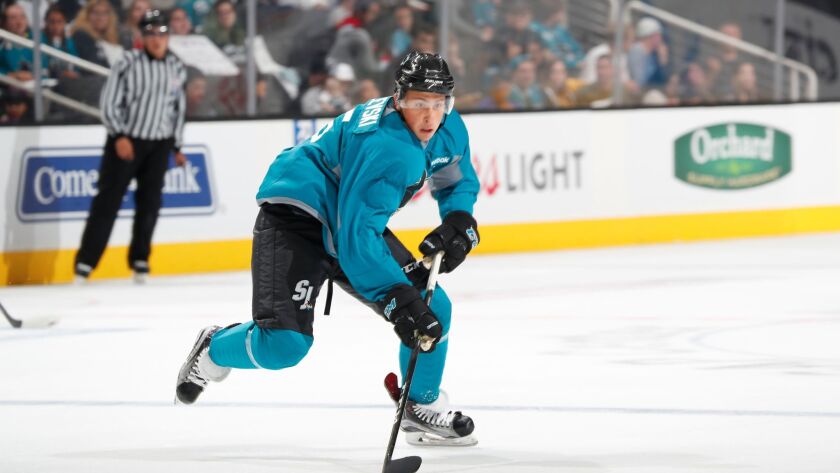 If one needed any convincing of hockey's growing appeal in Southern California, they need only look at the recent success stories beginning to pour in.
Huntington Beach native Sasha Chmelevski is the latest to make good on his local training. The former Anaheim Wildcat was taken by the San Jose Sharks in the sixth round (185th overall) in the 2017 National Hockey League Draft.
"The draft day was really exciting," Chmelevski said. "It was obviously nerve-wracking when you're sitting there, but I'm glad that my family was there to support me. I heard my name get called by the Sharks, and it was a great feeling to hug my mom, my dad, and my brothers."
Chmelevski, 18, lived in Surf City for 12 years, although he also spent part of his life in Detroit, Mich., otherwise known as Hockeytown USA. Nevertheless, being drafted by the Sharks felt somewhat like a homecoming for Chmelevski.
"I think just starting out in California, it's always been home to me," he said. "It's exciting to be drafted by a California team, especially where I've been born and raised as a kid."
Being drafted is the first step toward the ultimate dream of playing in the NHL. Another Orange County native realized that goal this past season. Nic Kerdiles, a former student at Irvine Beckman High, made his NHL debut with the Anaheim Ducks in February.
After attending a development camp with the Sharks, Chmelevski will likely return to the Ottawa 67s, his junior team in the Ontario Hockey League. He has also spent time with the Sarnia Sting.
A common thread on both of those clubs has been teammate Patrick White. They were linemates in Sarnia. White said that Chmelevski was shy upon his arrival to the major junior league circuit, but his maturity and playmaking ability were ahead of schedule.
"I truly believe he kick-started my junior hockey career," White said of Chmelevski. "The year Sasha came into the league, we played on the same line together, and that year, I surpassed all of my season highs (in goals, assists, and points).
"It's hard to come into the OHL as a 16-year-old and have the impact that Sasha had. He was the spark to our line. If he was at his best, our line was at its best."
In 29 games for the Sting during the 2015-16 campaign, Chmelevski scored nine goals with eight assists. His production increased to 21 goals and 22 assists in 58 games with Ottawa the following season.
When a teammate gets drafted, it adds motivation and character to a locker room. White says that Chmelevski, like others who have been selected, has earned the respect of his peers and the leadership role that goes with it.
"At the end of the day, every NHLer that I have played with as well as Sasha all had one thing in common, and that is the work ethic and desire to want to be the best," he said. "I know Sasha is on the right path of becoming a pro sooner rather than later."
Chmelevski is not concerned about being a sixth-round selection. Nor should he be. The Sharks traded up, sending two seventh-round picks to the New Jersey Devils to take the 6-foot, 190-pound center.
Former Detroit Red Wing Pavel Datsyuk was Chmelevski's favorite player growing up. He idolized the two-time Stanley Cup champion for his elite two-way game. Datsyuk received the Selke Trophy, given annually to the best defensive forward in the NHL, in three consecutive seasons from 2008 to 2010. All of these accomplishments came from a player who was selected 171st overall.
Other notable late-round picks include Theoren Fleury (166th), Luc Robitaille (171st), and Henrik Zetterberg (210th).
"I think the draft is just a number," Chmelevski said. "Obviously, it's exciting when you hear your name called. For me, I think I just use it as added fuel to the fire with all the people that were called ahead of me. I just use it as motivation to make me a better hockey player each and every day."
Chmelevski is the first in his family to play hockey. He has two younger brothers, Nico (14) and Ilia (12), who both play the game at a Triple-A club level in Detroit.
It may have been a chance encounter, but the local product has already begun to connect with other athletes in his future home. He ran into Golden State Warriors forward Andre Iguodala at Los Angeles International Airport.
He shared the photo with Iguodala on Twitter, and the former NBA Finals MVP replied, "Welcome to the bay kid."
Twitter: @ProfessorTurner
---