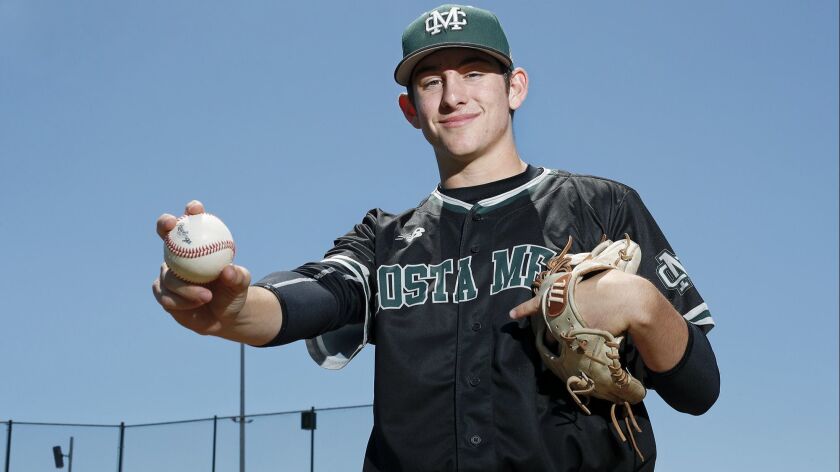 Cameron Chapman can't remember a life without baseball.
The Costa Mesa High senior is well-adjusted on a baseball diamond and genuinely loves the sport.
"I mean, I can find pictures of me holding baseball bats in my sleep," Chapman said. "As soon as I could walk, I was swinging a bat."
Chapman's father Clark also was a Mustang baseball player. He graduated from Costa Mesa in 1987 and played first base and outfield. Cameron's older brother Carter graduated from the program two years ago and now pitches for Lakeland University in Wisconsin.
"My dad brags about the two home runs he hit his sophomore year, but after I beat his record he kind of hasn't mentioned it," Cameron Chapman said. "He didn't do anything after that, but he just kept giving me stuff and saying I couldn't talk anything until I beat his record. I beat that my sophomore year [by hitting three home runs]."
In terms of CIF Southern Section finals appearances, Cameron also has his old man beat.
The team captain had a senior season to remember, helping lead Costa Mesa to its third CIF title game and first since 1962. The Mustangs advanced to the Division 6 title game before losing 9-7 to Arcadia Rio Hondo Prep on May 18 at UC Riverside.
Chapman, who only was eligible to pitch three innings in the final, threw the final two innings of the game and allowed one run. He was two for four with a double and two runs scored.
"It was still a very cool experience just to be in that championship environment, with a lot of our school there, a lot of teachers, parents, Little League kids," he said. "It was super-cool to have all that support."
Chapman definitely helped lead Costa Mesa (16-12) on its historic run, even after the Mustangs went winless in four games against rival Estancia and finished third in the Orange Coast League.
"We just had a lot of guys adjusting to new positions at the beginning of the year," Chapman said. "We were still adjusting to a new coaching staff, learning how they coach the games. It was all just like a new routine.
"Those games [against Estancia] were hard. They were rough, just because it was our senior year. We all wanted to get that bell home for sure, but we can gladly say that Mesa got the All-Sports Cup, which was cool. The rest of our teams picked us up this year, so that was fun."
Chapman is naturally a catcher, the position he plans to play next season at Vanguard University. But for first-year coach Kevin Chavez's Mustangs, the three-year varsity player also played shortstop and pitched. He hit .382 this season with eight doubles and 15 runs batted in.
It was as a pitcher that he really turned heads, even though he hadn't pitched since his days in Costa Mesa American Little League. Chapman earned the win in all four of Costa Mesa's playoff victories, three as a starter and one in relief of Omar Muñoz. He fired a four-hit complete-game shutout in the semifinals, a 6-0 victory over Calvary Murrieta. Two rounds before that, Chapman allowed one run in six innings in a 10-1 win at Claremont Webb, the top seed in Division 6.
"Pretty much, nobody could score on him," Chavez said. "Even when he got guys on, he was able to overcome. It didn't bother him one bit. He would come back with a hard groundball or a strikeout to get himself out of it. It seemed the further along we went, the more focused he became. He was just a bulldog up on the mound. He was just tough. Honestly, on the mound, he wanted the ball in big games. He took the baseball and he thrived with it, and we were the benefactors of it."
Teammates took notice of Chapman's leadership, as well.
"He just wanted to do everything he could to help our team win," said Muñoz, a four-year varsity player and another big bat in the middle of the lineup. "I know he hadn't pitched in a while, but I feel like him stepping up and pitching helped us a lot. It just shows his character and his leadership. He leads by example. Every day at practice, he always does the right thing. That's just how Cameron is."
Chapman noted that the program went through several coaches during his time in it, and he wanted to do whatever the team needed. This year, that meant pitching.
His leadership helped the Mustangs enjoy a special season and do something that hadn't been done in 57 years.
"I think that we put on a really good run and showed everybody that Costa Mesa High School baseball is turned around and moving forward," Chapman said.
Cameron Chapman
Born: Nov. 18, 2000
Hometown: Costa Mesa
Height: 5 feet 11
Weight: 165 pounds
Sport: Baseball
Year: Senior
Coach: Kevin Chavez
Favorite food: Chick-fil-A
Favorite movie: "Good Will Hunting"
Favorite athletic moment: Hitting a go-ahead grand slam against rival Estancia as a sophomore in an Orange Coast League game.
Week in review: Chapman pitched a four-hit shutout in a 6-0 CIF Southern Section Division 6 playoff semifinal win over Calvary Murrieta on May 14, helping the Mustangs advance to their first CIF title game since 1962.
::
Support our sports coverage by becoming a digital subscriber.
For more sports stories, visit latimes.com/socal/daily-pilot/sports or follow us on Twitter @DailyPilotSport.
Twitter: @mjszabo
---