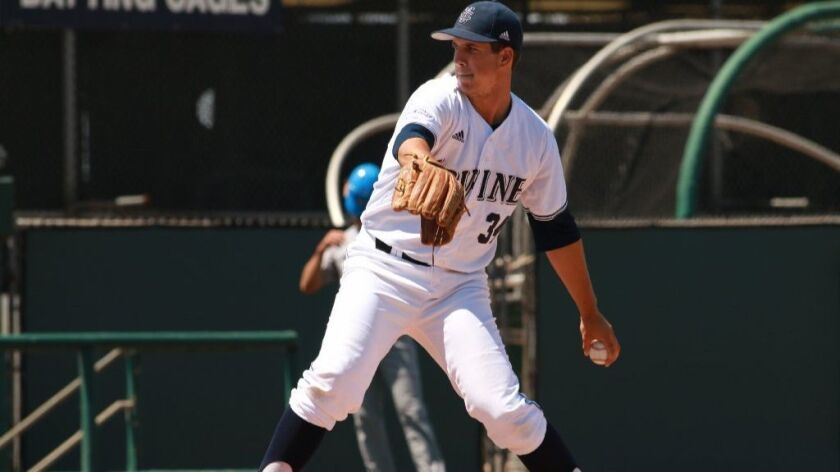 With Big West Conference rivals Long Beach State and Cal State Fullerton squaring off in a Super Regional beginning at Blair Field on Friday, UC Irvine is facing offseason issues that could have a huge impact on whether the Anteaters can rebound from a dismal 23-33 baseball campaign in 2017.
Coach Mike Gillespie is in place to guide UCI for a 12th season, at the end of which he will turn 78.
"I am very excited about [next season]," Gillespie said. "I'm really holding my breath about all the [offseason developments], including some guys coming back from injuries and the draft. But I do believe, and I think there is reason to believe, that we could be pretty darn good. And I am really and truly determined to not have this [losing season] happen again."
Critical to a seventh-place finish in the nine-team Big West were a handful of injuries to pitchers, including projected ace Cameron Bishop, who was felled the week before the season with a strained oblique muscle and did not return.
Gillespie said Bishop is throwing again and Gillespie expects the left-hander to be selected in the MLB Draft that begins on Monday.
"He won't get drafted where he could have been [if healthy]," Gillespie said. "And whoever drafts him will have until July 15 to sign him."
Gillespie said Bishop is slated to pitch in the Cape Cod League and Gillespie expects the major league team that selects Bishop to follow his progress up to the deadline, before making an offer that Bishop may or may not accept.
"[Bishop] won't sign for too little," Gillespie said, "knowing next year he could have a healthy senior year, which gives him some leverage. The Bishop thing is a very key deal."
Royce rolling onward?
Just as big, if not bigger, will be the status of prized recruit Royce Lewis. The JSerra senior shortstop, who was named Gatorade California Player of the Year on May 30, is considered a potential first-round pick.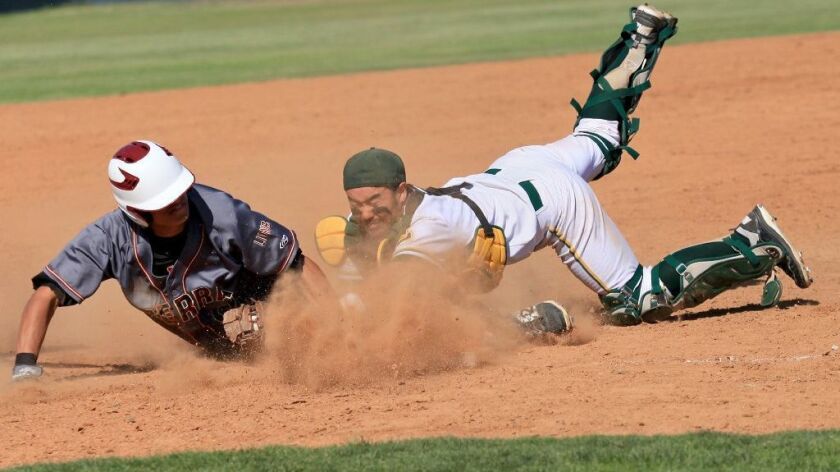 Typically, players chosen in the first round sign for large bonuses and forego their collegiate eligibility. But Gillespie seems to think there are factors that could lead Lewis to don a UCI uniform the next three years.
"This case is one of the more unique things I've been involved with or been around," Gillespie said. "It would be sensational for a lot of reasons if he came here."
Gillespie said Lewis' parents are not dazzled by the millions MLB teams could offer and they are strong advocates of the benefits of their son going to college.
"This could have a happy ending three years from now," Gillespie said.
Denholm's UCI future clouded
Gillespie said that gaining a commitment from Lewis in his junior high school season likely swayed other recruits to sign on at UCI, including right-handed pitcher Trenton Denholm, who recently completed his senior season at Oak Ridge High in El Dorado Hills, Calif.
The 5 feet 10, 180-pound right-hander has a fastball in the 92-94-mph range with quality breaking stuff, Gillespie said, all factors that could lead to him being drafted and signing a professional contract.
"There could be some team out there that believes that rather than having to pay him $3 million in three years, they would give him $600,000 to get him this year," Gillespie said. "We'll have to wait and see what happens."
More UCI draft prospects
Gillespie said senior closer Calvin Faucher, Bishop and NCAA batting champion and multiple All-American Keston Hiura, as well as Lewis, will be drafted. He said there is hope that senior shortstop Mikey Duarte, senior outfielder Adam Alcantara, and senior catcher Alex Guenette could also be selected in the later rounds.
Alcantara broke the hamate bone in his hand in the final regular-season series and underwent surgery to remove the bone on Wednesday.
'Eaters in the Cape
In addition to Bishop, pitcher Andre Pallante and infielder Christian Koss, both freshmen last season, have spots in the prestigious Cape Cod League, Gillespie said.
Bishop and Pallante are with the Chatham Anglers, while Koss will represent the Yarmouth-Dennis Red Sox.
The Cape Cod League schedule begins June 14.
Bergeron buoys Dirtbags
Gillespie said a big part of Long Beach State's success this season has been third base coach Greg Bergeron, who worked three seasons at UCI under Dave Serrano (2005-07), including the Anteaters' first College World Series appearance in 2007.
Bergeron, who followed Serrano to Cal State Fullerton and Tennesee, from which Serrano resigned last month, is in his second season running the offense for the Dirtbags.
"I think Bergeron has been part of the explanation for their success and I think [head coach] Troy Buckley would say the same thing," Gillespie said. "[Bergeron] runs the offense and it is as it always was at Fullerton; he always likes to put pressure on [the opposing defense]. They teach it well, drill it well and execute it well and Bergeron has made a difference, he really has."
Gillespie also said Bergeron should be a head coach soon.
"The resume is spectacular," Gillespie said. "I am surprised he has not been a head coach yet, because he is uncommonly good at developing an offense."
Born for the bump
A glance at Cape Cod rosters revealed the following names, aptly all pitchers: Jared Junk, a junior at Seattle University listed with the Chatham Anglers; Matthew Frisbee, a junior at UNC Greensboro with the Harwich Mariners; and Austin Kitchen, a sophomore at Coastal Carolina playing for the Cotuit Kettleers.
Twitter: @BarryFaulkner5
---