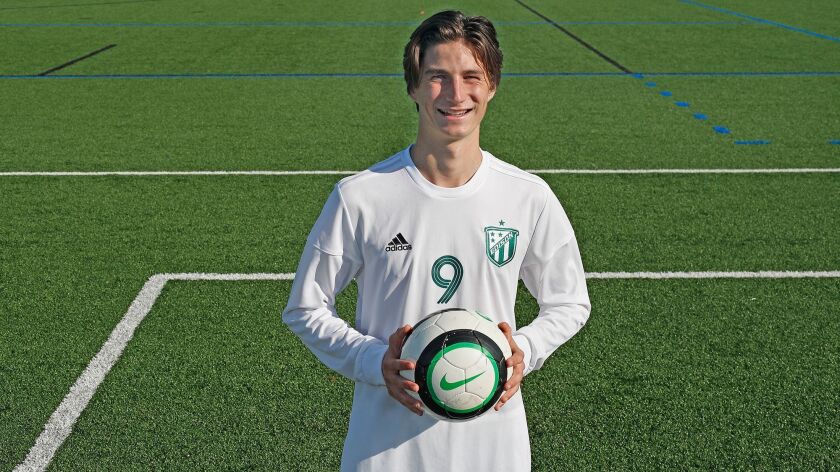 Jack Morrell's harshest critics used to be his parents, which in and of itself is not unusual.
The difference is that, in terms of soccer, the Edison High senior knew that his mother Rachel and father Brandon knew what they were talking about.
Both played collegiate soccer at California Lutheran University, where they met. Rachel, then known by her maiden name Wackerman, was a soccer star at both South Pasadena High and Cal Lutheran. In college she was a two-time Southern California Intercollegiate Athletic Conference Player of the Year. By the time she graduated in 1994, she had program records for career goals (106) and goals in a season (36), both of which still stand. She's a member of the Cal Lutheran Athletic Hall of Fame.
At Jack's soccer games for Edison High, he said his parents tend to sit off by themselves. This is probably best for all involved.
"They get so frustrated sometimes, because they wish they could be out there playing," Jack Morrell said. "They know so much about the game."
For the Chargers, Jack Morrell is showing a similar scoring touch in his senior year. The Daily Pilot High School Male Athlete of the Week leads the team with seven goals scored. Morrell, a team captain, had a goal in Edison's 2-1 win over Huntington Beach to open Sunset League play on Jan. 3. Two days later, he scored twice in the Chargers' 6-1 win over Marina.
The goal against Huntington Beach was special. It came a day after Morrell celebrated his 18th birthday. Edison coach Charlie Breneman called the strike from about 30 yards out "a banger."
"It bent around the keeper," Breneman said. "It was sort of a one-in-a-thousand type of a shot. It was quite a way to kick off league with that goal. Scoring two more in the next game sort of showed what we need out of him, being a standout player.
"He needs to be one of the guys who we rely on to score. I've been bugging him to step up a little bit and be that guy. He's finally started to step up and play that role."
Edison, ranked No. 8 in CIF Southern Section Division 1, is trying to defend its Sunset League title. Breneman said he expected the Chargers to be rebuilding this season, after losing 14 seniors off a team that advanced to the Division 1 quarterfinals and the CIF Southern California Regional Division I semifinals.
Instead, Morrell and fellow senior captains Zac Ingalls and Mitch Wilson, the goalkeeper, have kept the Chargers in the hunt. Edison (11-4-2, 3-1-0 in league) is tied with Fountain Valley for second place in league after falling to first-place Newport Harbor (4-0-0 in league) by a 1-0 score on Friday.
Morrell is closing in on hitting his jersey number, No. 9, in terms of goals scored. He said his goal is to get past that, into double-digits.
He showed promise as a sophomore for the Chargers, scoring seven goals on his way to second-team All-Sunset League honors. But Morrell said he had just one last year as a junior who came off the bench.
The issue was a different sport running long. Morrell was the Edison football team's kicker as a junior and senior. Last year, the Chargers won the CIF Southern Section Division 3 title and advanced to the CIF State Southern California Regional Division 1-A Bowl Game before losing to San Clemente.
The football season ran well into December, with the last game on Dec. 10. Morrell said he had to miss the first two boys' soccer preseason games.
"I kind of lost my touch a little bit," he said. "I wasn't playing club, either, because I had to focus on football."
But now, he's back stronger than ever. As a team captain, he wants to be a good role model to the younger players. That includes his younger brother Nick, an Edison sophomore who has split time between varsity and junior varsity this season.
As far as his parents go, they couldn't be more proud. And there is still just a bit of room for constructive criticism.
"[My mom] always gets mad at me when I don't score the easy ones," Morrell said with a smile.
*
Jack Morrell
Born: Jan. 2, 2000
Hometown: Huntington Beach
Height: 6 feet
Weight: 160 pounds
Sport: Soccer
Year: Senior
Coach: Charlie Breneman
Favorite food: Pizza
Favorite movie: "Ocean's Twelve"
Favorite athletic moment: Scoring a spectacular goal against Huntington Beach in the Sunset League opener.
Week in review: Morrell had three total goals as the Chargers opened Sunset League play with two wins, 2-1 at Huntington Beach on Jan. 3 and 6-1 against Marina on Jan. 5.
Twitter: @mjszabo
---