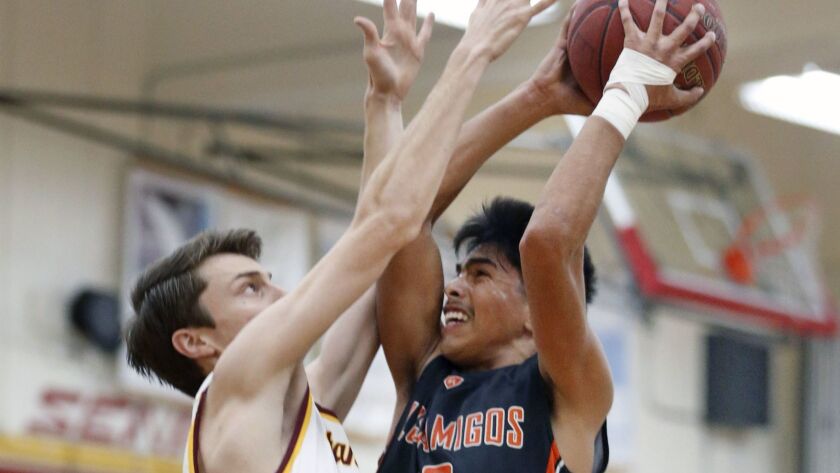 Los Amigos High's one-two punch was more than Estancia could handle in a nonleague boys' basketball game on Thursday night.
The Eagles gave it their best shot, battling back from a 14-point deficit to forge a back-and-forth encounter through the final quarter.
The Lobos had too much at the end, scoring eight of the final nine points to pull out a 64-59 triumph at Estancia.
Steven Ruelas led the way for Los Amigos, despite being held out until the second quarter because coach Larry Isaacs said he missed a practice. Ruelas hit his first four three-point attempts — he finished with six — en route to 25 points.
Brian Pacheco added 18 points as Los Amigos bettered last season's win total with a finish that was nearly as impressive as the start.
Center Kenny Arteaga made one of two free throws with 1:16 remaining to send the Lobos ahead, Ruelas and Pacheco followed by hitting one of two on successive possessions to push the advantage to three points. Arteaga made both of his attempts with 5.5 seconds to go to nail down his team's first victory over Estancia in Isaacs' nine-year tenure.
"I was really proud of them," Isaacs said. "We know what Estancia is going to bring. They're going to trap, they're going to bring everything they have. I told [my guys] to enjoy the pressure. We know it's coming. Just relax and play basketball."
Pacheco scored 10 points in the first quarter as Los Amigos pulled ahead by seven, and then Ruelas took over. Ruelas scored 14 in the second quarter as the Lobos opened a 14-point edge and then took a 39-27 lead into halftime.
The Eagles (11-5), playing without two players and with two more at less than full strength because of flu, stepped up their press in the second half. They forced Pacheco into foul trouble, and gave Ruelas little time to work. It helped Estancia go on a 12-2 run, and the score was tied at 46 when Mason Richards hit a half-court prayer at the buzzer.
A 10-6 run through the first 2½ minutes of the fourth quarter gave the Eagles a four-point lead, but Pacheco took charge from there. He hit a pair of free throws to trim the lead to two, scored on a drive through the lane to tie the score at 58, and then gave Los Amigos the lead with a free throw.
Estancia tied the score on an Alex Hendricks free throw when Isaacs drew a technical foul for his response when Pacheco picked up an offensive foul. Los Amigos scored the last five points to win.
"We had plenty of chances to win the game," Estancia coach Xavier Castellano said. "We missed a layup, we missed free throws, we didn't execute. Got to give [Los Amigos] all the credit. They played really well."
Cameron Jones led the Eagles, who open Orange Coast League play Wednesday against Saddleback, with 16 points, and Hendricks added 12. Arteaga scored 12 for Los Amigos, which begins its Garden Grove League slate Wednesday against Rancho Alamitos.
Los Amigos 64, Estancia 59
Los Amigos 19 – 20 – 7 – 18 — 64
Estancia 12 – 15 – 19 – 13 — 59
LA – Ruelas 25, Pacheco 18, Arteaga 12, Lee 6, Doan 3.
3-pt. goals – Ruelas 6, Pacheco 1, Doan 1.
Technicals – Coach Isaacs.
E – Jones 16, Hendricks 12, Covey 10, Winters 8, Sullivan 6, Bishop 4, Richards 3.
3-pt. goals – Jones 1, Hendricks 1, Sullivan 1, Richards 1.
SCOTT FRENCH is a contributor to Times Community News. Follow him on Twitter: @ScottJFrench
---