Daily Pilot High School Male Athlete of the Week: Nathan Wilson threw gem for Fountain Valley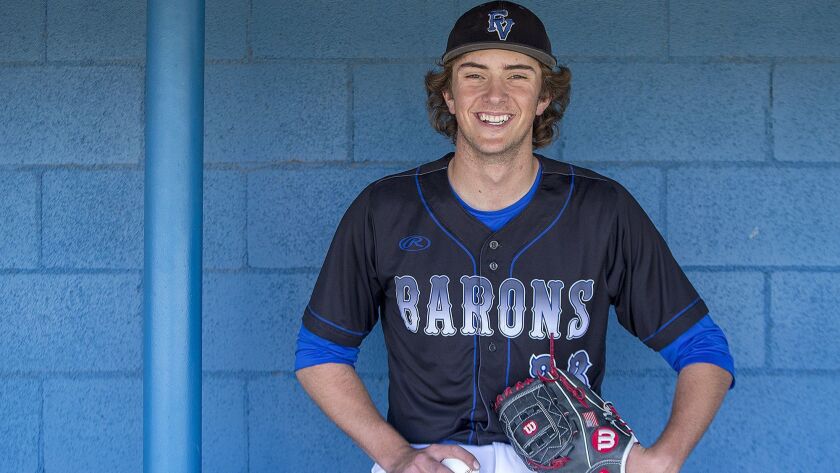 Nathan Wilson isn't sure how many wins he has racked up in three seasons as a starting pitcher for the Fountain Valley High baseball team.
Sunset League wins are what matters, Wilson said. In one game, he was able to double his total of those on March 16 at Los Alamitos.
Wilson made sure that the Barons got off to a good start in a league opener. He threw a complete-game shutout as Fountain Valley earned a 3-0 win.
Wilson, the Daily Pilot High School Male Athlete of the Week, had his fastball, slider and curveball all working. He allowed just two hits, striking out four and walking just one.
"First shutout I've thrown in league, and second league win as a starting pitcher," said Wilson, who also won at Marina last season. "It was the sixth inning and I just glanced at the scoreboard, and it hit me. I was like, 'Oh my goodness, I might throw a complete game.' I was getting excited, but I just needed to calm myself, just make one pitch at a time."
Wilson knows just how tough it is to get wins in league. When he was a sophomore, the Barons finished last in the six-team league. As a junior, they were tied for fourth with Marina.
Wilson believes the Barons have the talent this season to contend for their first league title since 2014 and advance to the CIF Southern Section Division 2 playoffs. Fountain Valley (6-5, 1-2 in league) suffered losses to Newport Harbor and Huntington Beach this week in league play, but came into the week ranked No. 6 in Division 2.
"We have been [overlooked] in the past … but we definitely came out this year ready to play good teams and ready to show what we have," Wilson said. "The biggest thing for us is how tight we are as a group. When we're all playing at our talent levels, it's definitely a winning team."
One of six senior starters, Wilson would be a key part of the success. Huntington Beach, which has won 11 straight games, touched him up for five runs in four innings in the Oilers' 12-2 win on Wednesday, but Fountain Valley coach Deric Yanagisawa said Wilson is still 3-2 with a 2.96 earned-run average. Before the loss to Huntington Beach, he had a sub-one ERA.
Many things impressed Yanagisawa about Wilson's performance against Los Alamitos. He allowed no runners to get to third base and the Griffins had just two three-ball counts.
"It's one of the better games I've seen him throw in three years, for sure," Yanagisawa said. "He's very good in the clubhouse as well. Just an all-around great kid."
Wilson grew up playing Fountain Valley Pony Baseball and has been pitching since age 9. He used to be an outfielder, but that clearly wasn't his thing.
"I remember that I would be so bored, I would lie on the ground," he said. "The coaches would get mad at me."
Now it is Wilson's younger sister Lauren, a sophomore, who plays outfield or middle infielder for the Barons softball team.
As for Nathan, he splits his time between baseball and homework. It has allowed him to obtain a weighted 4.0 grade-point average.
In terms of baseball, he said he gained confidence playing over the summer with his travel-ball team, the SoCal Birds.
"I was getting that confidence back over the summer," Wilson said. "I put in a lot of work in the weight room, and that gave me a lot of confidence too, to be stronger, throw the ball harder and command it better."
It has carried over into the season, and hopefully beyond.
Wilson, who plays first base or designated hitter when he isn't pitching, said he wants to play college baseball. The Barons have three commits on the team, with senior right fielder Conrad Villafuerte going to Colorado Mesa University, while sophomore shortstop Sebastian Murrillo (University of Arizona) and sophomore pitcher/third baseman Jake Brooks (UCLA) also are committed.
"To me, it would mean the world, just to be able to play at that next level and experience getting out of your hometown and seeing new things," Wilson said.
More games like the one against Los Alamitos and he will be well on his way.
*
Nathan Wilson
Born: July 3, 2000
Hometown: Fountain Valley
Height: 6 feet 3
Weight: 195 pounds
Sport: Baseball
Year: Senior
Coach: Deric Yanagisawa
Favorite food: Sushi
Favorite movie: "A Bronx Tale"
Favorite athletic moment: Throwing a shutout against Los Alamitos in the first game of Sunset League play this season.
Week in review: Wilson pitched a complete-game shutout in Fountain Valley's 3-0 win at Los Alamitos in a Sunset League opener March 16. He allowed two hits, struck out four and walked just one.
Twitter: @mjszabo
---
All the latest on Orange County from Orange County.
Get our free TimesOC newsletter.
You may occasionally receive promotional content from the Daily Pilot.