Daily Pilot Boys' Soccer Dream Team: Wyatt Burris was a workhorse for Edison
As a sophomore, Wyatt Burris did not see the field much for the Edison High boys' soccer team.
Some might have considered it a wasted season, but Burris was taking mental notes that would serve him well down the road.
Burris looked on that season, watching the Chargers advance to the CIF Southern Section Division 1 quarterfinals. He had learned so much from his mentors on defense. To name a couple, Drew Brummett and Ben Spetner were seniors on that team.
By the time Burris got to his senior year, a mental template had already been instilled in him for how he should conduct himself as a team captain.
"Watching [the 2017 quarterfinals team] was super inspiring because all those guys, the amount of effort that they put in, everything that they were about, I knew that was something that I had to do with the team I was captaining," Burris said. "I had to be a leader like they were."
Burris understood that leadership went beyond the numbers. Chargers coach Charlie Breneman saw Burris mature in the role, acting as an organizer that got the team prepared for whatever was ahead of them. Of things that might be expected from a captain, Burris excelled at those, too.
The Concordia University-bound center back provided a vocal presence in the back, and his play on defense did not pale by comparison. And for that, Burris is the 2018-19 Daily Pilot Boys' Soccer Dream Team Player of the Year.
When he took the field, Burris led his team into battle, as 19 of 28 contests played by the Chargers were decided by one goal or less. For most of the season, Edison struggled to put the ball in the back of the net, so it had to keep the ball out of its own.
The Chargers kept 15 clean sheets, which included 12 shutout victories.
"He was a leader," Breneman said of Burris. "He was a guy who was sort of able to coax people into believing and push people."
Breneman also knew that another force was at work. In witnessing the end of the 2017 quarterfinal run, three-year varsity players like Burris and midfielder Chase Bullock would want to do whatever necessary to put off a similar feeling.
"Kids are realizing that their high school careers are one game away from being over, and that can be significant in motivating kids," Breneman added. "I think, too, especially with guys like Wyatt and Chase and those guys who experienced the quarterfinal run, they had that experience in seeing how the seniors look and feel when it's all over."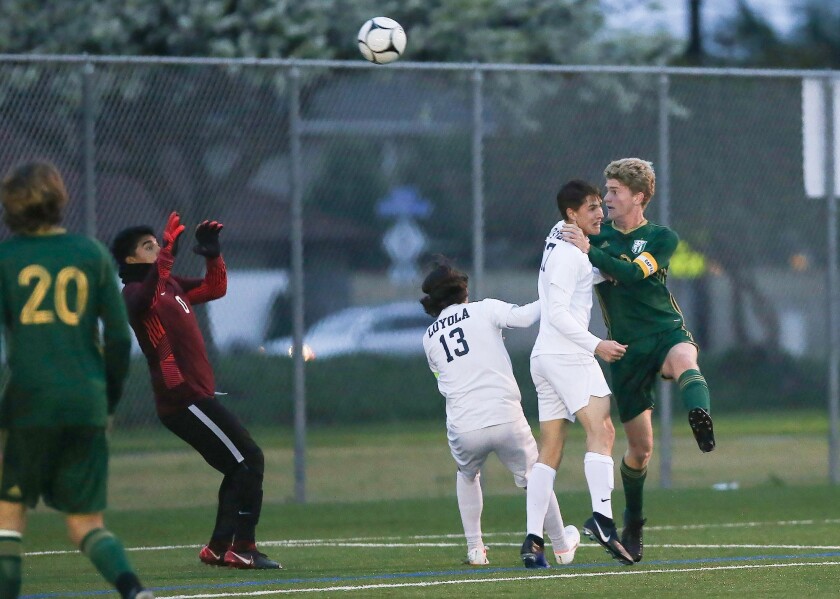 Burris felt that his team hit its stride on the cusp of Surf League play during a Sunset Conference crossover match against Fountain Valley. The Chargers beat the Barons 2-1, largely holding down one of the top offenses in the area.
Edison (16-7-5) allowed just one goal in Surf League play and finished 4-1-1 to claim its third straight league title. Burris was named the Surf League MVP.
In the Division 1 playoffs, Burris took his game to another level. Burris had four goals and one assist for the season, with three of those goals coming in the playoffs.
"That's the idea of pushing and willing your team to victory," Breneman said. "He scored once in league before playoffs, and he'd always go up for corner kicks. With his size and strength, he had chances.
"I remember him missing quite a number of decent chances on corners, and so we get into playoffs, and he's chipping in with goals. Obviously, goals are at a premium for CIF, so it changes the game. He was a big part of that."
The Chargers' playoff run was highlighted by a pair of golden-goal overtime victories. Those wins came against Santa Margarita in the first round and top-seeded Los Angeles Loyola in the quarterfinals.
Burris addressed the team in the heat of the moment when the Loyola match was headed to overtime.
"The week before, we had just beaten Santa Margarita in the same type of circumstance," Burris said of his mentality.
As for what he said to the team, Burris said, "We've done it before. We can do it again. There's no reason to doubt ourselves. Just go out and play, and put everything into it. Whatever happens, happens, but just know that we did our best.'"
The 2-1 upset win over Loyola was the pinnacle of the season for Breneman.
"I think, for beating the No. 1 seed, for doing it in overtime, and I think it was kind of raining, too, so it just seemed very dramatic and sort of cinematic, in a way," Breneman said. "It was something that I'll probably never forget."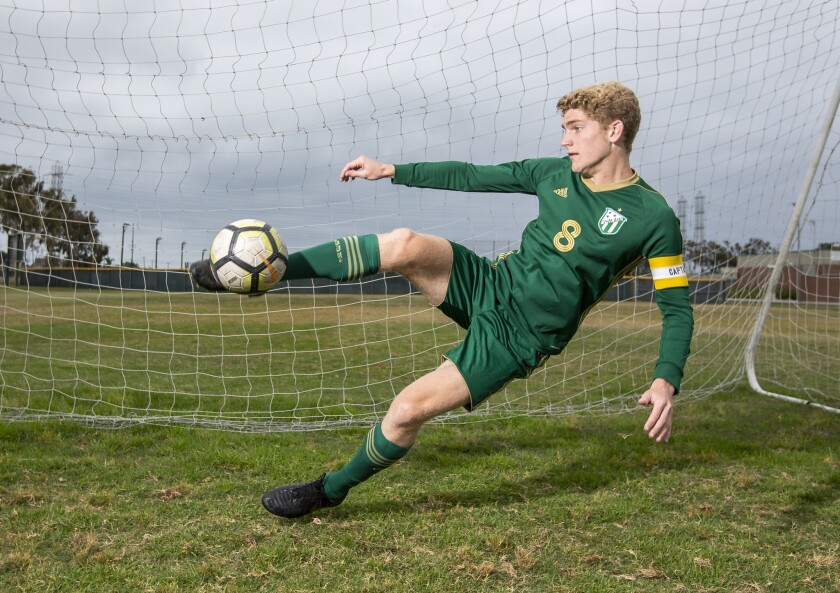 COACH OF THE YEAR
Charlie Breneman
Edison
The Chargers did not possess the offensive firepower to put games away, which made them battle-tested as they entered the latter half of the schedule. Edison had become accustomed to playing in tight games, and the team displayed the clutch gene in big matches. After a 4-0 loss to Santa Ana in the Hawks Invitational, which marked Edison's only loss by more than one goal on the season, the Chargers went 10-3-1 the rest of the way. Edison went 16-7-5 overall and 4-1-1 in the Surf League, winning its third consecutive league title. The Chargers also returned to the CIF Southern Section Division 1 semifinals for the first time since the 2014-15 season. "They sort of came together and were able to do a little more than maybe what was expected based on sort of a commitment and a togetherness," Breneman said. "I was reflecting on [the season] recently, actually, because we had a banquet for athletics, and I hadn't thought about the season in a while. It was special. It was fun to be around lots of big wins that I'll never forget."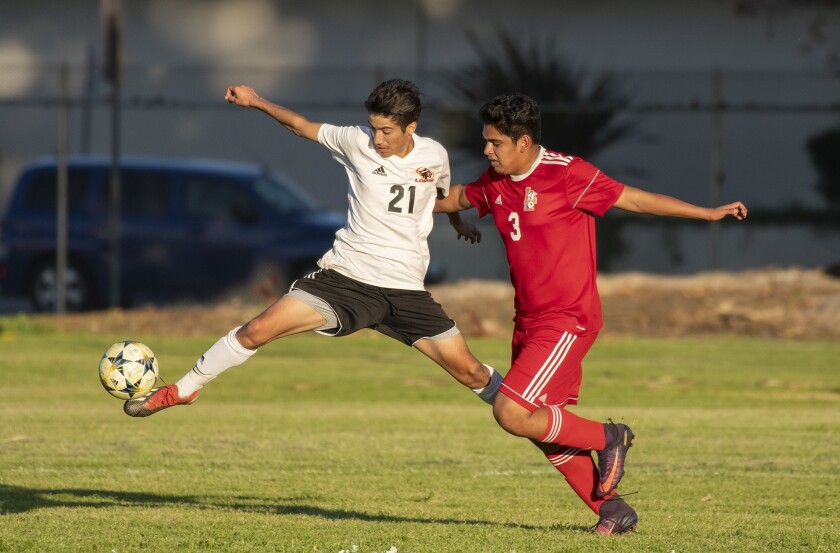 FIRST TEAM
Francisco Lopez
FW | Los Amigos | Jr.
The Garden Grove League Offensive Player of the Year led the area in goals with 26. He added eight assists. Lopez helped Los Amigos (14-4-1) to the Garden Grove League title, which it shared with Loara and Santiago at 8-2. It marked the Lobos' first league championship since 2012-13.
Sebastian Rus
FW | Fountain Valley | So.
Fountain Valley proved to be a dangerous team in the attacking third, especially with Rus working magic with the ball at his feet. The Wave League's Most Outstanding Offensive Player scored 20 goals to go with 10 assists, leading a Barons attack that could score in a hurry with Tyler Le and Malachi Wright also up front. Fountain Valley (16-7, 4-2) finished second in the league, advancing to the CIF Southern Section Division 2 quarterfinals before losing at No. 2-seeded Long Beach Cabrillo 4-1.
Miguel Pena
FW | Estancia | Sr.
Pena missed a third of the season due to club commitments with the OC Surf. He still amassed eight goals and 10 assists for Estancia, which went on to reach the second round of the CIF Southern Section Division 2 playoffs as the third-place team out of the Orange Coast League. Eagles coach Robert Castellano said Pena, who signed with Concordia, is the first player to receive a scholarship at Estancia in the last 10 years. Pena was an All-CIF Southern Section Division 2 and an all-league first team selection.
Alfonso Montano
MF | Los Amigos | Sr.
Lobos coach Chris Sandro called Montano the heart and soul of the team and the engine that started the offense. The attacking center midfielder was named the Garden Grove League MVP. He totaled 12 goals and six assists for the season, including a goal in Los Amigos' 3-2 loss to El Monte in the first round of the CIF Southern Section Division 5 playoffs.
Chase Bullock
MF | Edison | Sr.
The Surf League's Most Outstanding Defensive Player tackled well in the midfield, helping the Chargers stymie opposing offenses by breaking their rhythm on the ground. He had two goals and one assist, but he made them count. He scored the golden goal in overtime to send Edison to a first-round win over Santa Margarita in the CIF Southern Section Division 1 playoffs. Bullock was also an All-CIF Southern Section Division 1 selection.
Kai Peterson
MF | Edison | Jr.
The Chargers took time to find their stride offensively this season. Edison played in 19 contests decided by one goal or less, developing an ability to produce in the clutch along the way. Peterson, a first-team All-Surf League selection, sprinted up the right end and delivered a sliding cross for Sander Booij to assist on the game-winning goal in overtime of a 2-1 upset of top-seeded Loyola in the quarterfinals of the CIF Southern Section Division 1 playoffs.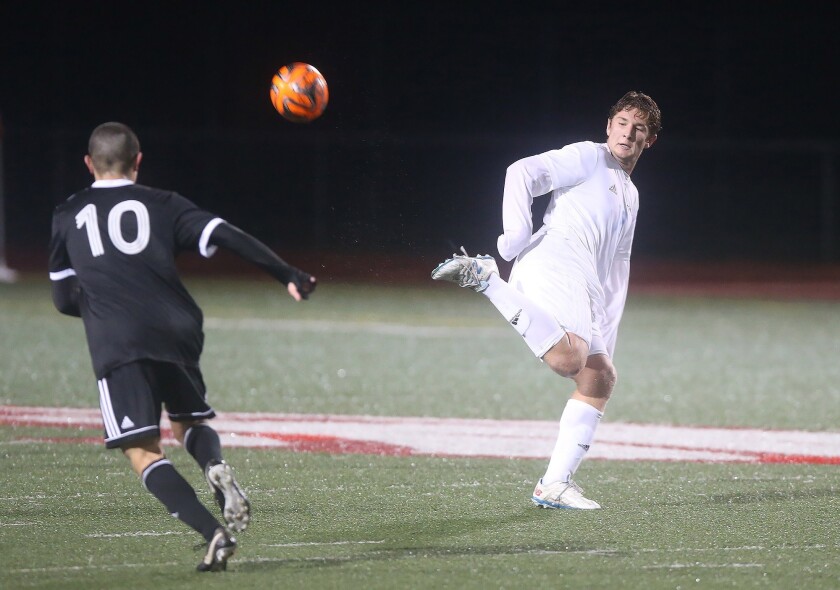 Matt Katz
MF | Corona del Mar | Sr.
Katz showed over the course of his career with CdM that he is comfortable playing anywhere. A repeat Dream Team selection, Katz moved up from the back line to the midfield this season and didn't miss a beat. Katz had 12 goals and 12 assists, earning the Surf League's Most Outstanding Offensive Player award. The Sea Kings went 12-5-2 overall and 2-2-2 in the league, reaching the CIF Southern Section Division 1 playoffs as an at-large selection. Santa Ana beat CdM 2-0 in the first round.
Brandon Alfaro
DEF | Los Amigos | Jr.
Alfaro played out of position, moving from the midfield to serve as a sweeper for the Lobos. It was a key position, as Los Amigos wanted to connect on passes once it gained possession. Alfaro contributed three goals and seven assists, earning first-team All-Garden Grove League honors.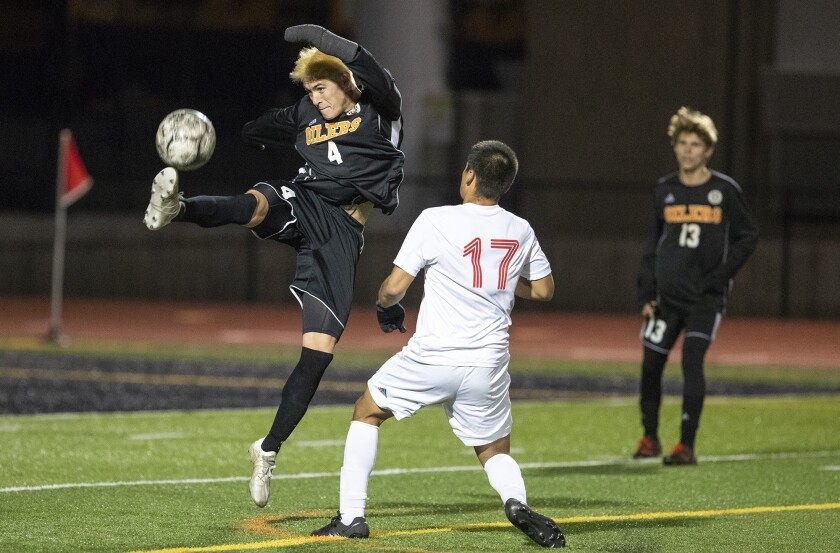 Dustin Herft
DEF | Huntington Beach | Sr.
The senior center back was named the Wave League's Most Outstanding Defensive Player. He helped the Oilers maintain three consecutive clean sheets, which were part of a five-match winning streak that propelled Huntington Beach (9-14-3, 5-1) to the Wave League crown.
Eric Avonce
DEF | Estancia | Sr.
Hindered by a deep thigh bruise, Avonce was unavailable to the Eagles until the North Orange County Tournament. Estancia picked up its play upon his return to the field, going 11-3-2 the rest of the way. Avonce, a first-team All-Orange Coast League selection, provided five assists as a center back.
Bennett Flory
GK | Edison | So.
Goalkeepers are known as the last line of defense, and Flory excelled in that role. He helped the Chargers keep the opposition scoreless 15 times, which led to 12 shutout wins. Flory also saw Edison through two golden-goal overtime victories in the CIF Southern Section Division 1 playoffs. He survived overtime again in the first round of the CIF Southern California Regional Division I playoffs, when Edison was eliminated by No. 2-seeded San Diego Torrey Pines on penalty kicks.
SECOND TEAM
Position, Name, School, Year
FW Marcos Arreola, Estancia, Jr.
FW Brandon Bui, Huntington Beach, Sr.
FW Niko Urban, Corona del Mar, Sr.
FW Jett Rocha, Laguna Beach, Jr.
MF Aidan Murphy, Pacifica Christian Orange County, Sr.
MF Robert Gerschultz, Sage Hill, Sr.
MF Grant Glessing, Corona del Mar, Sr.
DEF Tristan Trepas, Costa Mesa, Sr.
DEF Raymond Drake, Edison, Sr.
DEF Cantor Wright, Fountain Valley, So.
GK Emilio Carbajal, Newport Harbor, Sr.
::
Support our sports coverage by becoming a digital subscriber.
For more sports stories, visit latimes.com/socal/daily-pilot/sports or follow us on Twitter @DailyPilotSport.
---
All the latest on Orange County from Orange County.
Get our free TimesOC newsletter.
You may occasionally receive promotional content from the Daily Pilot.