High School Roundup: Edison boys' soccer clinches Surf League title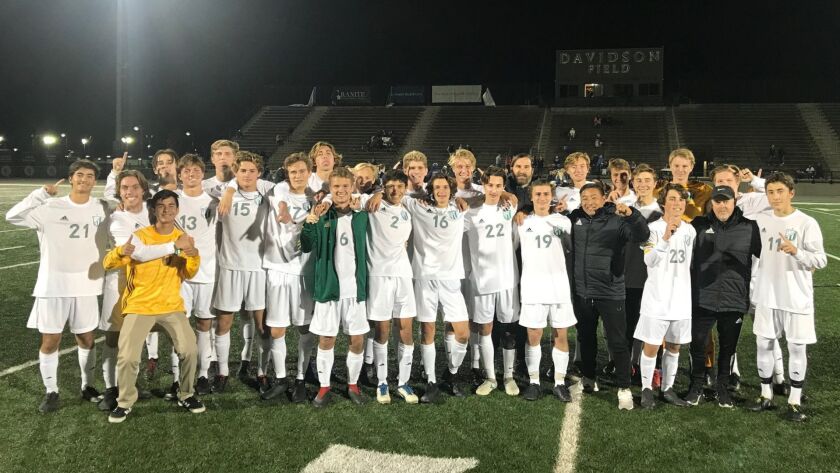 Jaxon Rogers, Armand Pigeon and Wyatt Burris had a goal apiece as the Edison High boys' soccer team defeated host Newport Harbor 3-0 on Friday to clinch the Surf League crown.
The Chargers (13-4-5, 4-0-1, 13 points) got help from Los Alamitos (12-8-5, 2-2-1, seven points), which edged visiting Corona del Mar 4-3. The Sea Kings (12-4-1, 2-2-1, seven points) came into the day three points behind Edison with two games remaining.

For the record:
11:50 PM, Jan. 29, 2019
Newport Harbor boys' soccer: In the Jan. 25 Sports section, the roundup misstated Newport Harbor's overall record, Surf League record and league points. The Sailors are 9-12-2 overall and 1-4 in the league, not 8-12-3 overall and 0-4-1 in the league, and they have three points, not one point.
Edison has won three consecutive league titles.
Newport Harbor dropped to 9-12-2 overall and 1-4 (three points) in league.
Los Alamitos 4, Corona del Mar 3: The visiting Sea Kings fell into a tie for second place in the Surf League.
Corona del Mar will host Newport Harbor in the second round of the Battle of the Bay to conclude the regular season on Wednesday at 3 p.m.
Estancia 3, Orange 2: Marcos Arreola, Andres Milan and Christopher Ayala each scored a goal for the host Eagles in Friday's Orange Coast League match.
Estancia (11-6-4, 4-2-2, 14 points), which is in third place, has games against Calvary Chapel (0-9-1, 0-7-1, one point) and Costa Mesa (6-10-2, 3-5, nine points) in the final week of the regular season.
Saddleback 3, Costa Mesa 1: The host Mustangs' playoff chances took a hit with Friday's Orange Coast League defeat to the Roadrunners (11-5-2, 6-1-1, 19 points).
Costa Mesa would have to upset Santa Ana (18-5-2, 6-1-1, 19 points) on Tuesday and have Calvary Chapel beat Estancia to have a chance to play for third place in the Battle for the Bell.
Fountain Valley 4, Marina 1: Sebastian Rus had two goals, and Dylan Duong and Omar Shukairy also scored in Friday's Wave League match for the visiting Barons.
Fountain Valley (14-5, 4-1, 12 points) is tied with Huntington Beach (8-13-3, 4-1, 12 points) for first place.
Huntington Beach hosts Fountain Valley on Wednesday at 5 p.m. for the Wave League title.
Huntington Beach 2, Laguna Beach 1: Brandon Bui and Brandon Francis scored for the visiting Oilers in Friday's Wave League match.
Huntington Beach ensured itself the opportunity to host the Wave League championship game on Wednesday at 5 p.m. against Fountain Valley.
GIRLS' BASKETBALL
Pacifica Christian Orange County 44, Orange County Christian 16: Hailey MacKay had a game-high 18 points to lead the host Tritons in Friday's Western League game.
Anna Eddy added 12 points, and Annika Bahnsen chipped in with six points.
Pacifica Christian improved to 12-3 overall and 9-0 in league, clinching the Western League title over La Verne Lutheran.
Garden Grove 56, Ocean View 51: The Seahawks fell two games behind the visiting Argonauts for third place in the Golden West League with Friday's loss.
Ocean View needs to win its last two games against Godinez and Westminster in order to achieve a .500 record and gain eligibility for an at-large selection into the CIF Southern Section Division 3AA playoffs.
BOYS' BASKETBALL
Corona del Mar 68, Los Alamitos 47: John Humphreys scored 20 points for the Sea Kings in Friday's Surf League game at Los Alamitos High.
Jack Stone added 13 points for CdM (18-10, 3-2), which pulled into a tie for first place in league with Edison after the Chargers lost at Newport Harbor.
CdM can clinch at least a share of the league title with a victory in the league finale, Wednesday at 7 p.m. at home against rival Newport Harbor.
Costa Mesa 78, Saddleback 60: Nico Dasca scored 27 points for the Mustangs in Friday's Orange Coast League game at home.
Osman Hefner scored 22 points and Tre Villalpando added 21 for first-place Costa Mesa (13-11, 7-1).
The Mustangs host Santa Ana on Tuesday at 7 p.m.
Marina 65, Fountain Valley 63 (OT): Jakob Alamudun's basket at the overtime buzzer lifted the Vikings to the Wave League win Friday at Marina High.
Alamudun finished with 31 points for Marina (15-12, 4-1), which is tied for first-place in league with Laguna Beach. Dean Keeler added 16.
The Vikings host Laguna Beach on Wednesday at 7 p.m.
Fountain Valley fell to 9-18 overall and 2-3 in league.
Laguna Beach 59, Huntington Beach 36: Nolan Naess scored 19 points for the Breakers in Friday's Orange Cost League game at Laguna Beach High.
Lucas Kravitz added 15 points for Laguna Beach (13-14, 4-1), which is tied for first place in league with Marina. The Breakers close out league at Marina on Wednesday.
Nick Saccacio scored 13 points for Huntington Beach (8-19, 0-5).
GIRLS' WATER POLO
Laguna Beach 12, Carlsbad 6: Emma Lineback and Tea Poljak each scored three goals for the Breakers in the Irvine Southern California Championships quarterfinal match Friday at Woollett Aquatics Center.
Nicole Struss scored twice for top-seeded Laguna Beach (23-1), which plays Goleta Dos Pueblos in a semifinal match Saturday at 10 a.m.
Laguna Beach also beat Coronado 17-4 earlier Friday, with Lineback, Imani Clemons, Rachael Carver, Molly Renner and Struss each scoring twice.
Goleta Dos Pueblos 10, Corona del Mar 5: The No. 4-seeded Sea Kings were upset in an Irvine Southern California Championships quarterfinal match Friday.
Grace Myers scored four goals for CdM (16-5), which plays Carlsbad in a fifth-place semifinal Saturday at 8 a.m.
::
Twitter: @DailyPilotSport
To report scores or newsworthy items, contact the sports staff listed below:
David Carrillo Peñaloza, Sports Editor
(714) 966-4612, david.carrillo@latimes.com
Twitter: @ByDCP
Matt Szabo, Sports Reporter
(714) 966-4614, matthew.szabo@latimes.com
Twitter: @mjszabo
Andrew Turner, Sports Reporter
(714) 966-4611, andrew.turner@latimes.com
Twitter: @ProfessorTurner
---
All the latest on Orange County from Orange County.
Get our free TimesOC newsletter.
You may occasionally receive promotional content from the Daily Pilot.