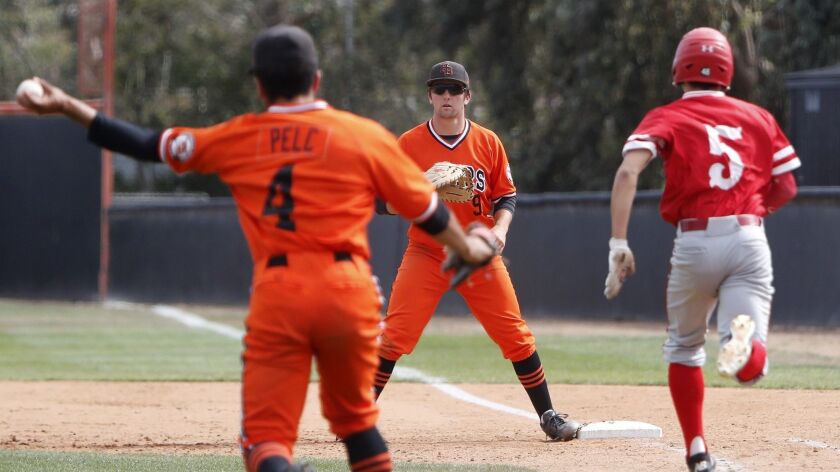 National signing day provided insight into the strength of the area on the diamond.
Many local high school seniors signed a national letter of intent to play baseball and softball in college on Wednesday.
Leading the way was Huntington Beach, which had nine players commit to a college baseball program. Among them, Daily Pilot Dream Team Player of the Year Josh Hahn will be heading to UCLA, while fellow Dream Team selection Edward Pelc will be joining the University of San Diego program.
As a junior, Hahn hit .344 with five home runs and 23 runs batted in while posting a 1.037 OPS. Hahn, a left-hander, also finished 3-1 with two saves and a 1.88 earned-run average.
Pelc strung together a streak of 16 consecutive scoreless innings during his junior season. The left-hander went 5-0 with a 0.24 ERA.
The Oilers also had seven softball players sign a national letter of intent, headlined by Washington-bound center fielder Jadelyn Allchin. The speedy outfielder hit .457, adding 34 runs scored and 18 stolen bases as a junior. She also produced 13 doubles, seven home runs and four triples out of the leadoff spot.
In July, Allchin helped her club team, the O.C. Batbusters Stith, reach the Premier Girls Fastpitch 18U Premier national championship game.
Marina corner infielder Shayla Thomas (Cal State Northridge) and second baseman Nicole Logrecco (Worcester Polytechnic Institute) will also be continuing their softball careers in college.
Skyler Magula is a standout among the Vikings' signees. The Daily Pilot Boys' Track and Field Athlete of the Year committed to Cal for men's pole vault in December.
Magula placed fifth in the CIF State finals, establishing a new personal-best mark of 15 feet, 10 inches.
Edison linebacker Luke Hoggard, who shared the Sunset League Defensive Player of the Year award, committed to play football for the University of Pennsylvania. He had a team-high 115 tackles this season, and he was a member of the South roster in the Orange County All-Star Classic last month.
Huntington Beach setter Aidan Knipe signed with the Long Beach State men's volleyball program, where his father, Alan, is the head coach. The 49ers won the NCAA national championship last season.
Newport Harbor's Jake Liechty (UC Irvine), Jonny Rimlinger (Loyola Marymount University) and Makana Sanita (Long Beach State) will continue their water polo careers in college.
Below is the list of local athletes who committed on Wednesday:
HUNTINGTON BEACH
Jadelyn Allchin, Washington softball
Brett Barrera, Stanford baseball
Andie Belme, Cardinal Stritch University softball
Anna Carleton, U.S. Coast Guard Academy women's soccer
Lauren Cox, Vanguard University softball
Harrison Dean, San Diego State men's lacrosse
Nicca Falah, UC San Diego women's water polo
Josh Hahn, UCLA baseball
Courtney Heydorff, UC Santa Barbara women's water polo
Alyssa Hornback, Sonoma State women's soccer
Aidan Knipe, Long Beach State men's volleyball
Dylan MacDonald, Aurora University men's lacrosse
Katelyn Mangrello, UC Santa Barbara softball
Cole Minato, Gonzaga baseball
Lars Mitchel, Colorado State men's cross-country and track and field
Kekoa Nelson, Cal State Dominguez Hills women's soccer
Edward Pelc, University of San Diego baseball
Dylan Ramirez, Cal State San Marcos baseball
Valerie Rudd, Abilene Christian University softball
Megan Ryono, Columbia softball
Kelly Ryono, Illinois softball
Ken Takada, Cal State San Marcos baseball
Nick Upstill, San Francisco State baseball
Eric Van Allen, Concordia University of Portland baseball
Michael Vergara, Bowdoin College men's tennis
Jeremy Wiegman, Cal State San Marcos baseball
Jack Wiseman, UC San Diego men's track and field
Shanna Zuanich, La Salle University women's water polo
MARINA
Austin Hallman, George Fox University baseball
Dylan Holt, Chapman baseball
Rhys Lewis, Bethany men's soccer
Nicole Logrecco, Worcester Polytechnic Institute softball
Skyler Magula, Cal men's track and field
Kerryn Stigar, Midland University women's soccer
Shayla Thomas, Cal State Northridge softball
NEWPORT HARBOR
Jake Liechty, UC Irvine men's water polo
Mariana Miller, Concordia University of Ann Arbor women's lacrosse
Jonny Rimlinger, Loyola Marymount University men's water polo
Makana Sanita, Long Beach State men's water polo
FOUNTAIN VALLEY
Samantha Araiza, Sterling College softball
Sara Feitz, Concordia University women's cross-country and track and field
Isabella Guerra, Benedictine College women's cross-country and track and field
Samantha Valdez, Vanguard University women's soccer
EDISON
Pete DiBernardo, UC Santa Barbara men's golf
Luke Hoggard, Pennsylvania football
Mikaila Pancino, UC San Diego softball
Twitter: @ProfessorTurner
---