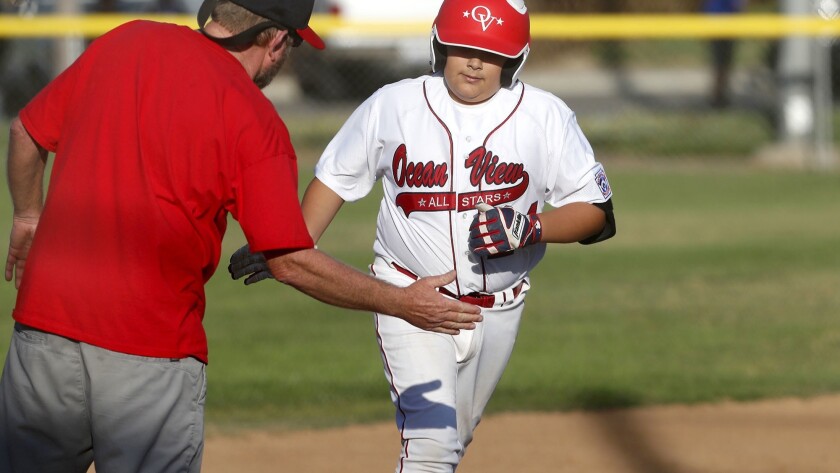 Jack Pollock deposited the pitch over the wall in left field at Fountain Valley Sports Park, and his Ocean View Little League All-Stars teammates erupted.
Ocean View is a power-hitting team, but for Pollock, this was a moment he wouldn't forget. He got to high-five his father, assistant coach John Pollock, at third base following his two-run home run.
Jack picked a good time for the first home run of his Little League career. It came Thursday, in Ocean View's 20-1 four-inning rout of Costa Mesa American in an elimination game of the District 62 Little League All-Stars tournament.
"I'm so happy for him," Ocean View coach Dean Heidl said. "That home run fired up the team. They went crazy. Everybody else has hit a lot, and that's Jack's first ever, so that was really cool."
Freddie Angiuli is more used to hitting dingers. The Ocean View first baseman also hit a two-run shot in the first inning, his fourth of the District 62 All-Stars tournament. Hudson Espinoza had the other home run for Ocean View, a grand slam in the fourth inning.
"I've just been thinking, if it's in the strike zone then pound it," Angiuli said. "Every once in a while it hits right on that barrel."
Ocean View scored seven runs in the first inning, one in the second and 12 more in the third. Haidl was as impressed with his pitching.
His son Matt Haidl threw two scoreless innings, and Brycen Janney threw a scoreless third. Donovan Farrell allowed just one run in the fourth, but by then Ocean View had a 20-0 lead.
"We used three different pitchers today, and we still have enough pitching to make it through the next three [games]," Dean Heidl said. "We've been rotating a lot of defense, too. Everybody has been playing. Everybody contributed today."
Dean Heidl said that Ocean View's mantra has been, "Just win five," after losing 4-0 to Huntington Valley on Monday to drop into the losers' bracket. Ocean View still has to win three games in three days to win the District 62 tournament and advance to the Section 10 tournament, which begins July 13.
Ocean View plays the loser of Thursday's late game between Huntington West and Huntington Valley in another elimination game Friday at 7:30 p.m.
Matt Haidl went two for two with three walks for Ocean View, and Angiuli was three for five with the home run and a double. Nick Murrey also had a double, while Luke Pratali reached three times and scored three runs.
Farrell and Janney each had hits for Ocean View, as did Tyler Soettz and Jayden Reichett. Casey Flynn, Tyler Twardowski and Braydon Wood also contributed.
Costa Mesa American relief pitcher Canaan Thompson did well to limit Ocean View to just one total run in the second and third innings. Costa Mesa American avoided the shutout when Owen Dever scored in the bottom of the fourth on Ian McDermott's grounder to shortstop.
William Clark was two for two for Costa Mesa American, coached by Luis Vasquez.
Vasquez, who led the CMALL Major Division Athletics to the District 62 Tournament of Champions title two weeks ago, was unable to put together a similar run in All-Stars. Vasquez's Athletics beat both John Pollock's OVLL Astros and Dean Haidl's Yankees to win the TOC title.
"They got me back [Thursday]," Vasquez said with a laugh.
In a lopsided game, Jack Pollock certainly had a swing he wouldn't forget.
"It was a pitch down the middle, and I just hit it," he said. "I was pretty happy."
::
Support our sports coverage by becoming a digital subscriber.
For more sports stories, visit latimes.com/socal/daily-pilot/sports or follow us on Twitter @DailyPilotSport.
Twitter: @mjszabo
---