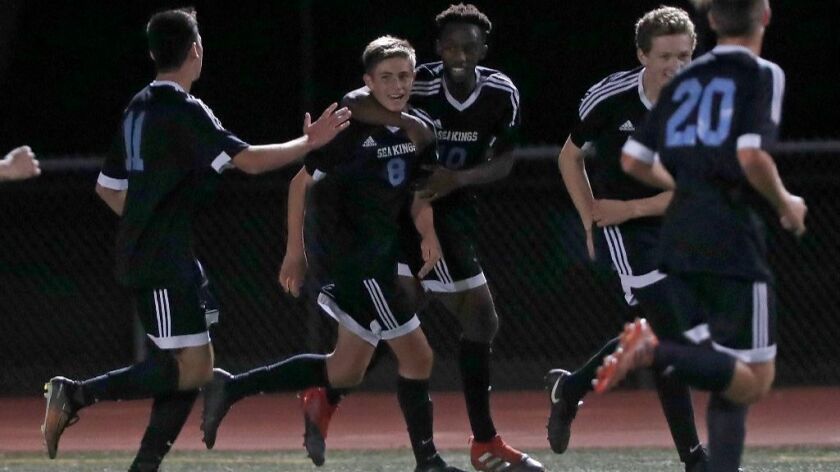 Edison High doesn't rebuild so much as reload, and so the Chargers again could be the best boys' soccer team in the area despite losing most of last season's Sunset League title-winning side to graduation.
Coach Charlie Breneman has a young and relatively inexperienced group that's high on talent and figures to battle Los Alamitos again for the title in one of the CIF Southern Section's most competitive leagues. Fountain Valley, Huntington Beach and Newport Harbor also hope to be in contention.
Corona del Mar in the Pacific Coast League, and Estancia and Laguna Beach in the Orange Coast League are also capable of competing for league titles and making long playoff runs, but the best competition in the area is in the Sunset League.
Edison (4-1-2) is ranked No. 9 in the CIF Southern Section Division 1 poll and is capable of nearly anything if it can find consistent scoring. Things are solid at the back, as Mitchell Wilson is Orange County's top goalkeeper, and sophomore Kai Peterson and senior Max Copeland are terrific in central defense.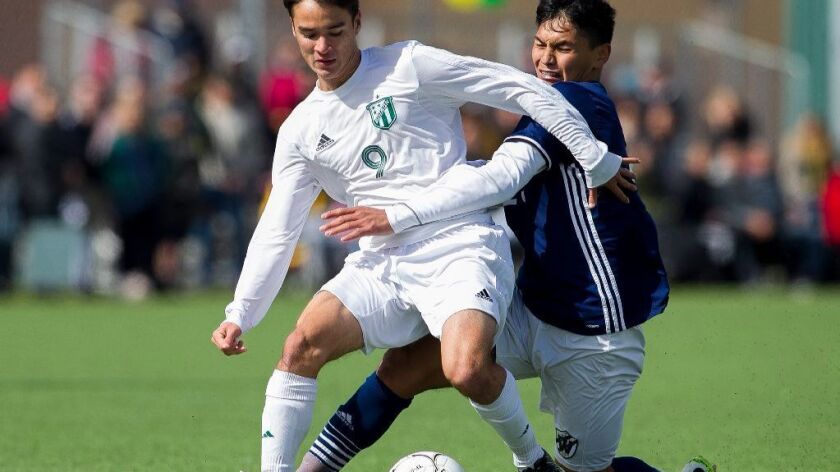 Forward Jack Morrell and midfielder Zac Ingalls, both seniors, will be key to the attacking success. The Chargers will depend heavily on their role players, especially junior midfielder Sander Booij.
Whether it'll be enough to overcome Los Alamitos is the challenge. The Griffins have started slowly but appear to be the team to beat after returning four of their top five offensive threats, including top scorer Louie Arellano (10 goals) and Alex van Steenbergen (seven goals).
"This team has the potential to win a lot of games, to contend for Sunset League, and to make a decent little run in the playoffs," Breneman said of his Chargers. "It's hard to tell exactly what the ceiling is, but we're going to be hard to beat."
Fountain Valley, Huntington Beach and Newport Harbor expect to contend for a playoff berth and could challenge the top two in league should they find chemistry and consistency.
Fountain Valley has a high-powered attack led by pacey sophomore Tyler Le, a Development Academy veteran, and senior Ethan Mack, who netted 13 goals last season. Tony Toban is the foundation in midfield, but Fountain Valley coach Jason Smith said Toban has had to play at the back after Ali Shah suffered a knee injury in the opener. Fellow defender Spencer Tran is also out after tearing an ACL, Smith said.
Midfielder Bryan Martinez will be key in attack for the Barons (3-1-1), and freshman Sebastian Rus, another with Academy experience, adds another dimension.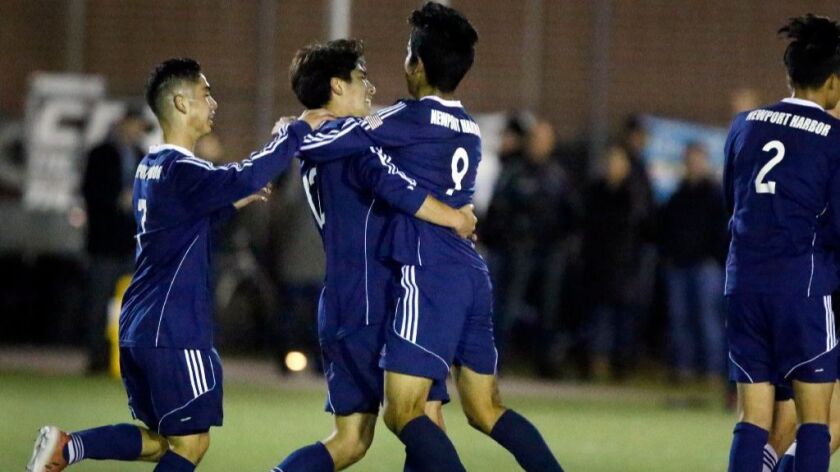 Newport Harbor, with coach Ali Khosroshahin, who won an NCAA title a decade ago with the USC women's soccer team, is working to create an academy within its program. Several of Khosroshahin's players saw time this year with his Newport FC, which plays in the fourth-tier United Premier Soccer League.
The Sailors are led by quick forward Alex Enriquez and defensive anchor Alvin Mancilla, both seniors. They are expecting a lot from freshmen midfielders Nicolas Del Villar, whom Khosroshahin said has an "unbelievable soccer brain," and Kevin Soltero.
Huntington Beach just missed out on the playoffs last season, but coach Sean Dick believes the Oilers can contend for a title if they're consistent. He's got a senior-heavy group starring attacking midfielder Luis Hernandez, forwards Tristan Lahtinen and Lance Barker, defensive midfielders Akira Suzuki and Owen Radzai, and junior defender Lex Wilson.
Marina played spoiler last season — it was the Vikings who kept Huntington Beach out of the postseason with a final-game draw — and it aims to do more behind a front line of seniors Miguel Medina and Kiernan James, and sophomore Eric Church.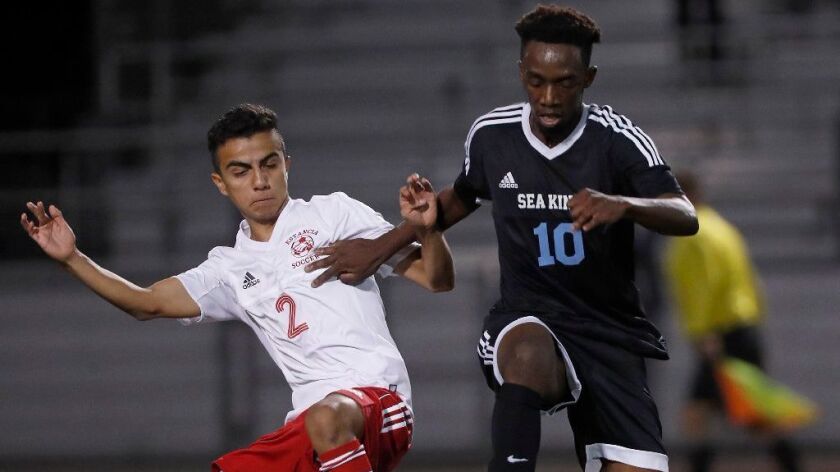 Corona del Mar, which joins the Sunset League next season, is seeking its sixth Pacific Coast League title in nine seasons under coach George Larsen.
Senior Kyle Mabwa, the son of David Mwendapole, a former Kenya national-teamer, is one of the top forwards in Southern California. Mabwa is headed to Southern Illinois University Edwardsville, where his dad played in college. Mabwa is expected to score the goals All-CIF Southern Section Division 2 striker Grant Joyce netted last season for CdM, which is off to a 5-1-1 start. Junior Niko Urban also returns up top.
Matt Katz, a first-team all-league member can play in midfield or on the back line, will provide keen leadership, and center back David Stephenson is a huge attacking threat on set pieces. Larsen said defender Rhyan Phan, a starter as a freshman and sophomore, returns after missing last season with a hip injury. Sophomore midfielders Jennings Torgelson and Aidan Holmes also will contribute.
The Sea Kings "overachieved" in winning the league title and reaching the CIF Southern Section Division 2 quarterfinals last season, Larsen said. University — a Division 4 quarterfinalist with just two defeats last season — will provide staunch competition for this season's league championship. The Trojans are ranked sixth in Division 3.
Laguna Beach is also headed to the Sunset League next season, and the Breakers would like to leave the loaded Orange Coast League with a crown. That won't be easy because Godinez has won CIF Southern Section titles the past two seasons and reloads after CIF Southern Section Division 2 Player of the Year Bryan Ibarra's departure.
Dan Richards has a lot of talent at Laguna Beach (3-2-0), which is led by fourth-year central midfielder Sterling Butler and attacker Carson Cushing, who returns to the team after playing in the Development Academy as a sophomore and junior. Marcus Randup provides a foundation in midfield, Jacob Pietig anchors the back line, and big things are expected from sophomore forward Jet Rocha.
"We always expect to make the playoffs. That's always our minimum aim," Richards said. "As tough as it is, we know when we get it right, we can compete with Godinez and Estancia."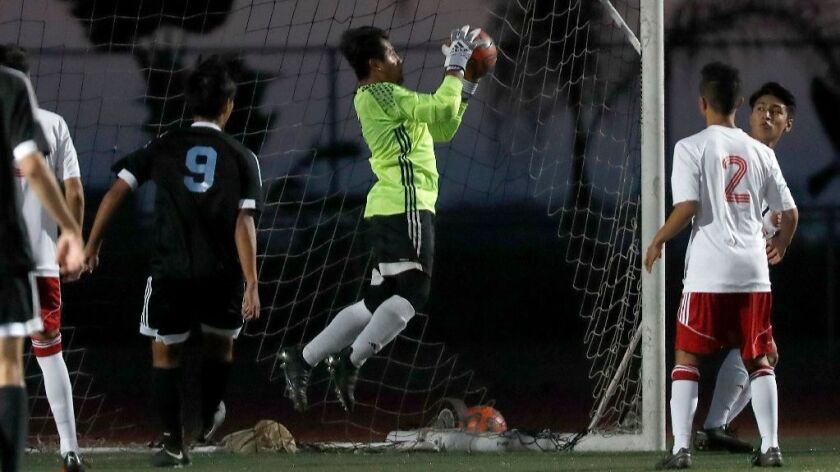 Estancia, the Orange Coast League runner-up in the 2016-17 season, expects to contend this season with a hugely experienced side. To do so, the Eagles "have to be almost perfect," coach Robert Castellano said. "Godinez hardly drops points."
Castellano will count heavily on left-footed forward Andy Martinez, who has size and strength, a soft touch, and a devastating shot. He could be among the best forwards in Southern California.
Other big contributors for Estancia (3-1-2) include third-year goalkeeper Yonathan Lopez, central midfielder Sergio Gutierrez, center back Eric Avonce, and junior winger Rafael Espinoza, whom Castellano said is out until January with a broken clavicle. Speedy sophomore forward Aaron Neri could emerge as a standout, too.
Saddleback, which handed Godinez its only loss last season, will contend, and Costa Mesa hopes to be in the mix for a playoff spot.
As tough as it is, we know when we get it right, we can compete with Godinez and Estancia.
Laguna Beach coach Dan Richards
Los Amigos aims to rejoin the Garden Grove League title race after missing the playoffs last season in what coach Chris Sandro called "a really bad year," with injuries decimating the squad. He's got a deep, talented midfield led by sophomore Francisco Lopez and senior Pedro Montes, whom Sandro said is returning from a torn ACL. Senior Freddy Ponce leads the attack, and senior goalkeeper Elvis Leyva hasn't yet conceded a goal.
Santiago, ranked fifth in Division 2, is the team to beat. The Cavaliers won the Division 5 title in the 2014-15 season, fell to rival Garden Grove in the Division 5 final the following season, and was last season's top seed in Division 3.
Ocean View just missed out on a postseason berth last season in the Golden West League and will look to catapult past Westminster into the top three. Loara, ranked fifth in Division 3, is the favorite, and defending champ Santa Ana figures to present the most potent challenge.
Sage Hill has brought in Joe Franco, a professional player, to rebuild its program.
Franco was a Chivas USA draft pick five years ago and has played with the LA Galaxy's reserve team and the North American Soccer League's Miami FC, and last season with second-tier Orange County SC. Senior forward Chase Munger, midfielder Robert Gerschultz and freshman center back Micah Valadez will be pivotal if Sage Hill is to compete for a playoff spot in the Academy League.
St. Margaret's is the league powerhouse, with Whitney and Crean Lutheran right behind. Brethren Christian is looking to escape the cellar after a zero-win campaign last season.
Pacifica Christian Orange County is playing its first season of varsity boys' soccer. The Tritons are in the San Joaquin League, which is home to the top two teams in the Division 7 poll — Samueli Academy and Tarbut V'Torah — and perennial powerhouse Webb, from Claremont.
SCOTT FRENCH is a contributor to Times Community News. Follow him on Twitter: @ScottJFrench
---