High School Roundup: CdM boys' soccer improves to 3-0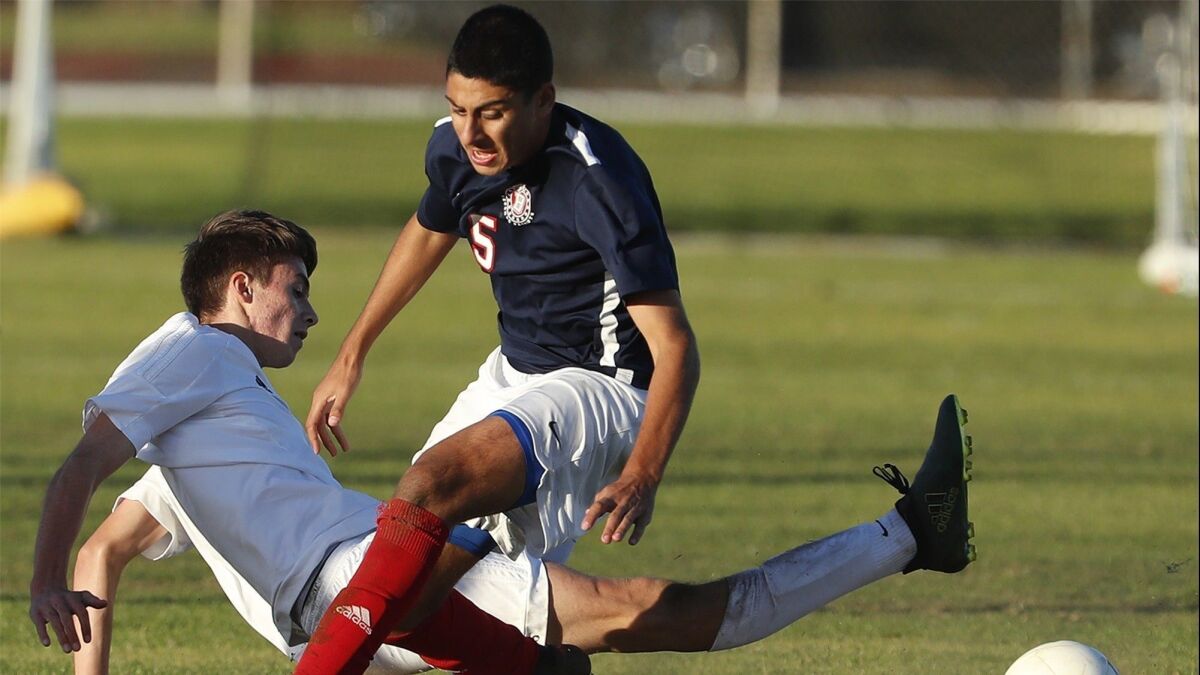 Taylor Demarais, Aidan Holmes and Niko Urban each scored a goal, and the Corona del Mar High boys' soccer team earned a 3-0 nonleague win at JSerra on Monday.
Goalkeeper Wally Korbler recorded the shutout, the second straight for the Sea Kings (3-0).
Christian Flori and Chris Cruttenden played well on defense for CdM, while Jennings Torgelson was solid in the midfield.
The Sea Kings play a nonleague match at Estancia on Wednesday at 5 p.m.
Estancia 1, Huntington Beach 0: Marcos Arreola scored his sixth goal of the season in the Eagles' nonleague match on the road Monday.
Goalkeeper Victor Jacinto made four saves in the shutout for Estancia (3-1-1).
The Oilers (0-3-1) travel to Long Beach Wilson for Wednesday's nonleague match at 6:30 p.m.
Fountain Valley 2, Kennedy 0: Malachi Wright and Sebastian Rus produced a goal for the host Barons, who improved to 3-0 on Monday.
Fountain Valley, ranked No. 4 in the CIF Southern Section Division 2 poll, plays Santa Ana at Santa Ana Stadium on Wednesday at 3 p.m.
Marina 2, Ocean View 1: Christian Briones and Evan Sanchez had a goal, helping the host Vikings win their first match on Monday.
Marina (1-3) is at home against Corona Centennial on Tuesday at 3 p.m., while the Seahawks (0-5) host Irvine on Wednesday at 3 p.m.
Los Amigos 2, Irvine 2: Alfonso Montano and Francisco Lopez scored a goal for the Lobos in Monday's nonleague match at home.
Los Amigos (3-1-1) hosts Savanna in a nonleague match on Wednesday at 3 p.m.
BOYS' BASKETBALL
Costa Mesa 93, Victorville Excelsior Charter 60: Nico Dasca and Osman Hefner led the Mustangs with 33 points apiece in their first game at the Orangewood Academy Tournament on Monday.
Costa Mesa (3-3) faces Gardena in the tournament on Tuesday at 6 p.m.
Huntington Beach 74, Long Beach Jordan 62: In a Lakewood Artesia Tournament opener, Nick Saccacio's 27 points led the Oilers to their fourth straight victory on Monday.
John Stenlund had 17 points for Huntington Beach (6-5), which faces Downey in the tournament on Tuesday at 7:30 p.m.
Edison 66, Westminster 55: Kaden Headington finished with 22 points for the Chargers in a CdM Beach Bash opener on Monday.
Edison (5-2) resumes tournament play on Wednesday at 4 p.m.
Los Alamitos 61, Sage Hill 41: Johnny King had nine points and 15 rebounds for the Lightning in Monday's opening game at the CdM Beach Bash.
The next game in the tournament for Sage Hill (4-2) is Wednesday at Pacifica Christian Orange County High at 4 p.m.
GIRLS' BASKETBALL
Newport Harbor 57, El Modena 32: Cydney Jover had 25 points and seven three-pointers in the Sailors' first game in the Hawk Holiday Classic at Ocean View High on Monday.
Newport Harbor (5-4) plays Portola in the tournament at Los Amigos High on Wednesday at 5 p.m.
GIRLS' SOCCER
Huntington Beach 1, San Juan Hills 1: The Oilers tied their first match Monday in the Aliso Cup.
Upland 1, Edison 0: The Chargers lost their Aliso Cup opener on Monday.
::
Twitter: @DailyPilotSport
To report scores or newsworthy items, contact the sports staff listed below:
David Carrillo Peñaloza, Sports Editor
(714) 966-4612, david.carrillo@latimes.com
Twitter: @ByDCP
Fall: football, girls' golf
Winter: boys' basketball, boys' soccer
Spring: baseball, boys' golf
::
Matt Szabo, Sports Reporter
(714) 966-4614, matthew.szabo@latimes.com
Twitter: @mjszabo
Fall: boys' water polo, girls' tennis
Winter: girls' soccer, girls' water polo
Spring: boys' tennis, swimming, lacrosse
::
Andrew Turner, Sports Reporter
(714) 966-4611, andrew.turner@latimes.com
Twitter: @ProfessorTurner
Fall: girls' volleyball, cross-country, field hockey
Winter: girls' basketball, wrestling
Spring: boys' volleyball, track and field, softball
All the latest on Orange County from Orange County.
Get our free TimesOC newsletter.
You may occasionally receive promotional content from the Daily Pilot.