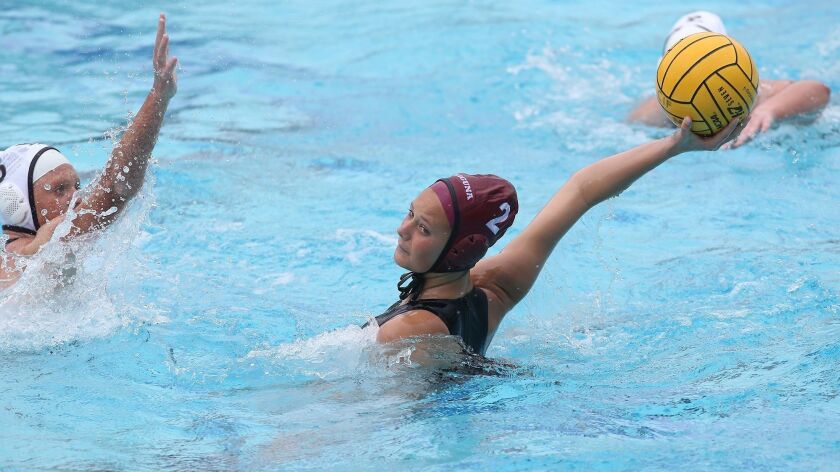 Morgan Van Alphen, Emma Lineback and Rachael Carver each scored three goals for the Laguna Beach High girls' water polo team in Wednesday's 19-5 nonleague win over visiting Coronado.
Molly Renner scored twice for the Breakers (3-0), who got two assists each from Lela McCarroll, Tea Poljak, Renner, Cici Stewart and Nicole Struss. Senior goalkeeper Quinn Winter made 13 saves and also had three assists.
Laguna Beach, the top-ranked team in CIF Southern Section Division 1 and 2, plays No. 6 Santa Barbara San Marcos in a nonleague match Friday at 5 p.m. at Santa Margarita High.
Huntington Beach 13, Riverside King 5: The Oilers improved to 4-2 after Wednesday's nonleague road win.
Huntington Beach, ranked No. 10 in CIF Southern Section Division 1 and 2, plays El Toro in a Santa Margarita showcase game Saturday at 9 a.m.
BOYS' BASKETBALL
Corona del Mar 67, Woodbridge 50: Jack Stone scored 22 points for the Sea Kings in a Gary Raya SoCal Elite Classic pool-play game Wednesday at University High.
John Humphreys had 16 points for CdM (6-3), which won its pool and advanced to Friday's tournament semifinals. Jack Garza scored 12 points.
Marina 87, Westminster 56: Ethan Barnella scored 18 points for the visiting Vikings in Wednesday's Charlie Wilkins Memorial Tournament consolation game.
Dean Keeler added 16 points for Marina (7-7), which continues the tournament against Villa Park on Friday at 6 p.m. at Westminster High.
Newport Harbor 84, San Juan Hills 54: Dayne Chalmers and Robbie Spooner each scored 21 points for the Sailors in Wednesday's nonleague road game.
Sam Barela had 10 points and 12 assists for Newport Harbor (10-1), which has won six straight. The Sailors host Sage Hill on Friday at 7 p.m.
Estancia 69, Santa Ana 57: Brandon Pearson led the host Eagles with 18 points in an Orange Coast League opener on Wednesday.
Jake Covey had 16 points and Mason Richards 13 for Estancia, which is 7-6 overall.
The Eagles host Saddleback on Friday at 7 p.m.
Ocean View 63, Anaheim 29: The Seahawks (6-5) won their second straight game in the Loara Tournament at Godinez High on Wednesday.
Sage Hill 57, Los Amigos 22: The Lightning improved to 6-5 after Wednesday's nonleague home game.
Tarbut V' Torah 65, Brethren Christian 28: The visiting Warriors dropped to 1-4 in the Express League on Wednesday.
BOYS' SOCCER
Laguna Beach 2, Ocean View 1: Booker Firth and Ryan Caraher each scored for the Breakers in Wednesday's nonleague match at home.
Laguna Beach (3-1-1) plays at Tesoro on Friday at 6:30 p.m.
Ocean View (0-10) hosts Bolsa Grande on Friday at 3 p.m.
Los Amigos 2, Huntington Beach 1: Gustavo Oleta and Francisco Lopez scored for the visiting Lobos in Wednesday's nonleague match.
Los Amigos (5-1-1) plays at home against Esperanza on Friday at 3:15 p.m.
The Oilers fell to 3-5-3.
Orange 3, Costa Mesa 2: The Mustangs lost their Orange Coast League opener at home on Wednesday.
Costa Mesa, which is 3-4-1 overall, hosts Calvary Chapel on Friday at 5 p.m.
::
Twitter: @DailyPilotSport
To report scores or newsworthy items, contact the sports staff listed below:
David Carrillo Peñaloza, Sports Editor
(714) 966-4612, david.carrillo@latimes.com
Twitter: @ByDCP
Fall: football, girls' golf
Winter: boys' basketball, boys' soccer
Spring: baseball, boys' golf
::
Matt Szabo, Sports Reporter
(714) 966-4614, matthew.szabo@latimes.com
Twitter: @mjszabo
Fall: boys' water polo, girls' tennis
Winter: girls' soccer, girls' water polo
Spring: boys' tennis, swimming, lacrosse
::
Andrew Turner, Sports Reporter
(714) 966-4611, andrew.turner@latimes.com
Twitter: @ProfessorTurner
Fall: girls' volleyball, cross-country, field hockey
Winter: girls' basketball, wrestling
Spring: boys' volleyball, track and field, softball
---