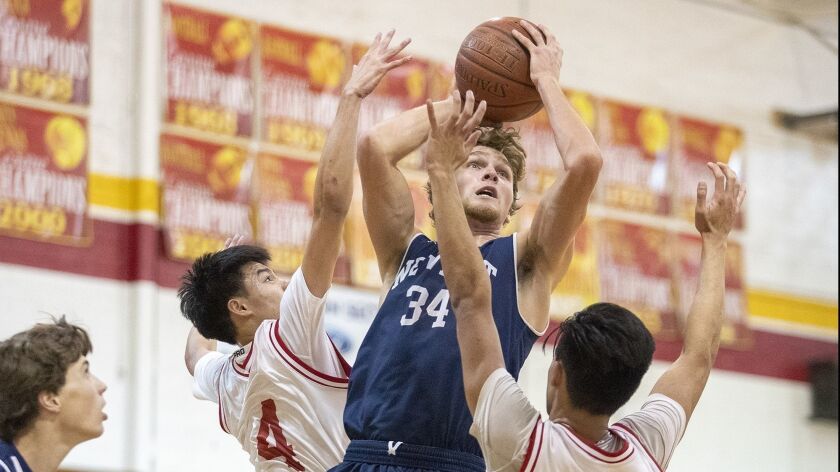 Senior forward Dayne Chalmers finished with 24 points and eight rebounds, helping the Newport Harbor High boys' basketball team improve to 12-1 after defeating Fountain Valley 66-57 in Wednesday's Sunset Conference crossover game at home.
Newport Harbor's Sam Barela contributed 17 points and nine assists.
Jeremiah Davis had 21 points and Roddie Anderson 15 for the Barons (6-9).
Huntington Beach 57, Corona del Mar 56: James Downs had 12 points, including the go-ahead free throw with 30 seconds left, lifting the host Oilers in a Sunset Conference crossover game on Wednesday.
Nick Saccacio added 12 points for Huntington Beach (8-8).
John Humphreys scored 22 points for the Sea Kings (7-5), while Jack Stone had 14 points.
Edison 70, Laguna Beach 55: Aidan Garnett led the host Chargers with 23 points in a Sunset Conference crossover game on Wednesday.
Kaden Headington added 14 points for Edison (10-5).
Nolan Naess contributed 20 points for the Breakers (4-9), who have lost seven games in a row.
BOYS' SOCCER
Corona del Mar 3, Huntington Beach 2 (OT): Niko Urban scored the game-winning goal in overtime for the visiting Sea Kings in a Sunset Conference crossover match on the road Wednesday.
Urban also assisted on Matt Katz's first-half goal, and Aidan Holmes scored on a penalty kick for the Sea Kings (7-2). Katz had the assist on Urban's game winner.
Huntington Beach fell to 3-8-3.
Laguna Beach 1, Edison 0: Booker Frith scored the visiting Breakers' goal in Wednesday's Sunset Conference crossover match.
Laguna Beach improved to 3-1-3, while the Chargers dropped to 4-3-4.
WRESTLING
Fountain Valley 61, Edison 18: The host Barons began their pursuit of an eighth straight league title on Wednesday in a Surf League match.
Kade Ayres (106 pounds), Sean Solis (113), Dylan Zotea (152), Ian Wilfert (170), Thomas Madrid (195) and Mathew Fee (220) recorded pins for the Barons.
GIRLS' BASKETBALL
Huntington Beach 54, Americus-Sumter 39 (Ga.): Meghan McIntyre had 17 points to lead the Oilers in the Nike Tournament of Champions in Arizona on Wednesday.
Alyssa Real added 15 points for the Oilers (7-2), and Andie Payne had six points and five blocked shots.
Saddleback Valley Christian 57, Liberty Christian 11: The visiting Minutemen dropped to 1-7 with Wednesday's nonleague result.
::
Twitter: @DailyPilotSport
To report scores or newsworthy items, contact the sports staff listed below:
David Carrillo Peñaloza, Sports Editor
(714) 966-4612, david.carrillo@latimes.com
Twitter: @ByDCP
Fall: football, girls' golf
Winter: boys' basketball, boys' soccer
Spring: baseball, boys' golf
::
Matt Szabo, Sports Reporter
(714) 966-4614, matthew.szabo@latimes.com
Twitter: @mjszabo
Fall: boys' water polo, girls' tennis
Winter: girls' soccer, girls' water polo
Spring: boys' tennis, swimming, lacrosse
::
Andrew Turner, Sports Reporter
(714) 966-4611, andrew.turner@latimes.com
Twitter: @ProfessorTurner
Fall: girls' volleyball, cross-country, field hockey
Winter: girls' basketball, wrestling
Spring: boys' volleyball, track and field, softball
---