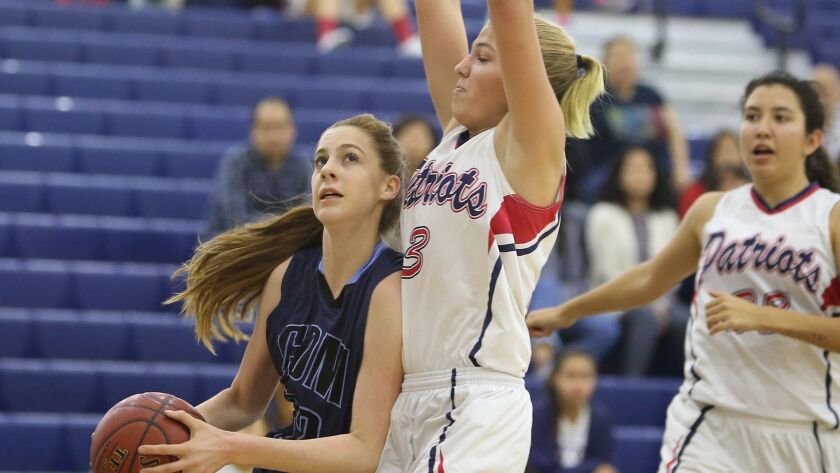 Senior center Tatiana Bruening finished with 19 points and 17 rebounds to lead the Corona del Mar High girls' basketball team to a 60-47 win over visiting Newport Harbor on Thursday night in the Battle of the Bay.
Alara Ersu added 14 points and 12 rebounds for the Sea Kings (10-7). Sophie Beador had seven points, Makena Tomlinson added six points, and Samantha Uehara and Tori Gyselaar each chipped in with five points.
Newport Harbor was led by Willa Rath, who had 17 points, seven rebounds and two blocked shots. Reese Vickers also had 14 points and three assists for the Sailors (8-9).
Long Beach St. Anthony 45, Huntington Beach 30: Meghan McIntyre had a team-high 15 points for the Oilers in Thursday's game in the Nike Tournament of Champions in Arizona.
Andie Payne added six points and 14 rebounds for Huntington Beach (7-3).
BOYS' BASKETBALL
Pacifica Christian Orange County 72, Sandy (Ore.) 59: Judah Brown finished with 26 points, 11 rebounds and four blocked shots, helping the Tritons advance to the semifinals of The 8, which is part of the Les Schwab Invitational in Hillsboro, Ore., on Thursday.
Solomon Davis had 10 points and 16 rebounds for Pacifica Christian (9-4), which plays Oregon's Silverton in the semifinals on Friday at 7 p.m.
Pacifica Christian's Houston Mallette added 16 points and Riyaan Jiwani 12.
::
Twitter: @DailyPilotSport
To report scores or newsworthy items, contact the sports staff listed below:
David Carrillo Peñaloza, Sports Editor
(714) 966-4612, david.carrillo@latimes.com
Twitter: @ByDCP
Fall: football, girls' golf
Winter: boys' basketball, boys' soccer
Spring: baseball, boys' golf
::
Matt Szabo, Sports Reporter
(714) 966-4614, matthew.szabo@latimes.com
Twitter: @mjszabo
Fall: boys' water polo, girls' tennis
Winter: girls' soccer, girls' water polo
Spring: boys' tennis, swimming, lacrosse
::
Andrew Turner, Sports Reporter
(714) 966-4611, andrew.turner@latimes.com
Twitter: @ProfessorTurner
Fall: girls' volleyball, cross-country, field hockey
Winter: girls' basketball, wrestling
Spring: boys' volleyball, track and field, softball
---