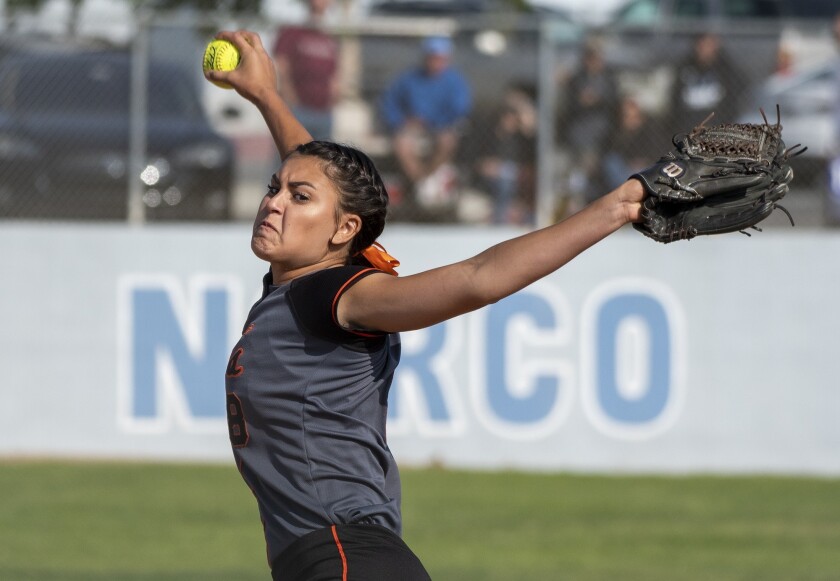 Grace Uribe and Morgan MacBeath threw Huntington Beach High's second combined no-hitter of the softball season in a 10-0 win at home over Fountain Valley in Thursday's Sunset Conference crossover game.
Malia Cockrell, Ameryn Humble and Kelly Ryono each had a double and two runs batted in for the Oilers (6-0). Devyn Greer also had a double and a triple.
Fountain Valley dropped to 4-8-1.
Los Alamitos 13, Corona del Mar 1: Sydney Walls had a triple, and Amerys Barshtak had an RBI for the visiting Sea Kings (8-4) in Thursday's Sunset Conference crossover game.
Los Amigos 9, Estancia 7: Ariana Alvarez and Alyssa Ledezma each had three hits for the host Lobos in Wednesday's nonleague game.
Lena De La O went three for four for the Eagles (1-7-1).
Los Amigos improved to 5-1.
BOYS' VOLLEYBALL
Newport Harbor 3, Dana Hills 0: Blake Ludes had 10 kills to lead the visiting Sailors to a 25-17, 25-20, 25-21 sweep in Thursday's nonleague match.
Newport Harbor kept its undefeated record intact at 22-0.
Pacifica Christian Orange County 3, Samueli Academy 0: Coach Tim Shenkin highlighted the passing of seniors Evan Nordstrom and Justin Nishkian and freshman Bennett Penticuff in the Tritons' 25-15, 25-14, 25-17 nonleague sweep on the road Thursday.
Sophomore Jackson Baugh had a .400 hitting percentage for Pacifica Christian (5-0).
BOYS' GOLF
Corona del Mar 185, Woodbridge 196: Guy Clauss and TJ Jenkins each shot one-over-par 36 for the Sea Kings, sharing medalist honors with a Woodbridge golfer in the nonleague match Thursday at Newport Beach Country Club.
Ryan Shih (37), Colin Huang (38) and Lawrence Shih (38) also scored for CdM (4-0), which hosts Los Alamitos in a Sunset Conference crossover match Tuesday at 2:30 p.m. at Newport Beach Country Club.
Edison 205, Trabuco Hills 246: Pete DiBernardo and Timothy Jung shared the medalist honors, shooting two-over-par 38 in a nonleague match at Dove Canyon Golf Club in Trabuco Canyon on Thursday.
Edison improved to 3-1.
TRACK AND FIELD
Estancia swept its first Orange Coast League dual meet of the season, winning the boys' meet 118-19, while also taking the girls' meet 87-33 against visiting Saddleback.
Hayden Pearce led the Eagles' boys, sweeping the 110-meter high hurdles (16.05 seconds) and the 300 intermediate hurdles (44.07). David Acosta also won the long jump (20 feet, six inches) and the triple jump (38-6).
On the girls' side, Estancia had two multiple-event winners. Ruby Uchytil took the 200 (27.72) and the 400 (1:01), and Hope Millon won in the 100 (13.16) and long jump (14-6).
::
Twitter: @DailyPilotSport
To report scores or newsworthy items, contact the sports staff listed below:
David Carrillo Peñaloza, Sports Editor
(714) 966-4612, david.carrillo@latimes.com
Twitter: @ByDCP
Matt Szabo, Sports Reporter
(714) 966-4614, matthew.szabo@latimes.com
Twitter: @mjszabo
Andrew Turner, Sports Reporter
(714) 966-4611, andrew.turner@latimes.com
Twitter: @ProfessorTurner
---