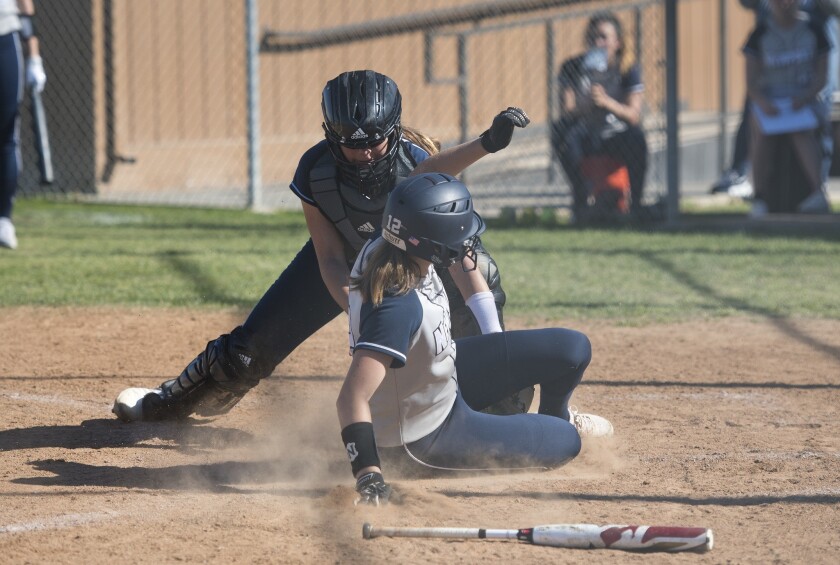 Dru Stinson went two for three with a triple and a run batted in to lead the Newport Harbor High softball team to a 2-1 Wave League victory over Corona del Mar in the Battle of the Bay rivalry at home Thursday.
Eliana Gottlieb had two hits, including a double, and Sydni Griffin drove in a run for the Sailors (11-5, 2-0 in league).

McKayla Cotton picked up the win in relief for Newport Harbor, which lost to CdM (10-6, 0-2) in the final of the Battle at the Beach tournament on Saturday.
Trasara Alexander had two hits and an RBI in Thursday's league game for the Sea Kings.
BOYS' TRACK AND FIELD
Estancia 88, Orange 42: David Acosta doubled as a winner in the triple jump (40 feet, one inch) and the long jump (19-7) for the host Eagles in an Orange Coast League dual meet Thursday.
Raul Gonzalez swept the throws, taking the shotput with a toss of 39-7 and discus throw with a mark of 114-5 for Estancia, which improved to 2-0 in the league.
Trevor Pacheco also swept the sprints, winning the 100 meters in 11.64 seconds and the 200 in 24 seconds flat.
GIRLS' TRACK AND FIELD
Orange 63, Estancia 62: Winners for the host Eagles in Thursday's Orange Coast League dual meet included Ruby Uchytil in the 400 (1 minute 3 seconds), Dayanara Andrade in the 800 (3:05) and Guadalupe Olivares in the 1,600 (6:50).
Estancia fell to 1-1.
BOYS' GOLF
Edison 193, Fountain Valley 205: Tiger Tahvildari shot a one-under-par 35 to earn medalist honors in the Chargers' Sunset Conference crossover match at SeaCliff Country Club Thursday.
Edison improved to 5-2, while Fountain Valley fell to 4-3.
BOYS' LACROSSE
Corona del Mar 17, Marina 1: The host Sea Kings improved to 7-0 overall and 2-0 in the Sunset League following Thursday's match.
::
Twitter: @DailyPilotSport
To report scores or newsworthy items, contact the sports staff listed below:
David Carrillo Peñaloza, Sports Editor
(714) 966-4612, david.carrillo@latimes.com
Twitter: @ByDCP
Matt Szabo, Sports Reporter
(714) 966-4614, matthew.szabo@latimes.com
Twitter: @mjszabo
Andrew Turner, Sports Reporter
(714) 966-4611, andrew.turner@latimes.com
Twitter: @ProfessorTurner
---