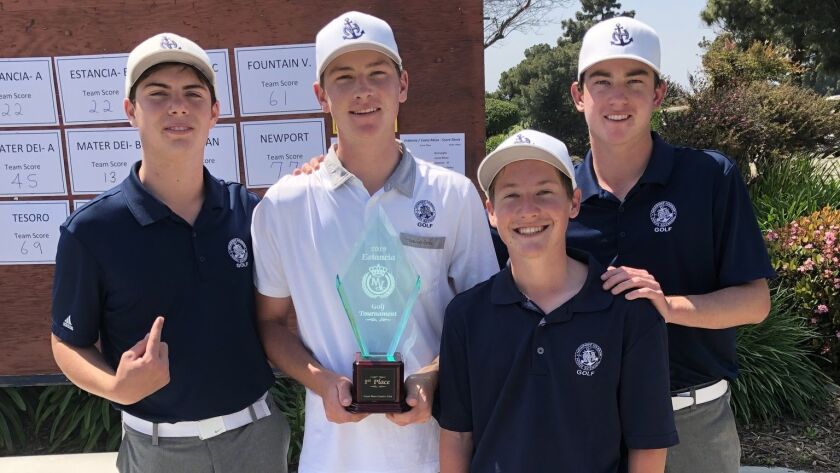 Sam Thayer shot a personal-best three-under-par 69 and scored 27 points on Monday, helping Newport Harbor High win the Estancia boys' golf tournament with 77 points in the Stableford format scoring event on the Los Lagos Course at Costa Mesa Country Club.
Thayer collected six birdies for the Sailors, who won their second tournament in 19 years under coach Scott Tarnow. Fifteen teams competed in the Estancia tournament.
Newport Harbor's Ethan Barners finished with a 71 (22 points), followed by Campbell Norris' 73 (20 points) and John Jerold's 83 (eight points).
SOFTBALL
Huntington Beach 7, Edison 6: Shelbi Ortiz's walk-off hit in the bottom of the seventh inning allowed the host Oilers to snap a two-game losing streak Monday.
Ortiz went two two for four with a run scored for Huntington Beach, which improved to 10-2 overall and 2-1 in the Surf League. The Oilers rallied from a 6-2 deficit, scoring three runs in the fourth inning and one run in the sixth and seventh innings.
Huntington Beach's Megan Ryono was three for four with two runs batted and two doubles. Reanna Rudd had two hits, including a solo home run, and Jadelyn Allchin added two hits and an RBI.
The Oilers totaled 14 hits against Edison, which started Jenna Bloom.
Huntington Beach's Grace Uribe went the distance, allowing two earned runs and striking out two for the Oilers.
Newport Harbor 14, Laguna Beach 0: Clare Austin struck out four and gave up three hits in five innings, and she went three for three with three RBIs and a triple for the Sailors in Monday's Wave League home game.
The Sailors (12-5, 3-0 in league) won in five innings because of the 10-run mercy rule.
Newport Harbor's Eliana Gottlieb doubled three times and drove in four runs, while Lindsey Blanchfield was three for four with an RBI. Lily Larkins was two for three with a double and Kendall Kelly had a three-run home run.
Rhys Campbell, Lola Fisher and Natasha Sorensen had the three hits for Laguna Beach (4-7, 0-2).
BASEBALL
Marina 4, Downey 1: Troy Kent's bases-clearing triple broke a 1-1 tie in the top of the eighth inning of the Vikings' nonleague extra-inning game on the road Monday.
Jagger Iovinelli picked up the win for Marina (11-6).
GIRLS' LACROSSE
Edison 12, El Toro 2: The Chargers improved to 12-2 after Monday's nonleague road game.
::
Twitter: @DailyPilotSport
To report scores, breaking news or newsworthy items, contact the sports staff listed below:
David Carrillo Peñaloza, Sports Editor
(714) 966-4612, david.carrillo@latimes.com
Twitter: @ByDCP
Matt Szabo, Sports Reporter
(714) 966-4614, matthew.szabo@latimes.com
Twitter: @mjszabo
Andrew Turner, Sports Reporter
(714) 966-4611, andrew.turner@latimes.com
Twitter: @ProfessorTurner
---