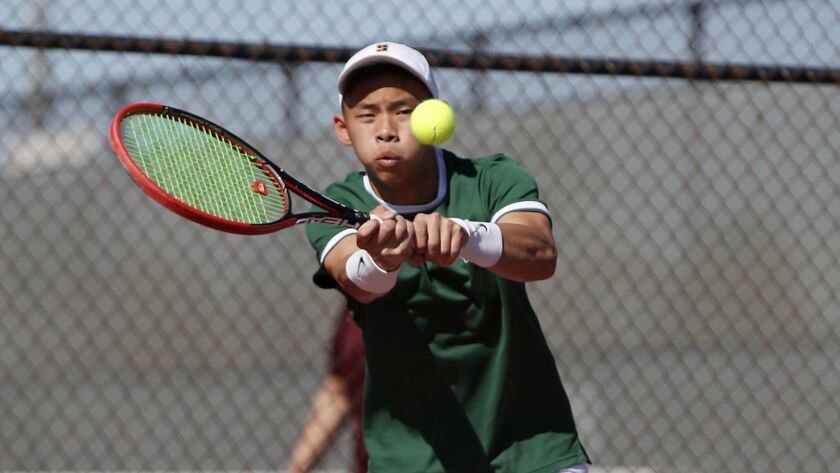 Ethan Votran swept in singles for the Costa Mesa High boys' tennis team in a 15-3 win at home over rival Estancia on Thursday in an Orange Coast League match.
Eli Weiss-Hung and Hartley Tran swept in doubles for Costa Mesa (9-4, 4-0 in league), which hosts Esperanza in a nonleague match Tuesday.
Jake Hastings won twice in singles for Estancia (1-8, 0-4).
Corona del Mar 11, Los Alamitos 7: Kyle Pham and Max Krykunenko each swept in singles for the Sea Kings in Thursday's Surf League match at home.
Logan Friedman won twice in singles for CdM (9-6, 3-0 in league), while Bradley Amor and John Dick won twice in doubles.
BASEBALL
Ocean View 15, Godinez 2: Caleb Hohman was two for four with a home run, a double and four runs batted in for the Seahawks in Thursday's Golden West League game on the road.
Matt Starr, Sean Muirhead and Michael Fernandez each had two hits and two RBIs for Ocean View (13-8, 8-0 in league).
Huntington Beach 11, Simi Valley 5: Josh Hahn was three for four with two doubles and three RBIs for Huntington Beach in Thursday's Boras Classic South tournament game at Mater Dei High.
Jake Vogel was three for four, with two doubles and two runs scored. Jag Burden was three for three with a double.
Huntington Beach (13-4) plays Etiwanda in the tournament's 13th-place game Friday at 9 a.m. at Mater Dei High.
BOYS' GOLF
Estancia 221, Costa Mesa 233: The Eagles improved to 3-0 in the Orange Coast League after winning Thursday's match at Mesa Verde Country Club.
Blake Juncker shot a five-over-par 41 for the low score for Costa Mesa (1-2 in league).
Newport Harbor 195, Marina 199: Campbell Norris earned medalist honors for the Sailors with an even-par 35 in Thursday's Sunset Conference crossover match at Meadowlark Golf Club.
Sam Thayer (38), John Herold (40), Jordan Fahy (41) and Caden Dewey (41) also scored for Newport Harbor (5-1).
GIRLS' LACROSSE
Newport Harbor 8, Edison 6: The Sailors clinched the Sunset League title after Thursday's road win.
Newport Harbor improved to 5-4 overall and 3-0 in the league. Edison is 11-3 and 1-2 in the league.
Los Alamitos 11, Corona del Mar 5: Caroline Brewster had two goals for the Sea Kings in Thursday's Sunset League game at home.
Hailey Butcher, Belle Grace and Paige Wood also scored for CdM (4-7, 2-2 in league).
BOYS' VOLLEYBALL
St. Margaret's 3, Pacifica Christian Orange County: Evan Nordstrom finished with 10 kills for the Tritons in Thursday's San Joaquin League match that the host Tartans won 25-11, 21-25, 25-16, 25-15.
Caleb Snider had 28 assists for Pacifica Christian (7-2, 0-2 in league). Bennett Penticuff added 10 digs and Justin Nishkian had eight digs.
::
Twitter: @DailyPilotSport
To report scores, breaking news or newsworthy items, contact the sports staff listed below:
David Carrillo Peñaloza, Sports Editor
(714) 966-4612, david.carrillo@latimes.com
Twitter: @ByDCP
Matt Szabo, Sports Reporter
(714) 966-4614, matthew.szabo@latimes.com
Twitter: @mjszabo
Andrew Turner, Sports Reporter
(714) 966-4611, andrew.turner@latimes.com
Twitter: @ProfessorTurner
---