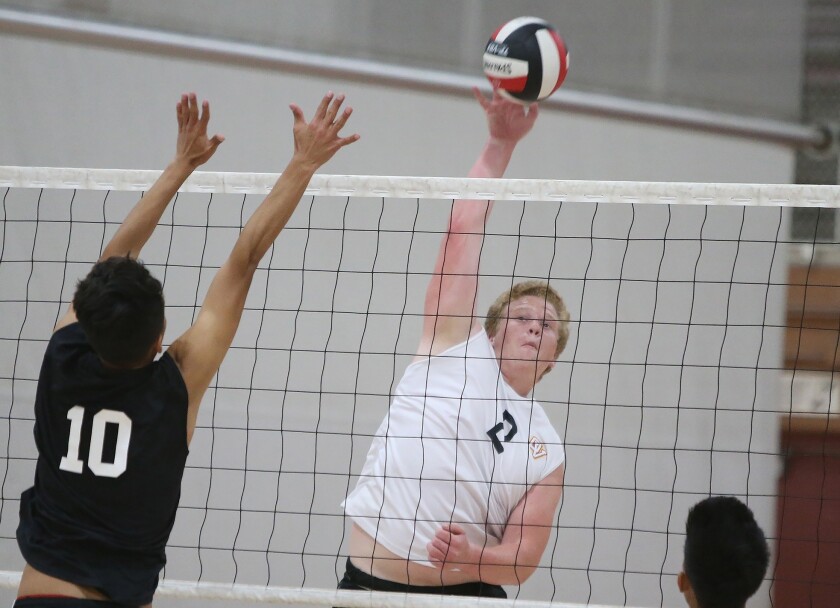 Hunter Miller finished with 41 assists, seven kills and two blocks to lead the Ocean View High boys' volleyball team to a 25-17, 25-19, 23-25, 15-25, 15-12 victory over Garden Grove in a Golden West League match at home Thursday night.
Jackson Petrovich had 19 kills and 4½ blocks for the Seahawks (12-5, 5-4 in league), who have won four straight league contests.
Devon Vu also had 15 kills, Kermel Anwell added 15 digs and five service aces, and Daniel Powell-Horan chipped in with three kills and 2½ blocks.
Ocean View, which leads Segerstrom (13-10, 4-4) by half a match for third place, will play its league finale on April 22, at Godinez.
Fountain Valley 3, Marina 2: Justin Loy and James Templin had 12 kills apiece in a 16-25, 26-24, 16-25, 25-16, 15-12 win for the visiting Barons in Thursday's Wave League match.
Fountain Valley improved to 10-13 overall and 2-2 in the league.
Marina is now 10-14 and 0-4.
BASEBALL
Laguna Beach 6, Riverside La Sierra 5: Nolan Naess' double scored Aiden Kidd in the bottom of the seventh inning as the Breakers won Thursday's nonleague home game in walk-off fashion.
Jeremy Hayes was two for three with a double and run scored for Laguna Beach (15-9). Cutter Clawson had a pair of runs batted in.
SOFTBALL
Los Alamitos 6, Huntington Beach 2: The Oilers (13-7, 3-4 in league) fell half a game behind the visiting Griffins (16-7, 3-3) for second place in the Surf League with Thursday's result.
BOYS' LACROSSE
Corona del Mar 13, Mill Valley Tamalpais 2: Ty Caffarelli, Ryan Rector, Jackson Guizan and Simon Hall each scored two goals in Thursday's nonleague road game for the Sea Kings (13-2).
BOYS' TENNIS
Fountain Valley 12, Huntington Beach 6: The second-place Barons finished 4-2 in the Surf League after Thursday's match on the road.
The Oilers finished 1-5 in league play.
::
Twitter: @DailyPilotSport
To report scores, breaking news or newsworthy items, contact the sports staff listed below:
David Carrillo Peñaloza, Sports Editor
(714) 966-4612, david.carrillo@latimes.com
Twitter: @ByDCP
Matt Szabo, Sports Reporter
(714) 966-4614, matthew.szabo@latimes.com
Twitter: @mjszabo
Andrew Turner, Sports Reporter
(714) 966-4611, andrew.turner@latimes.com
Twitter: @ProfessorTurner
---