High School Roundup: Newport Harbor softball clinches Wave League title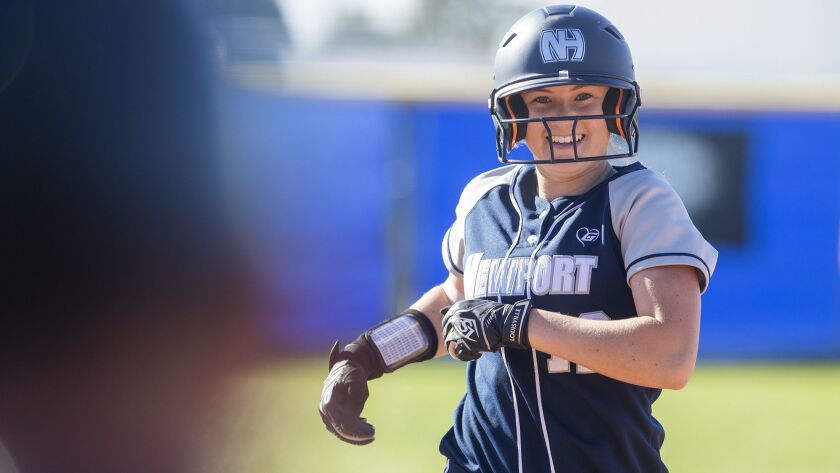 The Newport Harbor High softball team shut out Laguna Beach 12-0 on Tuesday at Thurston Middle School, clinching the Wave League championship.
Eliana Gottlieb went three for three with a triple for the Sailors (16-7, 7-0 in league). Leah Freeman, Alexis Amaro, Kendall Kelly and Clare Austin each had two hits. Lily Larkins also had two runs batted in.
McKayla Cotton and Austin struck out three batters apiece, with each pitcher throwing two innings for Newport Harbor.
Claire Smithers and Mia Pitz each had a hit for Laguna Beach (6-10, 0-5).
Huntington Beach 4, Marina 0: Grace Uribe allowed only one hit and struck out four to lead the visiting Oilers in Tuesday's Surf League game.
The Texas A&M commit also went two for four at the plate with a home run, two RBIs and a run scored.
Valerie Rudd and Jadelyn Allchin also drove in runs for Huntington Beach (14-7, 4-4). Megan Ryono had two hits and run scored.
Marina (16-7, 5-3) came into the game with a magic number of two. Los Alamitos (16-7, 3-3) has two games remaining with Edison (13-8, 2-4), before ending the season with a road game against the Vikings on April 23.
BASEBALL
Marina 3, Laguna Beach 2: Dylan Holt was three for three with two runs batted in for the Vikings in Tuesday's Wave League game.
Braden Wylde also had a pair of hits for first-place Marina (16-9, 4-2 in league).
Laguna Beach fell to 15-10 overall, 3-3 in league.
Fountain Valley 6, Edison 5: Cole Wentz and Connor Bennett each had two runs batted in for the Barons in Tuesday's Surf League game at Edison High.
Fountain Valley (7-15, 1-6 in league) won its first league game.
Kannon Morgan was three for four with two RBIs for Edison (14-11, 3-3).
Estancia 7, Santa Ana 2: Jake Covey got the complete-game win for the Eagles in Tuesday's Orange Coast League game at home.
Jake Alai was two for three with two runs batted in for Estancia (13-10, 8-4 in league), which now has a one-game lead over Orange, Costa Mesa and Santa Ana. Nick Peralez was two for three with a double and three RBIs.
Los Alamitos 7, Huntington Beach 5: The Oilers suffered their first Surf League loss Tuesday on the road.
Nick Upstill was three for four for the Oilers (19-6, 5-1 in league), and Josh Hahn, Brett Barrera and Blake Penso had two hits each.
BOYS' GOLF
Corona del Mar 184, Edison 185: Edison's Vito DiBernardo was medalist with a one-under-par 34, but the Sea Kings picked up the Surf League win Tuesday at Newport Beach Country Club.
John Tipton (35), Guy Clauss (35), Calder Overfelt (37), Ryan Shih (38) and TJ Jenkins (38) all scored for CdM (11-1, 3-1 in league).
Edison fell to 2-2 in league.
BOYS' TENNIS
Costa Mesa 12, Orange 6: Ethan Votran swept at No. 1 singles for the Mustangs in Tuesday's Orange Coast League match at Costa Mesa High.
The doubles teams of Eli Weiss-Hung and Hartley Tran, as well as Devon Chavero and Gavin Trueblood, each swept for Costa Mesa (13-4, 7-0 in league).
::
Twitter: @DailyPilotSport
To report scores, breaking news or newsworthy items, contact the sports staff listed below:
David Carrillo Peñaloza, Sports Editor
(714) 966-4612, david.carrillo@latimes.com
Twitter: @ByDCP
Matt Szabo, Sports Reporter
(714) 966-4614, matthew.szabo@latimes.com
Twitter: @mjszabo
Andrew Turner, Sports Reporter
(714) 966-4611, andrew.turner@latimes.com
Twitter: @ProfessorTurner
---
All the latest on Orange County from Orange County.
Get our free TimesOC newsletter.
You may occasionally receive promotional content from the Daily Pilot.