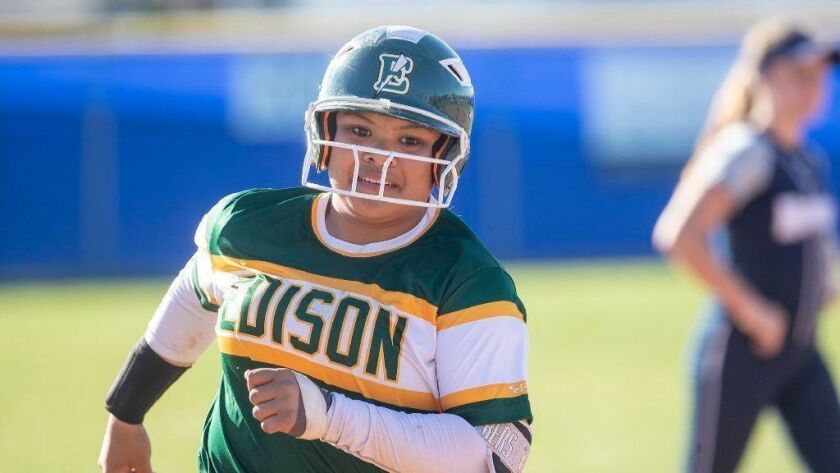 Jaelyn Operana allowed one hit over 5 2/3 innings, and the Edison High softball team shut out host Los Alamitos 2-0 on Friday in the first game of a Surf League doubleheader.
Jenna Bloom came on for the final four outs, recording three of them via the strikeout. Emma Mendoza and Isabella Martinez each had a base hit and a run scored.
The Chargers dropped the second game 5-1.
Edison is 14-10 overall and 3-5 in league.
Los Alamitos (17-8, 4-4) can forge a tie for first place in the Surf League with a win at Marina on Tuesday.
If Los Alamitos were to beat Marina, Huntington Beach could make it a three-way tie for first place with a win at Edison in its league finale.
BOYS' VOLLEYBALL
Edison 3, Fountain Valley 0: Anton Pham had 11 kills, but the host Barons were swept by the Chargers 25-20, 25-23, 25-17 in a Wave League match on Friday night.
James Templin added eight kills for Fountain Valley (11-14, 2-3).
Edison improved to 16-12 overall and 4-1 in league.
BOYS' TENNIS
Costa Mesa 12, Santa Ana 6: Nathan Trieu swept at No. 1 singles as the Orange Coast League champion Mustangs capped an undefeated league season Friday on the road.
Costa Mesa (15-4, 9-0 in league), which has won 12 of its last 13 matches, will compete at league finals Wednesday and Thursday at Costa Mesa Tennis Center.
Sage Hill 10, Foothill 8: The Lightning remained undefeated with Thursday's nonleague win on the road.
Emin Torlic, Steven Ferry and Rohun Krishnan each swept in singles for Sage Hill (12-0), while Adam Hung and Robert Gerschultz secured the clinching 10th set in doubles.
Sage Hill concludes the regular season with San Joaquin League matches at Claremont Webb on Monday, and at home against Fairmont Prep on Tuesday.
GIRLS' LACROSSE
Newport Harbor 11, Poway 10: Delaney Knipp scored five goals, including the game-winner, for the Sailors in Friday's nonleague game at Newport Harbor High.
Olivia Gritzmacher and Joelle Rothbard each scored twice for Newport Harbor (8-7), while Mary Jones and Zoey Palmquist had one goal each.
TRACK AND FIELD
The Sage Hill School girls' track and field team earned second place (173 points) in the San Joaquin League finals at Claremont Webb School.
A pair of school records highlighted the Lightning's efforts. Grace Robinson-Dorn set the school mark in the girls' 100-meter sprints with a time of 13.04 seconds.
Robinson-Dorn went into the record book again in the 400 relay, as she was joined by Emily Lam, Sofia Lowe and Sydney McCord on a team that completed the race in 51.18 seconds.
McCord won three league titles, as she also won the 200 (27.07) and the 400 (1:02.68).
Sage Hill's boys finished third (91.5 points) at the meet, with Zack Karro taking first in the 100 (11.53) and the high jump (5 feet, 8 inches).
St. Margaret's swept the San Joaquin League team titles.
Twitter: @DailyPilotSport
To report scores, breaking news or newsworthy items, contact the sports staff listed below:
David Carrillo Peñaloza, Sports Editor
(714) 966-4612, david.carrillo@latimes.com
Twitter: @ByDCP
Matt Szabo, Sports Reporter
(714) 966-4614, matthew.szabo@latimes.com
Twitter: @mjszabo
Andrew Turner, Sports Reporter
(714) 966-4611, andrew.turner@latimes.com
Twitter: @ProfessorTurner
---