Column: Huntington Beach claims Sunset Surfing League title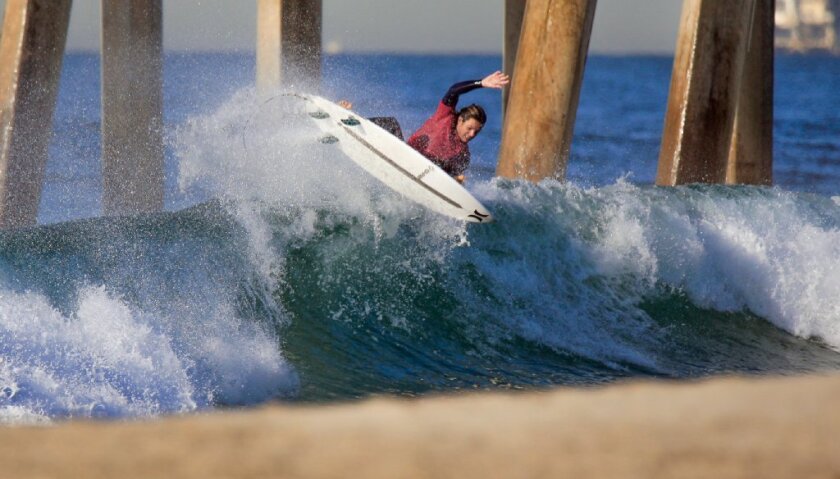 It might not be a stretch to say that the water on the south side of the Huntington Beach Pier is a like a second home to many of the Huntington Beach High surf team.
They are there every day before school, sometimes even before the sun has risen, catching waves and gaining valuable knowledge of what can be a tricky wave.
Using a little bit of knowledge — and a whole lot of talent — Huntington Beach glided to a team victory in the Sunset Surfing League championships held on Wednesday.
Huntington Beach finished with 191 team points, followed by second-place Marina (130), third-place Edison (115) and fourth-place Fountain Valley (28).
Individually, Oiler surfers flooded the final heats. In the boys' shortboard, Huntington Beach's Sage Guinaldo won it, winning the final over second-place Brayden Gratzer (Marina), third-place Griffin Foy (Huntington Beach), fourth-place Zach Lyons (Huntington Beach), fifth-place Ethan Hurst (Huntington Beach) and sixth-place Josh Hodson (Marina).
The late afternoon final was close, as all six surfers scrambled to get waves in some challenging, close-out conditions. But Guinaldo landed an air to finish his first wave just a minute into the heat, setting the tone for the remaining 19 minutes.
"I knew it was pretty close between all of us," Guinaldo said. "I caught the first one, I thought it was pretty good, but then I saw the other guys catch good ones, too. I caught another good one, but I didn't think it was enough."
But it was enough to edge out Gratzer. Guinaldo compiled two-wave scores of 14.5, 15 and 15 from the three judges, with Gratzer scoring 11.2, 11.7 and 11.6.
"Sage, by beating Griffin Foy, sent a message to everyone in this community here of surfers, [saying], 'Hey, I rip too, and I'm not going away. I'm here,'" Huntington Beach coach Andy Verdone said. "And Griffin's like, 'OK, kid, welcome to the club.' You can't argue that Griffin's a talented goofy foot that's destined for a nice future. And Sage is as well. He's something special."
In the girls' shortboard, Huntington Beach swept the top three spots in the six-person heat. Chiasa Maruyama took first place, edging out teammates Kristina Hehl (second) and Summer Balentine (third). Chelsea Herring (Edison) finished fourth, followed by Danjiela Pruett (Edison) and Ashley Reyes (Marina).
Like the boys' final, the girls' final was close between Maruyama and Hehl. The judges scored Maruyama's two waves at 12, 12 and 13.5, compared to Hehl's 11.7, 11.5 and 11.2.
For Maruyama, who placed fourth in nationals both her freshman and sophomore years, winning has become such a habit that it's difficult to find a place for all of her hardware.
"I have this area for my first-place trophies, and the rest are just in my closet," Maruyama said with a laugh.
In boys' longboard, Foy took first, followed by second-place Jovan Scott-Smith (Huntington). Luke McLachlan (Marina) was third, Gratzer (Marina) fourth, Max Zazueta (Marina) fifth and Zak Grove (Edison) sixth.
In girls' longboard, Edison's Summer Richley took first, followed by second-place Sydney Morris (Edison). Hehl placed third, Kayla Little (Huntington) fourth, Emilee Carter (Edison) fifth and Sabrina Wells (Fountain Valley) sixth.
San Clemente represents
The Vans World Cup, the second leg of the Vans Triple Crown of Surfing series, finished up last week at Sunset Beach on the North Shore of Oahu with the final heat loaded with Californians.
San Clemente's Kolohe Andino and Griffin Colapinto, and Santa Barbara's Conner Coffin were joined by Aussie Wade Carmichael in the championship heat. (San Clemente also had Patrick Gudauskas in the semifinals).
In the end, it was Coffin who came out on top, winning the heat with Andino second, Carmichael third and Colapinto fourth.
The final contest in the Triple Crown begins this weekend with the Billabong Pipe Masters at the North Shore's Banzai Pipeline. It's also the final contest for the men on the World Surf League's Championship Tour, and the 2017 world champion will be crowned.
Hawaii's John John Florence, the reigning world champion, leads in the world rankings heading into the contest, followed by No. 2 Gabriel Medina, from Brazil, and No. 3 Jordy Smith, from South Africa.
Huntington Beach's Kanoa Igarashi, currently ranked No. 20, reached the final heat in the Pipe Masters last year and placed second, his best finish so far on the CT.
Consistent Courtney
Courtney Conlogue, a Sage Hill School graduate, came up short in her bid for a women's world championship when she was eliminated last week in Round 4 of the Maui Women's Pro, the 10th and final contest of the Championship Tour.
Had Conlogue won the contest, the Santa Ana resident would have earned her first world title, but instead she finished the season ranked No. 4 in the world. Certainly, Conlogue's goal was to win the title, especially after finishing No. 2 in each of the past two years.
But Conlogue, still just 25, has finished among the world's top 10 in each of the past seven seasons going back to 2011. She was eighth in 2011, fifth in 2012, fourth in 2013, ninth in 2014, second in 2015, second in 2016 and fourth this year.
JOE HAAKENSON is a Huntington Beach-based sports writer and editor. He may be reached at joe@juvecreative.com.
---
All the latest on Orange County from Orange County.
Get our free TimesOC newsletter.
You may occasionally receive promotional content from the Daily Pilot.