Column: Joe Surf: Huntington Surf & Sport on top in Oakley Surf Shop Challenge West Regional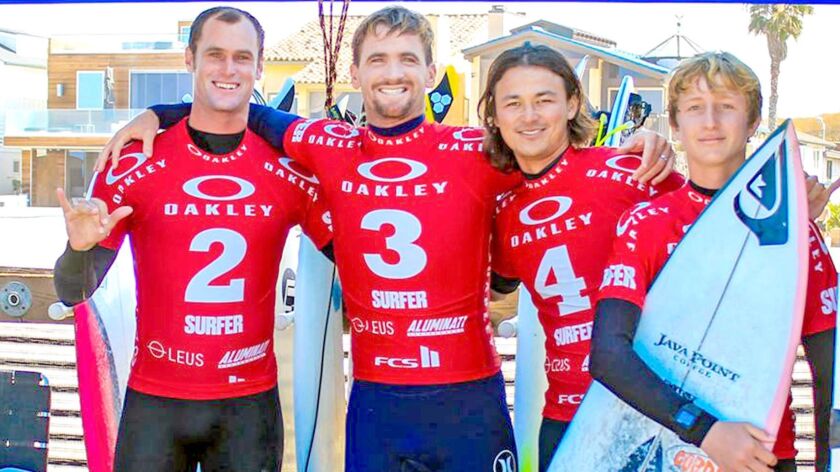 On the corner of Main Street and Pacific Coast Highway in Huntington Beach, Huntington Surf & Sport and Jack's Surfboards sit across the street from each other.
Both sell anything and everything related to surfing. Both even have their own version of the Hollywood Walk of Fame, complete with footprints, handprints and blocks of cement honoring surfing legends on the sidewalk outside the stores.
They are surf shop titans, so it stands to reason that their competition doesn't end on dry land.
HSS and Jack's were among 10 Southern California surf shops competing in the Oakley Surf Shop Challenge recently, a national competition that will ultimately crown a national champion in the fall.
HSS and Jack's competed in the West Regional, the fifth of seven regionals around the country that serve as qualifiers for the national championships that will be held at a location to be determined.
The West Regional was held at 54th Street in Newport Beach, starting with two five-team Round 1 heats, and the top five team scores among all 10 teams advancing to the final. Each team has four team members — two shop employees and two shop team riders — and they get turns to get scoring waves.
There is also a twist. Each team must determine before the heat who will be its "double whammy" surfer. He can choose one wave where he gets double points for that wave, and he must claim it by raising both hands within 15 seconds after he kicks out or falls off to be awarded the "double whammy" score. Once he paddles back out or goes to the beach, it's too late to claim double whammy for that wave.
Jack's HB, whose surfers were Dakota Haircloth, Nathan Young, Griffin Colapinto and Dave Post, finished Round 1 with the best overall score and HSS, with Brett Simpson, Brad Ettinger, Taylor Pai and Griffin Foy, getting the third best team score.
The other shops that qualified for the final were Sakal Surfboards (Huntington Beach), Catalyst (San Clemente) and Spyder Surfboards (Hermosa Beach).
In the final, HSS edged out second-place Spyder Surfboards, 35.34-32.03, with Catalyst (19.87) third, Jack's HB (14.39) fourth and Sakal Surfboards (11.91) fifth.
The key to the final heat was when Ettinger tucked into a barrel and scored a 10 on one wave, and then when Simpson claimed a 7.77 on his "double whammy" wave.
"Griffin got us a good start; it's nice when someone goes out there and posts like a 6-plus, it kind of relieves a lot of the pressure," team captain Simpson said. "Brad dropped a 10, so the pressure was on me to whammy something and I had like two waves that were mediocre. I just felt like I had to give myself that third chance. Then Taylor went out and did his job. At that point we were in a good position. Everyone got enough time to get their waves. Bring on [the National Championships]!"
Rip Curl Grom Search
If it seems the lineups are getting younger and younger, it's because they are. Groms are everywhere these days, and their skills were on display earlier this month at the Rip Curl Grom Search held on the south side of the Huntington Pier.
Rip Curl ran the first Grom Search in 1999 and has developed into a worldwide series that culminates in an International Final, held at a different location each year. This year's final will be held at Steamer Lane in Santa Cruz in October.
Competitors are limited to ages 16 and under, but the talent is off the charts. Former Grom Search competitors include 2014 world champion Gabriel Medina of Brazil, 2016 women's world champ Tyler Wright of Australia, and six-time women's world champion Stephanie Gilmore of Australia. Simpson, once a grom himself, acknowledges that surfing today seems to be the era of the grom.
"To me obliviously the level [of surfing] has gone up," Simpson said. "I feel these kids understand the beauty of the lifestyle but also the competitiveness of it. Sponsors are always looking for next big thing, with a solid contract on the table and that's why you see these kids getting good so fast. They are hungry for the best lifestyle there is."
The Huntington contest was the first of four qualifying regionals leading to the final in Santa Cruz. The remaining regionals will be in Hawaii, Florida and North Carolina.
At Huntington, San Clemente surfers dominated the event, and in particular, Kade Matson stood out, winning the 16-and-under division and finishing second in 14U.
Finalists for the Rip Curl Grom Search in Huntington included:
Boys 16U — 1. Matson, San Clemente; 2. Nick Marshall, Encinitas; 3. Finnegan McGill, Oahu, HI; 4. Crosby Colapinto, San Clemente.
Girls 16U — 1. Kirra Pinkerton, San Clemente; 2. Samantha Sibley, San Clemente; 3. Tiare Thompson, La Jolla; 4. Olivia Pessanha, San Diego.
Boys 14U — 1. Brodi Sale, Big Island, HI; 2. Matson, San Clemente; 3. Niko Coli, San Clemente; 4. Dylan Franzmann, Oahu, HI
Boys 12U — 1. Dane Matson, San Clemente; 2. Robbie Goodwin, Cape Cod, Mass.; 3. Raphael Castro, San Diego; 4. William Hedleston, Cocoa Beach, Fla.
Time to repeat?
The Huntington Beach High School surfing team heads south to Salt Creek in Dana Point this weekend for the National Scholastic Surfing Assn. (NSSA) Interscholastic National Championships.
Huntington is the defending national champion, winning its 18th crown last year and first since 1998. This is the HB surf team's 50th season.
JOE HAAKENSON is a Huntington Beach-based sports writer and editor. He may be reached at joe@juvecreative.com.
---
All the latest on Orange County from Orange County.
Get our free TimesOC newsletter.
You may occasionally receive promotional content from the Daily Pilot.