High School Male Athlete of the Week: Laguna Beach's Logan Brooks inspired by, runs for others
Laguna Beach High junior cross-country runner Logan Brooks believes that his sport of choice offers the perfect mix of individual and team effort.
Brooks finds that running for others is essential. He thinks that when people act only for themselves, it becomes too easy for them to say that they will get another kick at the can.
Perhaps that is why Brooks was able to perform in the clutch, recognizing that there may not be a bigger moment for the members of the Laguna Beach boys' cross-country team this year.
The Breakers won the CIF State Division IV championship race by a count of 68-97 over San Anselmo Sir Francis Drake. Brooks earned all-state honors, finishing second among the Breakers with a seventh-place showing. He completed the 5K course at Fresno's Woodward Park in 15 minutes 48.7 seconds.
Brooks described his thoughts as he headed down the final straightaway, a stretch that begins on asphalt and sends the runners onto the grass before crossing the finish line.
"I got to do my part if we want to win this," Brooks said. "I know the guy behind me on our team is going to do his part to do this. We all are driven for each other to just overcome that pain. You know it's not just for you.
"When it's not just you and you've got the rest of the team on the line, I think [for] everybody, you find new inspiration."
In back-to-back years, the Breakers had newcomers come aboard that would go on to surprise as Division IV all-state performers. Last year, it was Ryan Smithers who joined the team as a junior and finished eighth at the state meet. This year, Smithers (15:27.8) was the Division IV runner-up to JSerra's Anthony Grover (15:21.8).
He came out every day, and he put his head down, and he just worked, and worked ... and he eventually got to be the No. 2 runner on a state championship team.
— Tommy Newton-Neal, Laguna Beach High assistant coach
The Breakers had felt good about having Smithers and Sebastian Fisher, two seniors, leading their pack throughout the season. When Fisher faltered late in the state race, the Breakers found out just how valuable their depth could be.
"He kind of became our unexpected No. 3, and he really contributed to bringing up the front of our team," said sophomore Mateo Bianchi, who finished 18th overall in the Division IV race for the Breakers. "It made it so that our No. 4 and 5 were [more so] added depth than they were before."
Laguna Beach won its first state championship since 2009. Tommy Newton-Neal, a member of that 2009 team, joined the Breakers' coaching staff as an assistant in 2017.
Beating the 2009 team became a source of motivation for the Breakers this year. Brooks, a junior transfer from Santa Rosa South Walton in Florida, knew that his new team would commit to any goal that it had as a group.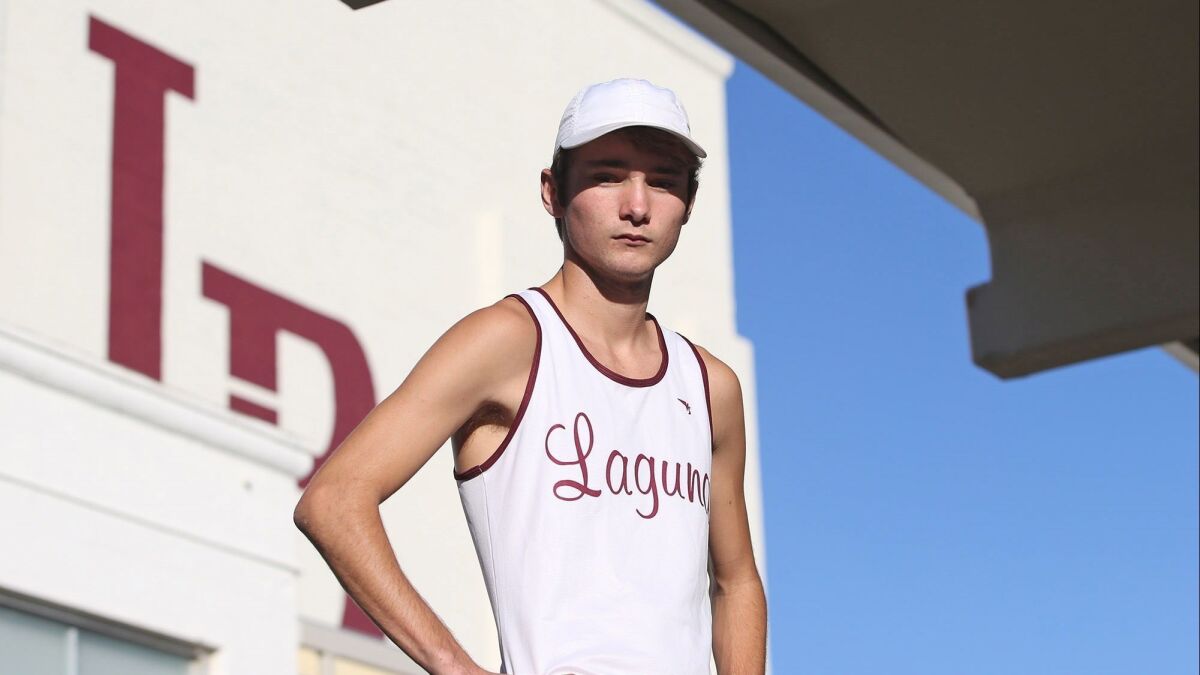 Brooks had his pick of high schools to attend when he came out to Southern California. He chose Laguna Beach because he hoped the small-town community would lead to the team being a tight-knit unit, too.
"I came out in the summer and met them," Brooks said. "They were all very welcoming. There weren't too many names to remember. I think after the first week, we already saw two movies together, we went to the beach, so they were very inclusive, and it was definitely that group that I was looking for.
"It wasn't just a group of athletes to train with. It was a group of friends."
When it came time to compete, however, Brooks was unable to do so immediately. Brooks was held out of action for three weeks while experiencing pain in his Achilles and hip.
"I remember his first run," Newton-Neal said. "It was probably a six-mile run. Where he's from, it's not very hilly. It's really flat. We took him on a canyon run at El Morro [Elementary], and I think he was walking by the end of the run. He was walking up the hills because it was so painful.
"He has an unrelenting drive. After that first day, he was going to do everything in his power to be a scorer on this team. He came out every day, and he put his head down, and he just worked, and worked, and worked, and worked, and he eventually got to be the No. 2 runner on a state championship team. That was pretty impressive."
Brooks continues to run in memory of his father, Scott, whom he lost two years ago. A former naval pilot who flew F-18s in the 1980s, Brooks' father had been his son's biggest fan on race day.
"I get a lot of my inspiration from him," Brooks said. "He was a big supporter of my running, and he came out to everything. He was nuts about it. I really kept pushing myself to get better and better because I knew that was what he would want to see. He always thought I would be a good runner."
Brooks also credited Willie Parker, his former coach at South Walton, for contributing to his development as a runner. He called Parker a "fantastic coach and a great mentor."
::
Logan Brooks
Born: Feb. 26, 2001
Hometown: Alpharetta, Ga.
Height: 6 feet 1
Weight: 135 pounds
Sport: Cross-country
Year: Junior
Coach: Scott Wittkop
Favorite food: Salmon
Favorite movie: "Top Gun"
Favorite athletic moment: Winning the CIF State Division IV title on Nov. 24 because it epitomized his running career. The team built up to one goal throughout the season and accomplished it.
Week in review: Brooks placed seventh with a time of 15:48.7 in the CIF State Division IV boys' championship race on Nov. 24 at Woodward Park in Fresno. The junior earned all-state honors with his top-10 finish. He helped Laguna Beach beat San Anselmo Sir Francis Drake 68-97 for the team title.
Twitter: @ProfessorTurner
---
All the latest on Orange County from Orange County.
Get our free TimesOC newsletter.
You may occasionally receive promotional content from the Daily Pilot.