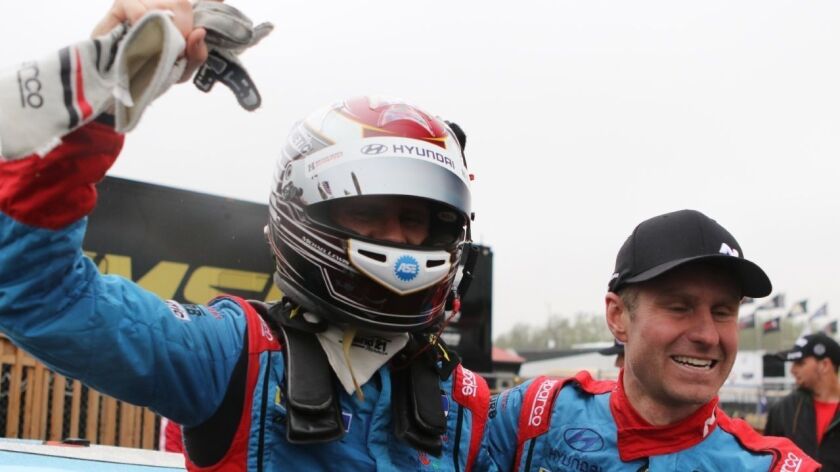 Professional race car driver and Laguna Beach resident Michael Lewis won his first International Motor Sports Assn. Michelin Pilot Challenge Series race of the season.
Lewis crossed the finish line first on May 4 at the Mid-Ohio Sports Car Course in Lexington, Ohio, capping a two-hour race with a first-place finish along with co-driver Mark Wilkins. Lewis, 28, racing for Bryan Herta Autosport, drove the No. 98 Hyundai Veloster N TCR race car.
"This win was amazing," Lewis said. "I was really happy with getting the car across the line in first place. Obviously, you have a team of people to prepare the car, but equally as important, I have a really great teammate and co-driver in Mark Wilkins. He drove the first half of the race really well, passing a bunch of people from sixth-place starting position.
"He handed me the car halfway through the race in first place, so the pressure's on, right? You have to keep it in first. He did a really great job. The passes he was making the first half of the race inspired me to make the same kind of passes when I was in the car. Just watching him on the TV screen gave me some pointers or tips."
Lewis has been racing professionally since late 2017. He and Wilkins qualified sixth in Ohio but battled to the front of the field. Lewis made his final pass with only two laps left and never relinquished the lead, giving Hyundai its first victory in the IMSA series.
"Everything came together," Lewis said. "Good pit stop, really hard racing, no mistakes from anybody, good car setup. That's how you win; you've just got to do those things. And then a little bit of luck maybe, as well."
Lewis' next event of the 10-race season will be at Watkins Glen International in New York on June 28-30.
"It's a really fast and large track," Lewis said. "You're on the throttle a lot. We'll see how we compare against the other cars."
::
Support our sports coverage by becoming a digital subscriber.
For more sports stories, visit latimes.com/socal/daily-pilot/sports or follow us on Twitter @DailyPilotSport.
Twitter: @mjszabo
---