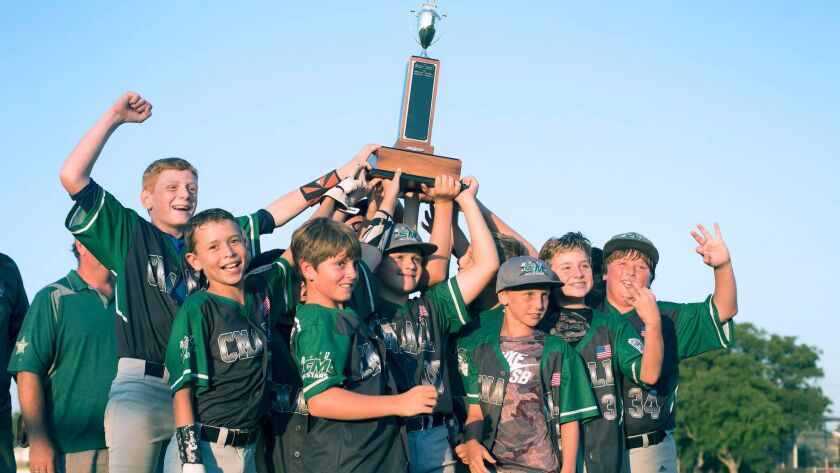 In the end, this rivalry was all about revival.
The Costa Mesa American Little League All-Stars rallied from an opening-game loss and two late-game deficits in the final two games to win the best-of-three Mayor's Cup Majors Division crosstown baseball series completed Wednesday.
Costa Mesa American erased deficits of 6-2 and 9-4, and trailed 10-9 in extra innings on Wednesday at Costa Mesa High before scoring twice in the bottom of the seventh for an 11-10 walk-off win.
It's the third straight Mayor's Cup crown for Costa Mesa American, which pared Costa Mesa National's overall lead in the 21-year series to 12-9.
Resilience was rampant for the winners, including 11-year-old Aiden Ogo, who produced the series-winning RBI on a groundout. Ogo, who doubled in a run in the first inning, also had a crucial RBI single in Monday's 5-4 come-from-behind victory in Game 2 at TeWinkle Middle School. Ogo began the series by striking out his first three at-bats.
"I just kept my head in the game and stayed focused," Ogo said.
Brandon Davis, who was zero for three in the series before being hit in the shoulder by a pitch that sidelined him early in Game 2, produced a two-run home run in his first at-bat on Wednesday. Davis then doubled and scored in a two-run fifth inning that allowed Costa Mesa American to tie the score at 9-9.
Costa Mesa American, which had just two hits and hit three balls out of the infield in a 6-1 setback to open the series on Saturday, had 11 hits in the rubber game. Most importantly, it had just one of the game's six errors.
A Costa Mesa National error to open the seventh proved costly, as Alex Serafin reached second when his routine fly ball to right field was not caught.
After a strikeout, leadoff man Garrett Emerson laced a double to right-center field to plate the tying run. Emerson, who was five for nine in the series and also posted the pitching win on Wednesday after earning the save on Monday, reached third on an infield single by Matthew Riley.
Ogo then hit a sharp grounder to the second baseman, who threw to first instead of coming home as Emerson scored without a play.
Sloppy play by Costa Mesa National allowed Costa Mesa American to score a pair of gift runs to pull even in the fifth.
After Davis doubled, Emerson beat out a swinging bunt for a single, then stole second to put two runners in scoring position. After a subsequent throw from catcher to third base, attempting to pick off Davis, the third baseman threw wide trying to return the ball to the pitcher, allowing Davis to score. When the pitcher eventually retrieved the ball, he threw to third, trying to catch Emerson off the bag, but the throw evaded the third baseman, who was not looking, allowing Emerson to score.
Jacob Allen was two for three for the winners, who received additional hits from Thomas Reyes and Luke Ashton.
Matthew Anderson walked twice and scored a run, while Kyle Cowley and Caiden Curran earned RBIs by walking with the bases loaded in a three-run fourth inning.
Catcher Sam Heil also had an RBI on a groundout in the fourth for Costa Mesa American, for which Curran, Cowley, Anderson and Emerson all pitched.
Dimitri Susidko went three for four with a two-run inside-the-park home run, while Kaiden Kahkosko was three for four with a double, one RBI and two runs to pace Costa Mesa National's 12-hit attack.
Kahkosko's rocket double with one out in the seventh, put the visitors up 10-9. He was six for nine with a homer and four RBIs in the series.
J.J. Kibin had a three-run homer in the fourth inning for the visitors and he was four for seven in the series.
Ta'iTa'i Grey-Uiagalelei had a two-run double for Costa Mesa National and was four for seven with four RBIs in the series.
Sam Stute was two for two with a walk and one RBI, while James De La O and Adler Avakian also had hits for Costa Mesa National in Game 3.
Justin Cassingham walked and scored and John Uchytil also worked a walk for Costa Mesa National, for which Tyler Humphries and Cullen Powers also contributed.
"It was a great game," Costa Mesa American manager Michael Heil said. "This is a well-deserved win for these boys, who fought hard through two games after struggling in the first game."
Costa Mesa National manager Jason De La O said the loss was painful for his players, coaches and fans.
"If you would have told me we'd score 10 runs today, I would have told you I loved our chances, because of our pitching," Jason De La O said. "But we just couldn't pull it off. We made some fielding miscues and mental errors and it cost us."
Twitter: @BarryFaulkner5
---