Sports Editor
The Corona del Mar High football team is no stranger to making deep playoff runs.
Since 2010, the Sea Kings have played 29 playoff games and reached the CIF Southern Section final four times. But out of all those contests, only three have been outside of Orange County.
While CdM has traveled to Carson, Ontario and Los Angeles, none of those three cities are as far away as the town the Sea Kings will visit next. The program's 30th postseason game in nine years will be 94 miles away from home.
Even though home has been good to the top-seeded Sea Kings in the first two rounds of the CIF Southern Section Division 4 playoffs this year, they're looking forward to going on a long bus ride together.
The host Sea Kings blew out Yorba Linda 49-12 in the quarterfinals at Newport Harbor High on Friday, setting up a trip to Camarillo.
Behind record-breaking performances by quarterback Ethan Garbers and wide receiver John Humphreys, CdM (10-1-1) will head to Camarillo (11-1) for the semifinals on Nov. 16. The Scorpions earned a 44-20 win in the quarterfinals at No. 4 Hesperia Oak Hills on Friday.
"We've seen every [game] they've played [on film]," Sea Kings coach Dan O'Shea said of the Scorpions, who finished second in the Camino League to Simi Valley Grace Brethren, a No. 3 seed and semifinalist in Division 4. "I'm sure they had an incredibly emotional day [with the Hill and Woolsey fires forcing evacuations and burning homes in Ventura County] … and we said a prayer for them as a football team today, because our hearts, thoughts and prayers are with them, their families and their friends. We have a lot of respect for the Camarillo football program."
CdM and Camarillo have one common opponent, and the Sea Kings and Scorpions both posted shutouts. CdM won 35-0 at Lakewood on Sept. 7, and two weeks later, Camarillo hosted Lakewood and prevailed 36-0.
A similar result in nonleague play, but only one team will qualify to compete for the section crown. Camarillo last advanced to the final three years ago, and CdM two years ago.
Quarterback Chase Garbers took the Sea Kings to the title game in 2016. There's another Garbers leading the way this year at CdM.
Ethan Garbers moved the Sea Kings one step closer to advancing to their fifth section championship game in eight years on Friday. He completed 29 of 37 passes for 368 yards and five touchdowns, and ran for a score against Yorba Linda.
Garbers took down another of his older brother Chase's CdM passing records, the single-season mark for touchdowns. Ethan has 48 touchdown passes this year, surpassing Chase's mark of 47 from 2016.
All the records are cool, but I'm focusing on winning a ring right now.
Ethan Garbers, Corona del Mar High quarterback
With weapons like Humphreys, Bradley Schlom, Mark Redman and Simon Hall, Ethan Garbers is putting up big numbers in his first season as the starter. Garbers also helped Humphreys, who finished with 12 catches for 138 yards and three touchdowns, set school records on Friday.
Humphreys became the CdM single-season leader in receptions (87) and touchdown catches (25), as well as the career leader in receptions (160) and receiving yards (2,823), and total touchdowns (44).
And Humphreys, like Garbers, is only a junior. The records don't mean as much to the two of them as it would lifting CdM to its first CIF title in five years.
"All the records are cool," Garbers said, "but I'm focusing on winning a ring right now."
Humphreys has played a role in CdM making it to the big stage before. As a freshman, he caught the game-winning touchdown in a 35-34 win over Lompoc in the Division 4 semifinals in 2016. Chase Garbers threw the 19-yard touchdown to Humphreys with 45 seconds to go.
Two years later, it's Ethan Garbers connecting with Humphreys in the postseason.
The two hooked up for 14-, nine- and four-yard touchdown passes in the quarterfinals. All three scores came in the first half, allowing CdM to take a 21-12 lead.
Yorba Linda (9-3) put its best all-around player, Ricky Lane, at cornerback on the 6-foot-5 Humphreys, hoping to contain him. Lane, who is five inches shorter than Humphreys and usually plays safety, and the rest of the defense had no answer for CdM's aerial attack. Schlom caught seven passes for 110 yards and a touchdown, and Redman had a one-yard touchdown reception.
"I was hoping our physicality would make a difference," Yorba Linda coach Jeff Bailey said. "But [the Sea Kings] just kind of got rolling and we kind of didn't."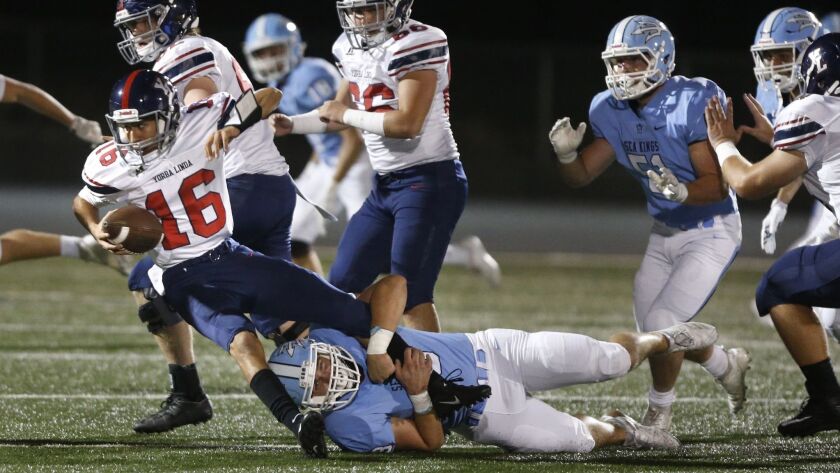 Yorba Linda, the Crestview League runner-up, tried to keep Garbers and company on the sideline with its ground game, but CdM's defense slowed down the run.
CdM's Chase Zanck, Carter Duss and Chandler Fincher kept 1,000-yard rushers Keaton Haddad and James Festini in check for most of the night, with each stuffing a run in the backfield. Haddad and Festini totaled 34 carries for 112 rushing yards, 95 below their combined per-game average.
The only two scores CdM gave up came in the second quarter. Festini rushed for a two-yard touchdown, and then Lane (five receptions for 97 yards) made a spectacular grab that resulted in a 58-yard touchdown. Lane beat double coverage inside the 20-yard line, somehow managing to keep his balance, break two tackles and get in the end zone to cut CdM's lead to 14-12 with 2:12 left before halftime.
In 58 seconds, the Sea Kings responded. Four plays into the drive, Humphreys ran a quick out, and Garbers found him for an easy four-yard touchdown pass, capping a 65-yard drive.
The Sea Kings scored the game's final 35 points. The last touchdown came on Jason Vicencio's five-yard run midway through the fourth quarter, giving him 91 yards.
Watching CdM put up 49 points for the second straight week left O'Shea with nothing to complain about, except for one thing. O'Shea had an issue with the white hoodie Humphreys wore underneath his jersey.
"I want that thing freaking off, because nobody else is wearing a hoodie, right?" O'Shea said with a smile. "We all wear the same thing [as a team]. I didn't like it at all. We'll fix that."
Humphreys said he plans to wear the hoodie again.
"It might be a little cold next week, so I was just trying to get used to it," Humphreys said of playing with the hoodie. "[I] looked good [and I] played good [with the hoodie on]."
CIF Southern Section Division 4 playoffs
Quarterfinals
Corona del Mar 49, Yorba Linda 12
SCORE BY QUARTERS
Yorba Linda 0 – 12 – 0 – 0 — 12
Corona del Mar 7 – 14 – 21 – 7 — 49
FIRST QUARTER
CdM – Humphreys 14 pass from Garbers (Schroeder kick), 6:23.
SECOND QUARTER
YL – Festini 2 run (kick blocked), 10:56.
CdM – Humphreys 9 pass from Garbers (Schroeder kick), 4:01.
YL – Lane 58 pass from Micallef (run failed), 2:12.
CdM – Humphreys 4 pass from Garbers (Schroeder kick), 1:10.
THIRD QUARTER
CdM – Garbers 1 run (Schroeder kick), 9:22.
CdM – Schlom 5 pass from Garbers (Schroeder kick), 4:53.
CdM – Redman 1 pass from Garbers (Schroeder kick), :01.
FOURTH QUARTER
CdM – Vicencio 5 run (Schroeder kick), 5:44.
INDIVIDUAL RUSHING
YL – Festini, 20-86, 1 TD.
CdM – Vicencio, 17-91, 1 TD.
INDIVIDUAL PASSING
YL – Micallef, 9-12-0, 152, 1 TD.
CdM – Garbers, 29-37-0, 368, 5 TDs.
INDIVIDUAL RECEIVING
YL – Lane, 5-97, 1 TD.
CdM – Humphreys, 12-138, 3 TDs.
Twitter: @ByDCP
---