CdM is a regular at CIF football luncheon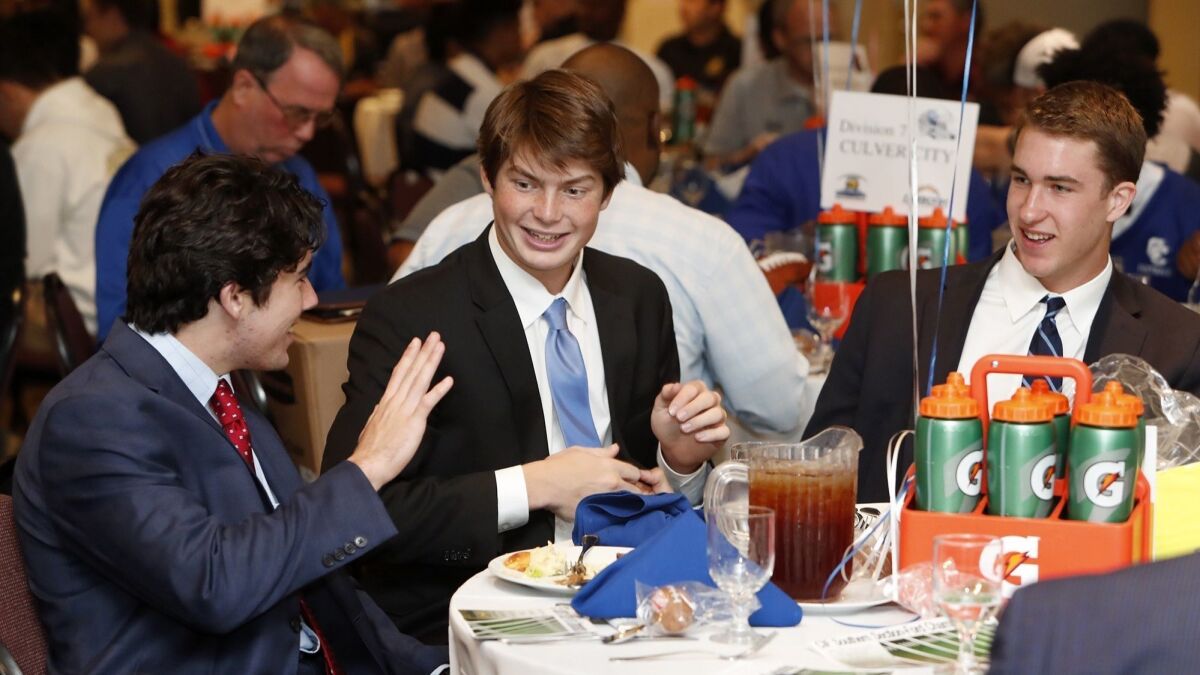 Reporting from Long Beach —
When the Corona del Mar High football team takes the field in the CIF Southern Section Division 4 title game on Saturday, it will be yet another chapter in the book the Sea Kings are writing on how to win at a public school with consistency.
The Sea Kings will be making their fifth section finals appearance in eight years when they play Simi Valley Grace Brethren at Simi Valley Royal High. For reaching the 14th game of the season, CdM was recognized during Monday's section football championship luncheon at the Grand Long Beach.
CdM coaches Dan O'Shea and Kevin Hettig have become regulars at the luncheon, which celebrated the 26 teams vying for CIF titles in 13 divisions.
O'Shea and Hettig know what it takes to win it all, having helped CdM claim Southern Division titles in 2011, 2012 and 2013. The Sea Kings have also won 10 or more games in seven of the last eight seasons, a nine-win year in 2015 the only outlier.
Perhaps the most impressive part of CdM's success during this time frame is the fact that the program is filled mostly with homegrown and developed talent.
CdM football isn't just about the team, coaches and school, it's about the community, because this is what it's all about, and that's fans, friends and family.
— Dan O'Shea, Corona del Mar High football coach
The Sea Kings are rarely the beneficiary of a transfer student. The majority of their varsity players played freshman or junior varsity football as freshmen, and the bulk of the kids on the roster grew up playing together in youth football.
"It's a testament to the kids' belief in the program and our coaching staff," said O'Shea, who is in his fourth year in charge of CdM. "The kids have believed in our philosophy and they have embraced it every single year.
"It doesn't mean we're going to win every game or make the CIF playoffs, much less be in the finals," O'Shea added. "But our kids believe in our process and understand and embrace our culture. It's a bunch of local kids playing together and having a really good time."
And while some people might think that operating a program with neighborhood kids puts it at a disadvantage, Hettig, the offensive coordinator, thinks just the opposite.
"I think it's an advantage having guys who have played together for so long," he said. "It makes them closer and each one of these memories even more special."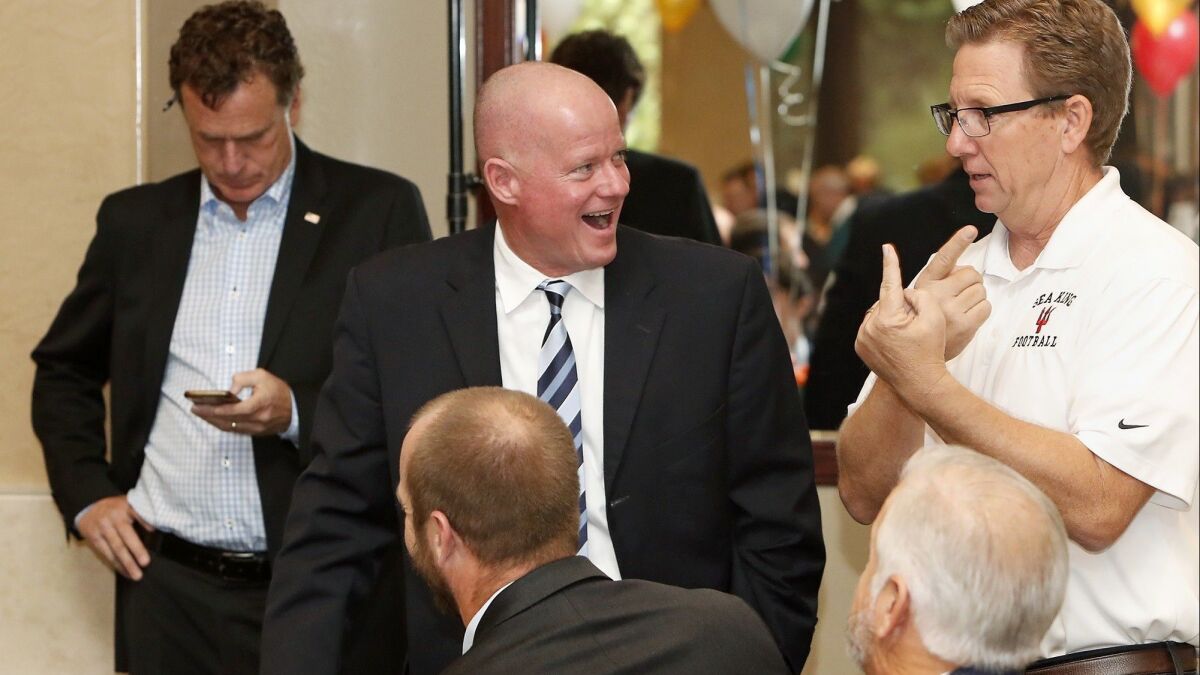 That culture O'Shea speaks of was established in 2011, when former coach Scott Meyer was at the helm. O'Shea and Hettig were the defensive and offensive coordinators on Meyer's staff. When Meyer departed for Servite after the 2014 campaign, O'Shea took over as the de facto head coach with the idea of keeping that culture in place.
"This is about our entire community," O'Shea said. "CdM football isn't just about the team, coaches and school, it's about the community, because this is what it's all about, and that's fans, friends and family."
One of the biggest reasons why CdM has been able to sustain its program's values from year-to-year is the relationship developed by O'Shea and Hettig.
While O'Shea holds the formal title of head coach, everyone in the program, from the players, to their parents, to the administrators, see the duo as co-head coaches. The productive relationship those two have fostered has helped CdM continue to be one of the premier public high school football programs in Southern California.
"Going back to when we were [assistants] at Trabuco [Hills] together, we've coached one varsity game without each other, and that was against Palos Verdes in 2015, when he had his kid," said Hettig, who filled in for O'Shea as the head coach in CdM's season opener three years ago. "Coaching with your best friend makes everything more fun, and when we go after each other, we know it's coming from a good place."
Now that the pregame festivities and congratulatory moments have passed, top-seeded CdM (11-1-1) turns its attention to its preparation for Saturday's 7 p.m. game against No. 3 Grace Brethren (11-2), a team with an approach the polar opposite to that of the Sea Kings' aerial assault.
The Lancers, who defeated No. 2 Villa Park 34-31 in a thrilling overtime game at Fred Kelly Stadium in Orange on Nov. 16 to advance to the championship game, do not hide their football identity and it's to run it down the throat of the opponent. They have a massive offensive line that opens up gaping holes for the running backs. The Lancers have only thrown the ball 136 times this season, compared to more than 500 carries.
Lontrelle Diggs, a 5-foot-8, 230-pound back, leads Grace Brethren with more than 2,100 rushing yards on 300-plus carries. As a team, the Lancers have amassed nearly 4,000 yards on the ground this season.
"They're as big, physical and talented of a running team as you will ever find," O'Shea said. "They run it, and run it, then run it again."
Ethan Garbers, CdM's talented junior quarterback, said he's already watched plenty of film on Grace Brethren.
"They're a really good team," said Garbers, who has thrown for 3,853 yards and 54 touchdowns, with six interceptions. "We're excited for the challenge. They do run the ball a lot and that's a challenge our defense is willing to accept."
Grace Brethren coach Josh Henderson, who was sitting just a few tables over from CdM at the reception in Long Beach on Monday, said he was struck by a handful of things when seeing CdM on film. The Sea Kings earned a 49-17 semifinal win on Nov. 16 at Camarillo, which plays in the Camino League with Grace Brethren.
"They're incredible," Henderson said of the Sea Kings. "We didn't expect to see their combination of size, talent and discipline. They're a well-coached team with a great quarterback and a great receiving corps. You look at their size at quarterback [with the 6-3 Garbers] and with receivers [like Mark Redman] at 6-6 and [John Humphreys at 6-5], and that's a bit of a matchup problem for us."
The Sea Kings, who are making their seventh overall trip to the section finale, have never beaten a private school on this stage. CdM is looking to add to its history.
DEVIN UGLAND is a contributor to Times Community News. Follow him on Twitter: @Devin_Ugland
All the latest on Orange County from Orange County.
Get our free TimesOC newsletter.
You may occasionally receive promotional content from the Daily Pilot.