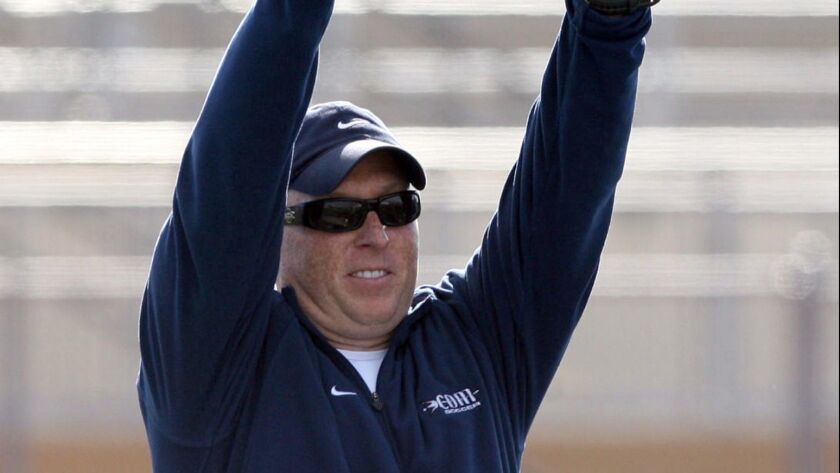 Sports Editor
George Larsen has stepped down as coach of the Corona del Mar High boys' soccer team, said athletic director Don Grable via email on Monday.
Larsen, a walk-on coach at CdM for nine seasons, led the Sea Kings to a historic campaign in 2009-10, when they won a CIF Southern Section Division IV title and a CIF Southern California Regional Division II title, and finished 27-1-1 and ranked No. 2 in the country by ESPN.
The Sea Kings won five Pacific Coast League championships under Larsen. His teams went 133-43-32 overall and 63-14-13 in league play.
In Larsen's final season, the Sea Kings finished 14-6-1 overall, placed second in the league at 7-3-0, and lost 3-1 at Santa Ana in the first round of the CIF Southern Section Division 1 playoffs.
"I want to say thank you to CdM for nine great years," Larsen said. "When I first accepted the job, I did not envision seeing myself there for close to a decade. However, the players, families, and school drew me and I became attached. I am appreciative and thankful for all the great relationships, friendships, and memories I have from my time there. It has been a great ride and all the boys that played for the program will stay in my heart forever. I will consider myself a Sea King forever."
For those interested in taking over the CdM program, Grable said they can email him a letter of intent, a resume, and up to three letters of recommendation at dgrable@nmusd.us.
"George always had a great relationship with the boys on his teams," Grable said. "No matter how many boys were on a team, they always seemed to enjoy the process and also step up when called upon. There were many times throughout the years where we were battling numerous injuries, yet we always stayed competitive in every contest. Our teams were very successful, although I don't think George ever concerned himself too much over the victories or losses but rather always seemed to see the big, more important picture.
"I will miss seeing our teams play under his direction and we thank him for his many years of excellent service to our students."
Get more of David Carrillo Peñaloza's work and follow him on Twitter @ByDCP
---