It has been more than two years now since the signature match of Kyle Pham's tennis career so far.
As a freshman, Pham helped the Corona del Mar High boys' tennis team win the CIF USTA Southern California Regional title. His 1-6, 7-5, 6-3 victory over Sahm Irvine of Palos Verdes Peninsula was the final and decisive set in CdM's 4-3 title match win.
After the match, Pham said he got the scorecard from the chair umpire. He still keeps it in his bedroom. The time of his victory was 4 hours 22 minutes, incredibly long even for a three-set match. Pham won the battle of wills and delivered for his team.
"Every point was a grind," Pham said. "We just both really wanted it."
Still, Pham has adapted since that match. He has grown to 5-foot-10, and his tennis isn't so defensive anymore. His serve has gotten bigger.
"I can track down a lot of balls, but as I get older, everyone's getting taller and hitting bigger," he said. "I have to kind of step up my game."
Pham has held down the No. 1 singles spot the last two years for CdM, no small task considering the guy who had it before, Bjorn Hoffmann, was a CIF Individuals singles champion and now plays for Cal. Pham has also developed into a leader.
He went 44-11 in singles this season for CdM, helping the Sea Kings (18-4) finish second in the Pacific Coast League and advance to the CIF Southern Section Division 1 quarterfinals. CdM nearly upset No. 3-seeded Manhattan Beach Mira Costa before losing 9-9, 81-77 on games.
Pham, the 2018 Daily Pilot Dream Team Boys' Tennis Player of the Year, did all he could to help the Sea Kings.
He's looking forward to a great senior season. I told him he was 44-11 this year, so let's try to get to 50 [wins] next year. I think that's do-able.
Jamie Gresh, Corona del Mar coach
After missing last year's nonleague loss to Sage Hill, he was sick when CdM met the Lightning this year. Determined not to miss the match again, he shifted to doubles with John Dick, helping the Sea Kings earn a 12-6 win.
"We're still working on him to get to play a little more aggressively, but he's pretty clutch when you need him to be clutch," CdM coach Jamie Gresh said. "He slid right into doubles with ease, no thoughts about it, to help the team win. As a teammate, he always competed really well … And that's the kind of leadership you need from your top player.
"He gets along great with all of the guys. They respect that he's a good teammate ... He's looking forward to a great senior season. I told him he was 44-11 this year, so let's try to get to 50 [wins] next year. I think that's do-able."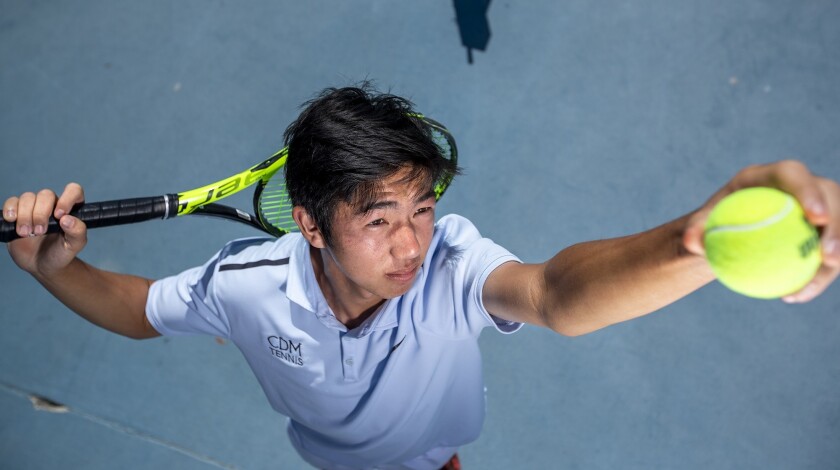 Pham did not get to make an extended run into CIF Individuals with senior Diego Fernandez del Valle, like last year when they advanced to the round of 16. In 2018, they lost to University's Patryk Kozlowski and Julian Lafond in the semifinals of the Pacific Coast League tournament and failed to qualify. The draw was tough; the University duo ended up making it all the way to the CIF Individuals final.
The Sea Kings are moving to the Sunset League next season, and Pham said his goal is to win a league title in singles for the first time.
That would be an impressive capper for a high school career that started off with a bang as a freshman, with the regionals win.
"I can still remember every single point," Pham said. "I think that was the highlight of my tennis in general. That was the biggest, most important match of my life."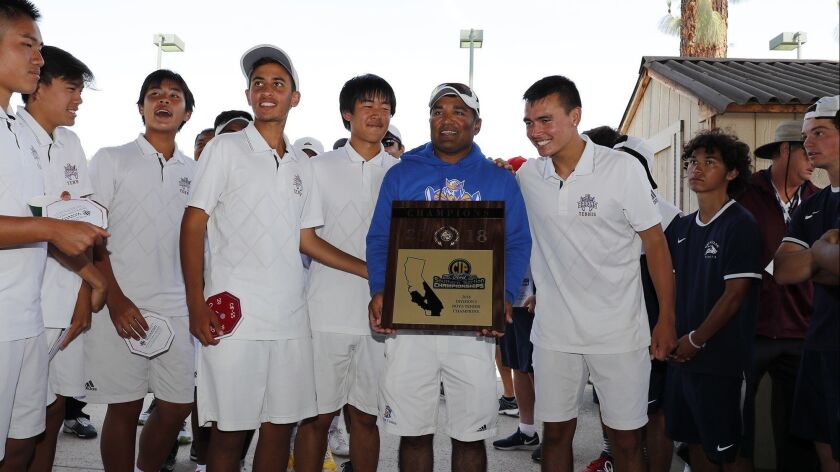 COACH OF THE YEAR
Harshul Patel
Fountain Valley
Patel, in his eighth season in charge of the Barons, led the program to heights never seen before. Fountain Valley went 10-0 in the Sunset League to claim its first outright title since 1991, but even bigger things were in store. The Barons (20-3) went on to win the CIF Southern Section Division 2 title. It was not only the program's first CIF championship, but also the first CIF tennis title for any school in the Huntington Beach Union High School District. Patel liked to deflect any pressure from his players onto himself, keeping things fun and light with the team.
FIRST TEAM
Singles
Diego Fernandez del Valle
Corona del Mar | Sr.
A fiery competitor, Fernandez del Valle had a very productive senior season for the Sea Kings before he moves on to play at Concordia University. His record was nearly identical as Pham's, as Fernandez del Valle was 43-11 in singles for CdM. Although the pairing could not replicate last year's run to the CIF Individuals round of 16 in doubles, they were a very solid one-two punch. Fernandez del Valle also advanced to the Ojai Tournament CIF doubles division quarterfinals with Jacob Cooper before losing to the No. 2-seeded team from rival University in two close sets.
Emin Torlic
Sage Hill | Jr.
Like CdM, Sage Hill also had a one-two singles punch with Torlic and sophomore Rohun Krishnan. Torlic, a left-hander, won the Academy League singles title and helped the Lightning (12-5, 7-1 in league) win their second straight outright league title and advance to the second round of the CIF Southern Section Division 1 playoffs. Torlic also was the local player who got the furthest in the CIF Individuals singles tournament, advancing to the third round before losing a tough three-set match to Andy Hernandez of Troy.
Justin Nguyen
Fountain Valley | Jr.
Nguyen excelled for the Barons in his second year at the No. 1 singles spot. Something of an ironman, he never missed a match while compiling a 55-10 record, only losing out on wins because Patel would sub him out of league blowouts in the third round. He was a Sunset League singles finalist, losing in the title match to Colter Smith of Los Alamitos, but Nguyen helped the Barons deliver a CIF title and should be in the mix as one of the Sunset League's top players next year as a senior.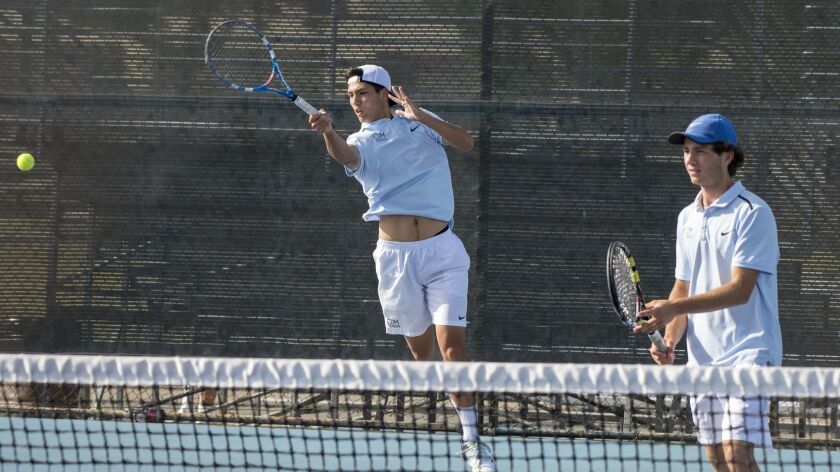 Doubles
Ryan Wessler and Jacob Cooper
Corona del Mar | Seniors
Wessler and Cooper were a rock for CdM on the No. 1 doubles line. The team captains had a 56-10 mark in doubles, improving from last year's 51-12 record, and played well together with Wessler's booming serve and Cooper's solid net play. They swept rival Sage Hill both times the teams met, including the second round of the CIF Southern Section Division 1 playoffs, and also swept Fountain Valley. Wessler and Cooper finished fourth place in doubles in the very tough Pacific Coast League.
Tommy Trinh and Justin Pham
Fountain Valley | Seniors
Trinh and Pham nearly achieved an undefeated season at No. 1 doubles for the Barons. They went 51-1 in dual match play, only losing together in a nonleague match against Beckman. They were upset by teammates Erik Tadros and Ben Nguyen in the Sunset League doubles tournament semifinals but came back to go 15-0 in the CIF Southern Section Division 2 playoffs. That included recording the clinching 10th set win in the Division 2 title match against Temecula Great Oak.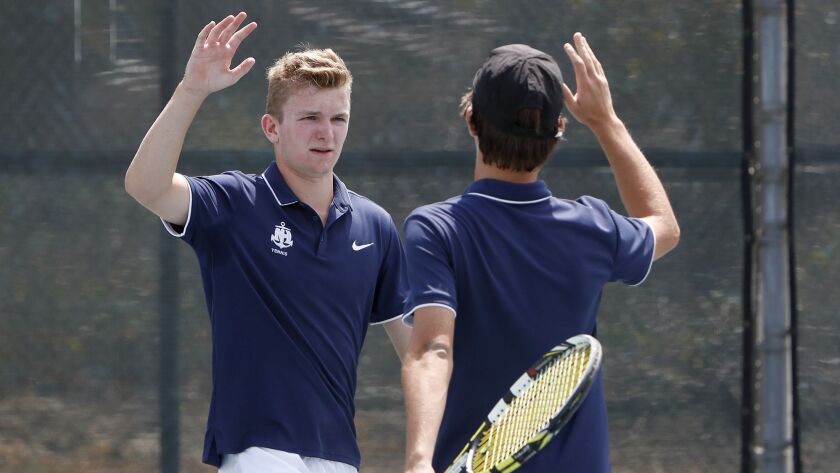 Andy Myers and Josh Watkins
Newport Harbor | Sr. and Jr.
Myers went 49-10 in singles for the Sailors, while Watkins was 51-9 in singles. But they earn the nod in doubles because they teamed up for an 8-2 doubles record. Myers, a team captain, and Watkins captured the Sunset League doubles title and advanced to the round of 16 at the CIF Individuals tournament, the furthest of any local competitor in singles or doubles. Coach Kristen Case cited both Myers' and Watkins' selfless nature as key factors in a tough team season that saw Newport Harbor go 9-11 overall, and 3-7 in league to tie for fourth place.
::
SECOND TEAM
Singles
Player, School, Year
Rohun Krishnan, Sage Hill, So.
Mason Lebby, Laguna Beach, Jr.
Bradley Amor, Corona del Mar, Fr.
Doubles
Players, School, Years
Brandon Keller and Vivek Savsani, Fountain Valley, Sr. and Jr.
George Vo and Jon Gottschalk, Huntington Beach, Juniors
Luke Muradliyan and Tyler Hollander, Corona del Mar, Juniors
Twitter: @mjszabo
---