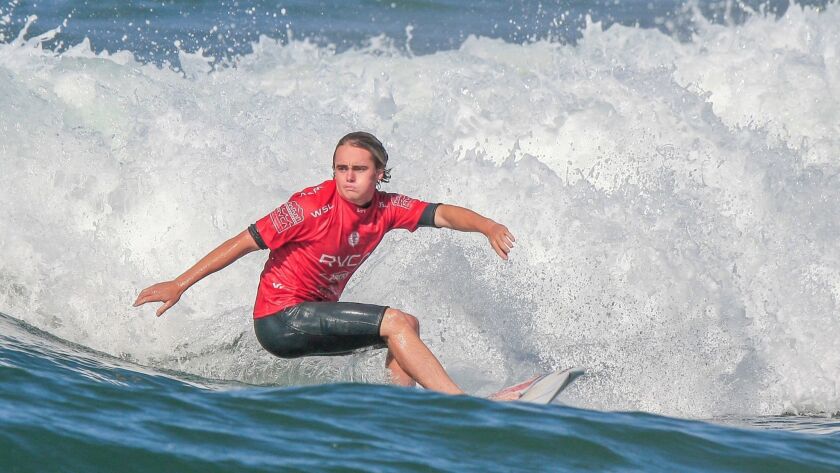 How big was Tyler Gunter's victory at the World Surf League's RVCA Pro Junior at 56th Street in Newport Beach on Sept. 23?
It was so big, Gunter won twice.
Gunter emerged from the water victorious after some tense moments during a heat that included a long lull between waves. But late in the heat, a set rolled in at Gunter's home break and he didn't miss the opportunity, putting up a 6.40 as a backup to his 6.50, enough to beat the three other surfers in the final heat.
Gunter obviously was stoked about winning the contest for the second time — he also won it in 2016 — but this one had an added bonus. By garnering the 1,000 points for the win, Gunter clinched the North American region of the Junior Men's Tour, and with it a berth into the World Junior Championships in Jinzun Harbor, Taiwan, in December.
"Honestly, when I won the contest I had no idea that clinching the [North American region] title was an option, I just figured that since I won I'd be a good amount ahead but I still would have a lot of work to do going into Barbados [the final Junior contest]," Gunter said. "I was walking off the beach and Andrew [Nichols of the WSL] was like 'Hey, we need to get some photos.' And I said I thought we just got photos, and he pointed out the North American region trophy and I was like, 'No way, I won?' It was such a surprise, I was really stoked on that."
Because he's 18, this is Gunter's last year of eligibility on the Junior Tour, meaning next year he'll go full speed ahead into the Qualifying Series, with the ultimate goal of reaching the Championship Tour.
He's competed in a handful of QS contests this year, with his best result coming in Virginia Beach, Va., in August when he reached the final heat and placed fourth.
Honestly, when I won the contest I had no idea that clinching the [North American region] title was an option ...
Tyler Gunter, surfer
He currently ranks 115th on the QS, allowing him to compete in the 6,000-point contests next year. If he can finish this year strong and get into the top 100, he'll be able to compete in the top-level 10,000-point contests as well.
"This year, I didn't think things would happen so quickly, winning the [North American] title and clinching before the season was over," he said. "Each year I give myself new goals and try to plan out what I'm going to do for that year and how it's going to set me up for the next year.
"After last year, making it to Worlds, I wanted to go to Worlds and figure it out and see what it's like, see all the other Juniors competition, surf against them. And then my last year, go to Worlds and have the game plan of giving it everything I can to win it, and just being really prepared for it."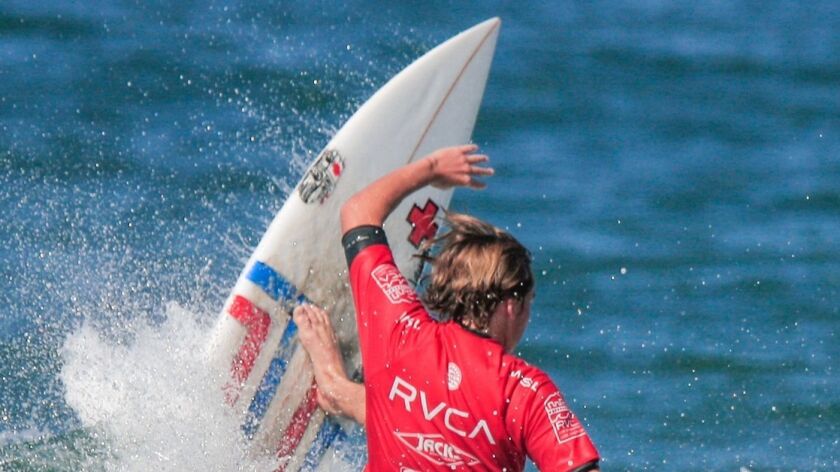 Gunter's path to the precipice of the world's most elite surfing club goes back many years, and even included a pit stop in the Great American West, far from any wave.
"My dad got me into surfing, he'd wake me up at 6 a.m. before school and we'd bike down the peninsula to Blackies and he'd push me into waves all morning, and then I'd bike off to school down 13th Street," Gunter said. "It was just him pushing me into waves every morning and I loved it.
"But when I was 5 we moved to Montana for a year. Then we moved back from Montana and I almost completely forgot all about surfing. We moved back into Newport and we were next door neighbors with Andrew Doheny. He started teaching me how to surf and teaching me things and that's when that moment really clicked, like, I love this, and I always wanted to go out."
Gunter's journey is far from over. Surfing on the QS is not cheap, with travel to some of the most far away and remote places in the world. Gunter has his share of sponsors — they include Jacks Surfboards, Banzai Bowl, Futures Fins, Surf Prescriptions Surfboards, and On a Mission — but he's still looking for that big brand that will provide what is needed to help him complete his mission.
"It plays a very big role into everything," Gunter said of sponsors. "When you have one of those like Hurley, you get all the publicity from all the surf magazines, and the money side of it, they cover the cost of your travels, which is quite expensive. That's what I'm working on right now, shopping around and trying to find some sponsors."
Hurley to speak at Huntington Beach High
Bob Hurley, founder of Hurley International, will speak at Huntington Beach High on Wednesday at 6:30 p.m. in the auditorium. Admission is free and open to the public.
The event is put on by Project Road Nation, organized by Huntington Beach High teachers Gina Broesamle and Renee Pelkey.
Hurley, a 1975 graduate of Fountain Valley High, founded Hurley International in 1999. He sold the company to Nike, Inc. in 2002 for a reported $120 million, but the brand has been able to maintain relative autonomy from Nike and has its headquarters based in Costa Mesa.
Despite the company's international success, Hurley maintains close ties to the local surfing community and contributes as much as he can.
Keeping up with Kanoa
The International Surfing Assn.'s World Surfing Games were held in Tahara, Japan, last month and host country Japan came out on top with Australia finishing second and the U.S. third.
Huntington Beach's Kanoa Igarashi played a big role in Japan's victory, reaching the final heat and finishing in second place in the individual men's competition.
City contests
Huntington Beach and Laguna Beach recently held their city contests.
Huntington Beach winners in each division included Chiasa Maruyama (Junior Women), Liz Speirs (Women), Sawyer Abing (Menehuene), Luke Guinaldo (Boys), Sage Guinaldo (Junior Men), Ryan Salazar (Men), Taylor Pai (Masters), Micah Byrne (Senior Men), Barry Deffenbaugh (Grand Masters), Harry Handy (Super Grand Masters) and Steve Berger (Legends).
In the Brooks Street contest in Laguna Beach, the winners in each division included Ryah Arthur (Pro/Am), Spike Atkinson (Legends), Todd Madsen (Grand Masters), Hans Hagen (Sr. Masters), Mike Todd (Masters), Porter Hogan (Senior Men), Michael Chapman (Men), Travis Booth (Junior Men), Zach VanMeter (Boys), Tess Booth (Women), Tess Booth (Girls), Troy MacDonald (Longboard), Spencer Collins (Bodyboard) and Porter Hogan (Paddleboard).
JOE HAAKENSON is a Huntington Beach-based sports writer and editor. He may be reached at joe@juvecreative.com.
---