Newport Aquatic Center wins men's lightweight 8+ title at USRowing Youth National Championships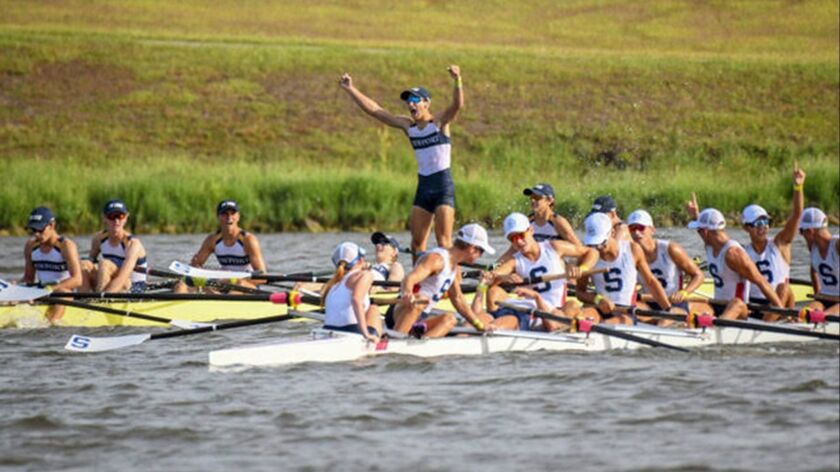 Newport Aquatic Center has added to its national title trophy case.
The Newport Aquatic Center men's lightweight 8+ team finished first in the USRowing Youth National Championships on June 9 at Nathan Benderson Park in Sarasota, Fla.
The team included Newport Harbor High incoming juniors Cannon Kenney and Jackson Banta, incoming seniors John Egan and Ryan McCarthy, and current senior Kevin Boyle, the coxswain. Clay Rolfes and Adam McDonald, both seniors at Corona del Mar, were also on the team, along with recent Mater Dei graduate Jake Taylor and recent Sage Hill graduate Andrew Smith.
They beat five other teams in the grand finals with a course-record time of 5 minutes 56.71 seconds, more than a second faster than the runner-up, Sarasota Crew.
Boyle said the closeness of the final pushed the team to its limits.
"It made the race more intense," he said. "Holding speed and not letting off the accelerator, gaining speed as the race continues down the course, it almost brings more joy when you finish because it's a harder earned win."
Kenney said it had been 10 years since Newport Aquatic Center had won the lightweight 8+ national title.
"All of us were really just tired, and we were surprised and shocked at what we just did," Kenney said. "It was one of the greatest feelings."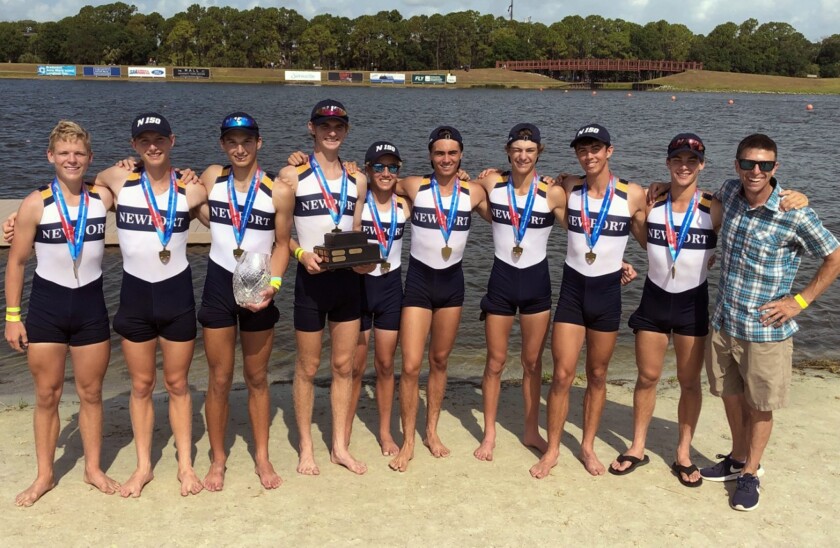 Newport Aquatic Center Coach Nick D'Antoni admired his team's discipline throughout the season.
"The precision of lightweight rowing really demands a lot of maturity that is difficult for teenagers to manage," D'Antoni said. "For them to have consistently been healthy and on point about their weight, I was really impressed by that."
The national title is Newport Aquatic Center's fourth. It won titles in 2008, 2009 and 2017.
Smith, the stroke seat for the lightweight 8+, remembered seeing the heavyweight 8+ team win in Sarasota in 2017.
"A lot of my athletic career, I've spent watching other people win," Smith said. "I remember leaving that racecourse saying, 'I'm not leaving this race course again without a gold medal.' "
Newport Aquatic Center had four other teams compete in the USRowing Youth National Championships.
The men's lightweight 8+ B boat placed ninth in the nation (6:09.30).
The men's heavyweight 8+ team placed eighth nationally (5:52.68). They missed out on the grand finals by less than a second.
In the women's division, the lightweight 8+ team of Sasha Radovanovic, Maya Nadeau, Lauren Haller, Jane Bradbury, Natalie Gess, Alexis MacDonald, Isabelle Tobin, Sasa Klein and Madison Cooper placed seventh in the nation (6:50.91), while the 4x team placed 17th (7:13.77).
Newport Sea Base also sent two teams to the USRowing Youth National Championships.
The men's lightweight double scull of Amar Bhatia and Noah Cours qualified for the A final, finishing sixth nationally (6:56.98).
On the women's side, the 4x team finished 21st in the nation (7:28.60).
Bhatia, who will enter his senior year at Laguna Beach in the fall, began the season with a season of rowing experience, while Cours was only a sophomore.
Bhatia and Cours came together after a rocky start to their partnership.
"At first, we wanted to double, but we absolutely hated rowing with each other," Bhatia said. "As time progressed and we started getting really fast, we started realizing that, personality-wise, we are kind of similar and that helped us work past our differences."
After this season's surprise performance, Bhatia is encouraged about what next season will bring.
"All the people who got first through fifth went to nationals last year," he said. "Now that we have that experience, I think we can go for first next year at nationals and finish what we started."
::
Support our sports coverage by becoming a digital subscriber.
For more sports stories, visit latimes.com/socal/daily-pilot/sports or follow us on Twitter @DailyPilotSport.
ANTHONY CIARDELLI is a contributor to Times Community News.
---
All the latest on Orange County from Orange County.
Get our free TimesOC newsletter, coming in August.
You may occasionally receive promotional content from the Daily Pilot.