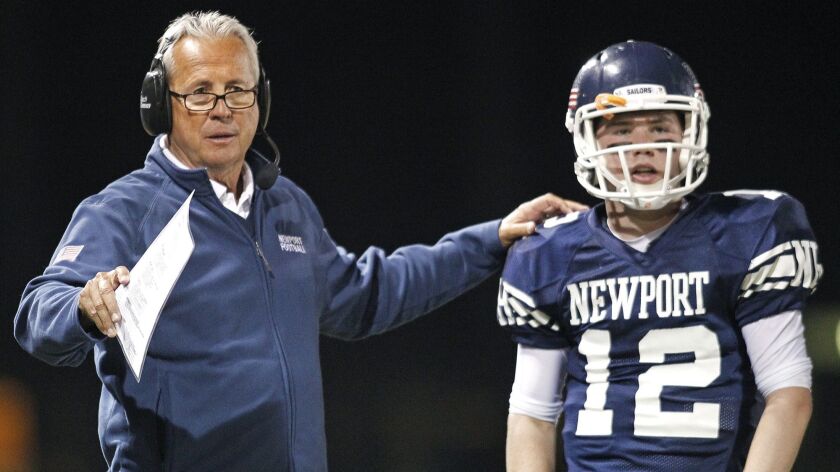 Jeff Brinkley did not get to finish coaching Newport Harbor High's final football game in November. An irregular heartbeat forced the 65-year-old to leave the game at halftime.
The Sailors won without Brinkley that night, and now they will have to win without the program's winningest coach next year.
Brinkley, one of the most successful high school football coaches in the history of Orange County, retired after 32 years as Newport Harbor's coach on Tuesday, said Sean Boulton, the school's principal. Boulton said Brinkley informed him that he was stepping down.
Brinkley, who guided the Sailors to 244 wins, ranking fifth all-time in the county, and eight CIF Southern Section championship games, winning three of them, always said he would go out "on his own terms." However, had Brinkley not resigned, he would not have been brought back next season, said a source close to the situation.
Brinkley did not return phone calls or text messages on Tuesday. Four days earlier, when reached by phone, Brinkley was upset when he found out that Newport Harbor planned to ask him to step down and that it had formed a committee to find his replacement.
After Newport Harbor failed to reach the postseason the last three years with Brinkley, the school wanted to go in a different direction, said a source. The worst of the three years was in 2017, when the Sailors lost their first eight games, marking the program's worst start. Newport Harbor finished 2-8 overall and tied for third place in the Sunset League at 2-3.
Boulton said he and the school did not push Brinkley out and that there is no search committee.
"He's going to be very difficult to replace," Boulton said of Brinkley. "He's the winningest coach in Newport Harbor High School history. [He won] three [CIF] championships, [made] eight CIF [finals] appearances [in] 32 years. That kind of dedication and passion is hard to replace."
For much of Brinkley's time at Newport Harbor, the Sailors won on a consistent basis. He led them to four section final appearances in the 1990s, three in the 2000s and one in the 2010s, the last one in the Southwest Division at Angel Stadium in 2013.
The Sailors reached the playoffs 23 times under Brinkley, capping unbeaten championship seasons in 1994 and 1999. Brinkley went 244-130-3 overall with Newport Harbor.
Before Brinkley arrived at Newport Harbor in 1986, he coached in his hometown of Norwalk for eight years, three at Excelsior, which closed in 1981, and five at Norwalk. Brinkley won 29 games during his time in Norwalk, giving him 273 career wins. His win total ranks No. 19 in California.
Brinkley, who was the longest active tenured coach in the county with University's Mark Cunningham, a Costa Mesa resident, won six league championships at Newport Harbor. The last one came in 2008, when the Sailors shared the Sunset League crown with Los Alamitos, Edison, Esperanza and Fountain Valley.
The Sunset League has lost three legendary coaches to retirement in recent years, Los Alamitos' John Barnes (323 career wins) in 2015, Edison's Dave White (238) in 2016 and now Brinkley. Unlike Barnes and White, whose teams knew they were retiring after their final season, the Sailors did not know Brinkley's future.
The Sailors held their football team banquet on Jan. 14. Nine days later, Brinkley said goodbye to Newport Harbor and 40 years of leading a high school football team.
Get more of David Carrillo Peñaloza's work and follow him on Twitter @ByDCP
---