High School Female Athlete of the Week: 'Peanut' playing big for Newport Harbor girls' soccer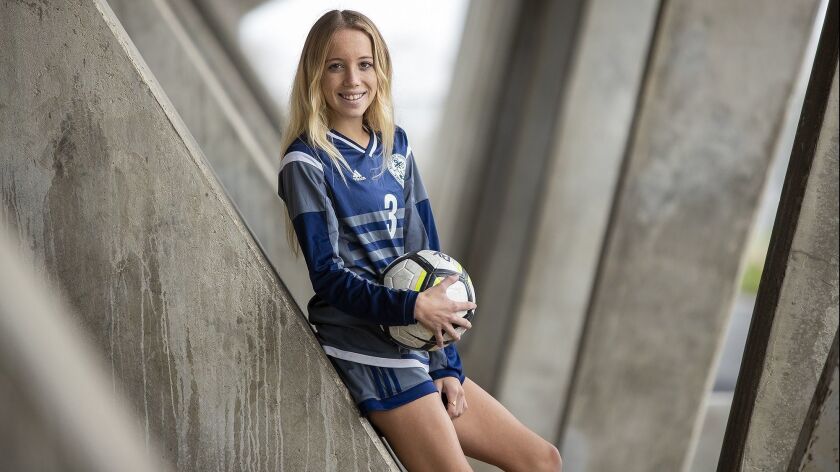 Newport Harbor High sophomore Reese Bodas is better known as "Peanut," not only to her teammates on the girls' soccer field but also among many of her classmates at school.
Bodas got the nickname on her first club team, as a 7-year-old for Slammers FC. The team was coached by Daily Pilot Cup tournament director Kirk McIntosh and also featured five players — Nicole Laz, Kaitin Degen, Samara Golan, Jenna McConnaughey and Skylynn Rodriguez — who are current Sailors teammates of Bodas.
Reece Kenerson also was on that squad, and that created confusion at first.
"Kirk would be like, 'Reese, come off,' and we would both run off," Bodas said. "We would get confused. I was shorter at the time, so Kirk was like, 'We need to come up with a nickname.' He was like, 'Your name is Reese, and there's Reese's Peanut Butter Cups. How about Peanut?' I was like, 'OK, I like that.' "
Kenerson has gone on to become a tennis standout at Corona del Mar High. As for "Peanut," she is making moves on the pitch for the Sailors, who have their most talented team in years.
Bodas, a midfielder, has six goals and four assists for the Sailors (11-1-4), who suffered their first loss with a 2-1 setback against Vista Murrieta on Friday night in the North Orange County Classic. They are ranked No. 7 in CIF Southern Section Division 1.
A tough defense, anchored by Golan and McConnaughey as center backs, also has been key as the Sailors have outscored opponents 29-5. But Bodas helped Newport Harbor earn two key wins in Sunset Conference crossover matches last week.
She had a goal and an assist in a 2-0 home win over Edison on Dec. 18. Two days later, she scored the first goal as the Sailors won 3-0 at rival CdM in the Battle of the Bay match.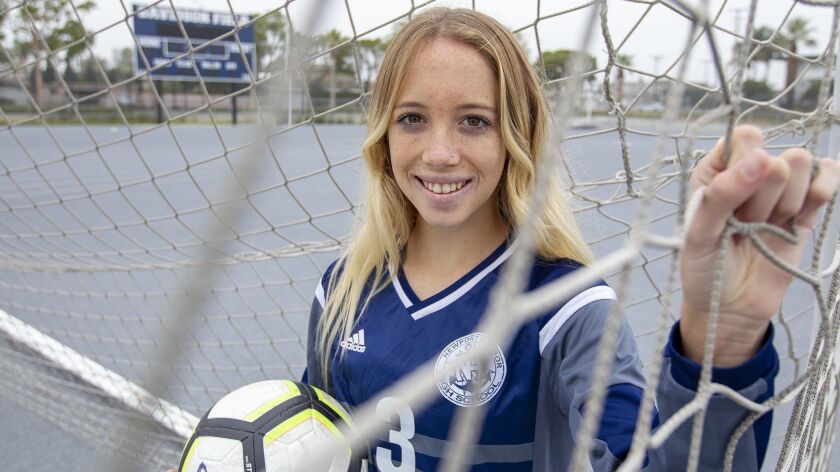 Technically the Chargers and the Sea Kings are in the top league in the Sunset Conference, the Surf League, with Newport Harbor in the Wave League. But the Sailors may be able to hang with anyone in the conference this season.
That's a change from last season, when Newport Harbor placed last in the six-team Sunset League with a 1-7-2 record, though both of the draws were against league champion Los Alamitos.
Bodas is key in the midfield, along with UC Santa Barbara-bound senior Emily Johnson and Sofia Velasquez, who are the co-captains.
"To have a really strong midfield, that's one of the best things you can have," Bodas said. "To be playing alongside 'EJ' and Sofia, it's really cool. If I go up, I don't ever feel nervous that we're going to be countered and nobody will be there."
Bodas has already shown she was clutch in club soccer. She scored the match-tying goal late in regulation for the Slammers last summer in the ECNL National Championships semifinals against rival Strikers FC. The team, which also features Marina High sophomores McKenna Pua and Kaitlyn Paculba, then won the match in penalty kicks and went on to win the under-15 national title.
He was like, 'Your name is Reese, and there's Reese's Peanut Butter Cups. How about Peanut?' I was like, 'OK, I like that.'
— Reese Bodas, Newport Harbor High midfielder
Bodas also very much enjoys playing high school soccer, even if her nickname is starting to not fit quite as much. She has grown three inches in the last year, to 5-foot-6.
"She came back this year motivated," Sailors coach Justin Schroeder said. "She's the one kid who probably stops by my [classroom at Newport Harbor] most throughout the day, just to talk soccer. She's a very confident player in our midfield. She doesn't want to come off the field, but she's been a pretty good teammate too. She is finding ways to have connections with all players on the field, not just her midfield teammates. I'm just really proud of her."
On a team full of talented sophomores and juniors, she is making a name for herself. Bodas tends to stay upbeat on the pitch. She describes her own personality as "fun and silly."
"I do sometimes get a little bit negative when we're losing, because I'm really competitive," she said. "But I try my best to breathe."
::
Reese Bodas
Born: June 16, 2003
Hometown: Newport Beach
Height: 5 feet 6
Sport: Soccer
Year: Sophomore
Coach: Justin Schroeder
Favorite food: Spaghetti
Favorite movie: "Chasing Mavericks"
Favorite athletic moment: Winning the ECNL Under-15 national championship last summer with Slammers FC.
Week in review: Bodas had a goal and an assist in a 2-0 win over Edison on Dec. 18, and also scored in a 3-0 victory over rival Corona del Mar on Dec. 20.
Twitter: @mjszabo
---
All the latest on Orange County from Orange County.
Get our free TimesOC newsletter.
You may occasionally receive promotional content from the Daily Pilot.