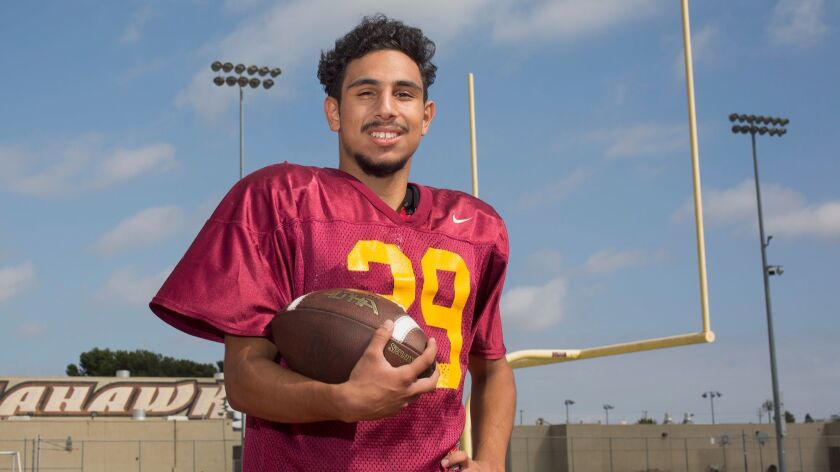 At Noah De Loera's size — 5 feet 6 and 140 pounds — it's understandable why he says his mother worries when he plays football for Ocean View High. De Loera is the smallest player on the team, and he usually has the ball in his hands.
Rather than watch her son play running back, Raifeh stays home on Friday nights. This has always been the case during De Loera's playing days.
De Loera is in his final year, and his mom might want to check him out. The senior has the Seahawks off to their best start in 18 years.
The last time Ocean View began the year 3-0 was in 1999, a little more than a year before Raifeh gave birth to De Loera. He's the youngest of Raifeh and her husband Abel's six children, and he's always been the smallest.
The last member in the De Loera family to attend Ocean View has developed into what coach Luis Nuñez calls "a little workhorse."
The plan wasn't for De Loera to touch the ball 19 times per game, as the Seahawks went into the year wanting to pass more. They had a new quarterback from Brethren Christian, Noah Hickman, and two big targets, 6-5 Adam Meyer and 6-4 Nathaniel Washington.
With defenses focused on slowing down the aerial attack, many times sending eight into coverage, Ocean View has given the ball to De Loera. He has performed.
De Loera rushed 17 times for 173 yards and two touchdowns during last week's 35-20 nonleague win against Santiago at Garden Grove High. He keeps getting better each week.
In the second game, De Loera finished with 31 carries for 166 yards and two touchdowns. The carries broke the Ocean View single-game record of 27, set by Rick Mosher in 1980. The varsity program was in its second year when Mosher ran that many times.
Thirty-seven years ago, the Seahawks finished above .500 for the first time. Since then, they have produced only seven such seasons.
The way things are going at Ocean View, ranked No. 5 in the CIF Southern Section Division 13 poll, this year might turn out as the most successful in school history. The Seahawks are four victories away from tying the school's best win total of seven, done five times.
The program is winning because of De Loera, who has rushed 55 times for 434 yards and six touchdowns, and has two receptions for 14 yards. He credits his team and offensive line, which features left tackle Andrew Helmer, left guard Nathan Castillo, center Jake Reynolds, right guard Jeffrey Herman and right tackle Dillon Grunbaum.
"This school has been known to struggle on the football side," said De Loera, knowing Ocean View has only won one playoff game, in 2011.
De Loera also struggled with the sport a couple of years ago. He almost quit football.
Tired of being the tackling dummy on the scout team as a sophomore, De Loera told Nuñez he was done with the sport after the season ended.
"I didn't like it anymore," De Loera said. "It wasn't for me. I felt like school was enough."
Abel, a longtime cook from Mexico, had a word with his son about giving up.
"If you want to quit, that's what you want to do, but just know that's your decision and you're going to have to [live] with that decision," De Loera said his father told him.
When De Loera believed he had made his mind up, an assistant coach reached out to him at school. Steven Burke pulled him aside.
"That's how it is when you're a younger guy, you get beat up, but you still get back up," De Loera said Burke told him. "He said, 'Just try it out [again]. See how it is. If you don't like it, then OK, then you can leave.' I came back. I actually came back more inspired than before.
"[Coach Burke] said, 'Your sophomore year is done now. Now it's time for varsity and it was time to step up. Now you get to deliver the hit.'"
Burke, the offensive coordinator, was right. De Loera went on to start in the backfield as a junior, rushing for 683 yards and five touchdowns, and he is the starter for the second straight year.
Although many underestimate De Loera because of his lack of size, Nuñez said De Loera is pound-for-pound the strongest kid in the weight room.
De Loera doesn't shy away from contact, and he and the Seahawks face their toughest test to date on Friday. They play Katella (3-1) in a nonleague game at Glover Stadium at 7 p.m.
The contest is the third of five straight on the road for the Seahawks. They return home to play in three weeks, and of all the days, De Loera is hoping his mom can make the homecoming game against Santa Ana on Friday the 13th in October.
"She's scared to see me get hit," De Loera said of his mother, who is from Jordan. "But this year, she will definitely see me because she told me. I'm going to be happy [to see her at the game]. I'm going to be really happy. It's going to put a smile on my face."
Noah De Loera
Born: Nov. 2, 2000
Hometown: Huntington Beach
Height: 5 feet 6
Weight: 140 pounds
Sport: Football
Year: Senior
Coach: Luis Nuñez
Favorite food: Enchiladas
Favorite movie: "It"
Favorite athletic moment: "My first touchdown of the season. It really got me going. It was a 41-yard run [against Los Amigos]."
Week in review: De Loera rushed 17 times for 173 yards and two touchdowns, and had two receptions for 14 yards, helping the Seahawks to a 35-20 win against Santiago on the road last week, marking the program's first 3-0 start since 1999.
Twitter: @ByDCP
---