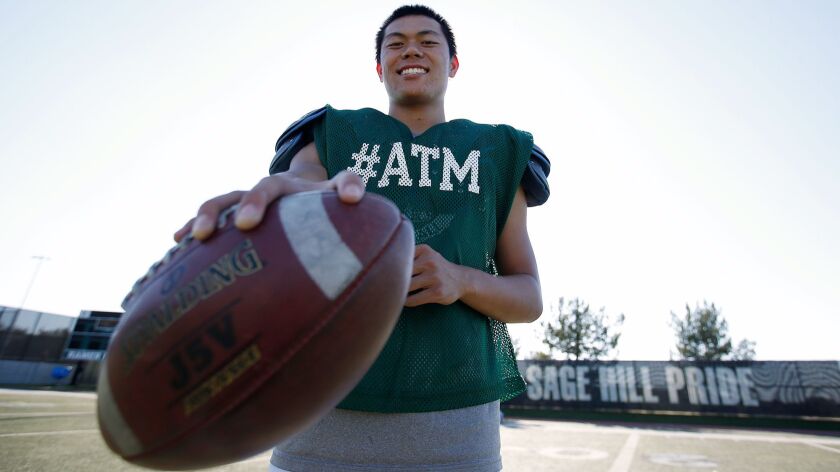 The one question quarterback William Leong gets a lot is whether he plays real tackle football. Leong is one of 23 students that are part of Sage Hill School's 8-man football program.
"Eight-man football is still football," Leong said. "People have said that 8-man football is not real football, but in my opinion it still is because you still have the pads, you still have the helmet, and you're still hitting people."
While the equipment and the object of the game is still the same, there are differences between 8-man and 11-man football.
Along with the fewer players on the field compared to the 11-man football you see at most high school games, as well as in college and the NFL, the field is 20 yards shorter and 13 1/3 yards narrower. All of that is evident on Sage Hill's field, which used to be home to 11-man until the school decided to go to 8-man last season because of the low turnout for football.
The old numbers on the field are still visible. The spray paint hasn't covered them entirely. Where the 10-yard line used to be is now the goal line, and midfield is now the 40-yard line, instead of the 50.
The dimensions are different, but Sage Hill has quickly adapted to 8-man football. Coach BJ Crabtree said Leong has been a big reason why Sage Hill, in its second year playing 8-man, is 5-0.
Leong has Sage Hill off to its best start in any type of football played at the school in seven years. Last week, the CIF Southern Section 8-man Division 1 poll ranked the Lightning No. 1. The team hasn't lost, yet it dropped to No. 9 this week.
"No clue," Crabtree said as to why the Lightning fell in the latest poll, thinking it might have something to do with the team's strength of schedule.
Crabtree expects a challenge on Saturday, when Sage Hill plays Downey Calvary Chapel at Downey High at 6 p.m. The way Sage Hill is playing, outscoring opponents 254-18, it might not lose a game this year.
The team is coming off a 37-0 win on the road against Los Angeles Price, marking its third straight shutout. Both sides of the ball performed, and Leong had four rushing touchdowns and one passing touchdown in last week's victory.
Leong usually beats defenses with his arm, as he threw for 2,128 yards and 40 touchdowns, with nine interceptions, as a junior a year ago. This year, he's still throwing touchdowns, 15 so far, with only one interception, but he has rushed for nine touchdowns.
As any good quarterback, Leong credits his offensive line — center Ian Morgan and guards Christian Moyano and Dhruv Patel — for his success. Leong also has a standout to go to in Darius ShayanSmith, a tight end and wide receiver.
The 5-foot-8, 150-pound senior hopes to play in college. His top choice is Navy, and he said he's working on the nomination part of his application to get into the prestigious U.S. Naval Academy.
"I've always wanted to serve my country, ever since I was 9," Leong said. "I visited Pearl Harbor and I was just really astonished with all the naval customs and traditions. Ever since then, back in 2012, I joined the U.S. Navy League Cadet Corps, which is basically like a cadet youth program that revolves around the fundamentals of the Navy. I just really joined to see if the Navy is for me, and I discovered it truly was. Ever since then, it's been pretty much my passion.
"Now I'm in the U.S. Naval Sea Cadet Corps, which is the older version of the Navy League Cadet Corps. Think of it like Boy Scouts and Cub Scouts. Cubs Scouts is the Navy League and the Boy Scouts is the Naval Sea Cadet Corps."
Crabtree calls Leong a natural leader, and a perfect candidate for Navy.
Not everyone was onboard when Sage Hill decided to make the move to 8-man. Leong came out after he served as the backup quarterback during his sophomore year, Sage Hill's final 11-man season in 2015.
Crabtree said the one player who helped bring the team together last year was Leong.
"Everything he does is with discipline and teamwork," Crabtree said. "He practices what he preaches, in practice, in film, in the locker room."
Leong's first year as a starting quarterback with the Lightning turned out well last year. He and Crabtree, a walk-on coach, led Sage Hill to a 5-4 record and the playoffs in its debut 8-man season.
The success also enticed six more players to come out this season. At a school like Sage Hill, which has an enrollment around 540 students, going from 17 to 23 players is a big jump.
"This year this concept was embraced because they saw that it was still tackle football," Crabtree said. "I still get questions like, 'Do you guys tackle?' Of course, we tackle. All we've done is taken two offensive linemen out and a slot guy out. We run the same football everybody else does."
Crabtree knows football. He played 11-man at Fountain Valley High, at Golden West College and at Sonoma State University. He has two sons who play, Nick is a redshirt freshman offensive lineman at Boise State and Braden is a sophomore quarterback at Fountain Valley.
Crabtree believes 8-man is the future of high school football.
"I don't know if the Sunset League ever goes that direction, [or] obviously the Trinity League and all of those big-time [leagues]," Crabtree said, "but I can see some of those schools that are struggling with numbers … deciding it's just much easier to run an 8-man [program]. As long as people can get over the idea that 8-man is not 11, but it is still football. I think it's wildly successful here for us."
Leong and Sage Hill are not only playing football, they're playing winning football.
William Leong
Born: June 7, 2000
Hometown: Irvine
Height: 5 feet 8
Weight: 150 pounds
Sport: 8-man football
Year: Senior
Coach: BJ Crabtree
Favorite food: Fried rice
Favorite movie: "Saving Private Ryan"
Favorite athletic moment: "Last year, when we were playing [Silverado] St. Michael's Prep, we were down in the fourth quarter and then we came and [won 71-44]."
Week in review: Leong rushed for four touchdowns and threw for one, leading Sage Hill to a 37-0 win against Los Angeles Price in San Pedro last week.
Twitter: @ByDCP
---