Now there's a simpler way to protect eelgrass and still let dock owners dredge, Newport says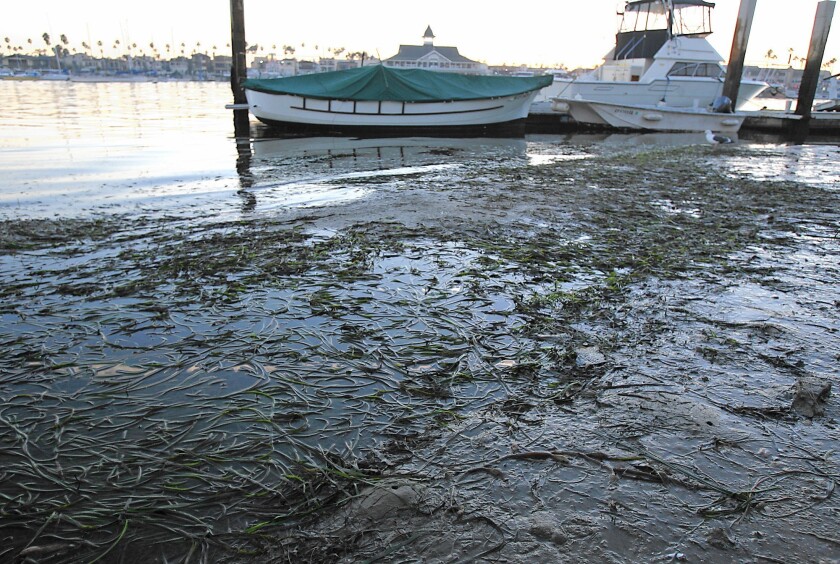 Newport Harbor dock owners who for years have refrained from dredging sediment because of the cost of preserving eelgrass could soon see less mud under their boats.
In December, Newport Beach received a permit from the Army Corps of Engineers and the California Coastal Commission for a program that allows small-scale maintenance dredging under and adjacent to private, public and commercial docks and piers in Newport Harbor. It also allows regulated effects on eelgrass.
Although marine biologists consider the underwater grass with its green, slender blades to have an important role in the development of habitat for marine life in the harbor, protecting the plant has kept many dock owners from dredging under their slips for decades.
Dock owners apply to the city for dredging to be done by a city contractor at the owners' expense. In 2014, the city received dredging applications from fewer than 10 people among about 1,200 dock owners, according to city data.
The new permit's arrival wraps up more than a decade of studies led by the city with the goal of simplifying the dredging process by removing some of the costly red tape associated with eelgrass. The permit also allows the use of certain dredge material to replenish some bayfront beaches.
Mayor Diane Dixon called the issuance of the permit a "huge accomplishment" for the city and the harbor.
"It required a collaborative solution among regional, state and federal agencies … to approve this innovative permit, which will allow more small dredging projects to get done on a regular, ongoing basis while effectively protecting eelgrass in a way that's much less burdensome to residents," she said.
Every five years, the city applies for a permit from state authorities to allow dredging under boat slips. The permit prevents dock owners from having to perform often-expensive sediment testing in order to dredge, according to city Harbor Resources Manager Chris Miller.
Under the new permit, dredging can be deeper than before — up to 10 feet — and the annual volume of dredging can increase from 20,000 cubic yards of sediment to 75,000, according to harbor officials.
The city's plan also lessens the requirements for eelgrass replenishment after dredging.
The amount of eelgrass that can be harmed in a specific year will depend on how much is present in the harbor at the time, according to the permit.
The federal government established eelgrass protections in the 1980s after several communities destroyed the plants during dredging projects.
For years under the Southern California Eelgrass Mitigation Plan, Newport Beach dock owners who wanted to dredge would be responsible for replanting eelgrass somewhere in the harbor to make up for the plants they disrupted by moving sediment from beneath their slips.
Dock owners also would be responsible for making sure the eelgrass grow in the new location for up to five years. If it died, an owner would have to plant again.
Hiring a biologist to conduct tests, write reports and plant eelgrass cost some owners tens of thousands of dollars, which dissuaded a lot of people who would normally dredge, according to harbor officials.
Now, dock owners likely will be asked to transplant eelgrass through seed bags or other measures that would not be nearly as costly as previous mitigation efforts, according to city staff.
"This is a real service from the city to those that are faced with the need to dredge," said Newport Beach Harbor Commissioner Brad Avery.
After listening to concerns from dock owners and residents, city officials in 2003 authorized a survey of eelgrass in the harbor. In the past 10 years, the city has conducted four surveys mapping the locations and amounts of eelgrass.
As of the latest survey in 2014, officials found 90 acres of eelgrass throughout the harbor.
---