Youth in spotlight at Little League Opening Day, and that's a good thing
Young athletes compete in baseball for various reasons. Some do it to learn, while for others it's a part of a family tradition.
Joshua Gordon, 12, of Costa Mesa National Little League loves the game for simple reasons.
"I like playing baseball because it's my favorite sport," said Gordon, a catcher for the Notre Dame Fighting Irish, CMNLL's lone Majors Division team. "I like being out on the field, being with my team and winning some games."
Gordon, you can say, is a unique kid in the league. He's been with CMNLL since T-ball, while many others have left the league.
Costa Mesa mayor Steve Mensinger, right, and former major league player Chad Kreuter, left, high-five two players after they threw in the first pitches during the Costa Mesa National Little League opening day ceremonies at Tewinkle School on Saturday.
(Don Leach / Daily Pilot)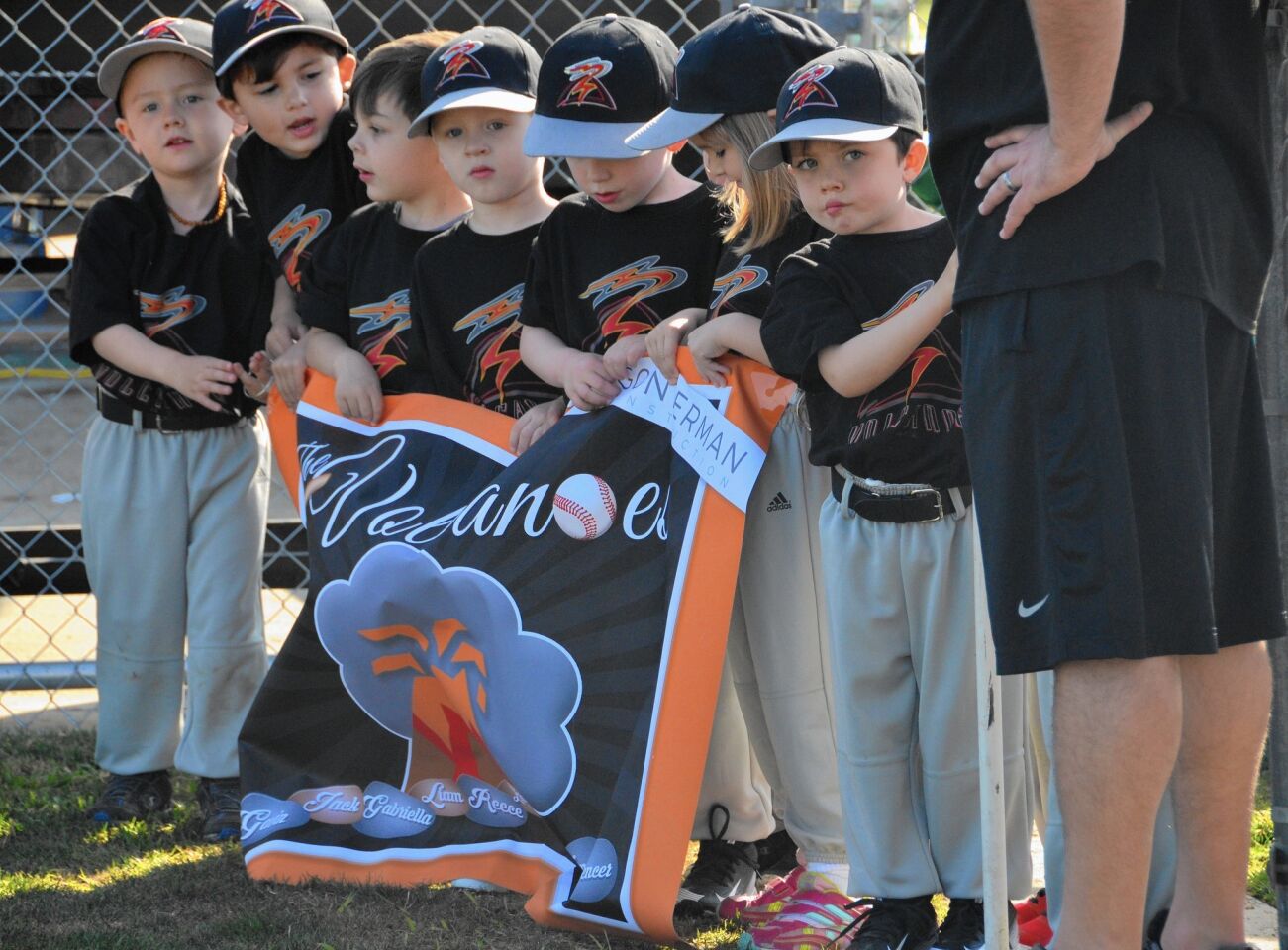 T-Ball, Volcanoes awaiting being called to march in the parade during the CMALL opening day ceremony.
(Susan Hoffman / Daily Pilot)
T-Ball Volcanoes march onto the field during the CMALL opening day ceremony.
(Susan Hoffman / Daily PIlot)
The Coach Pitch Bats march during the opening day CMALL parade.
(Susan Hoffman / Daily Pilot)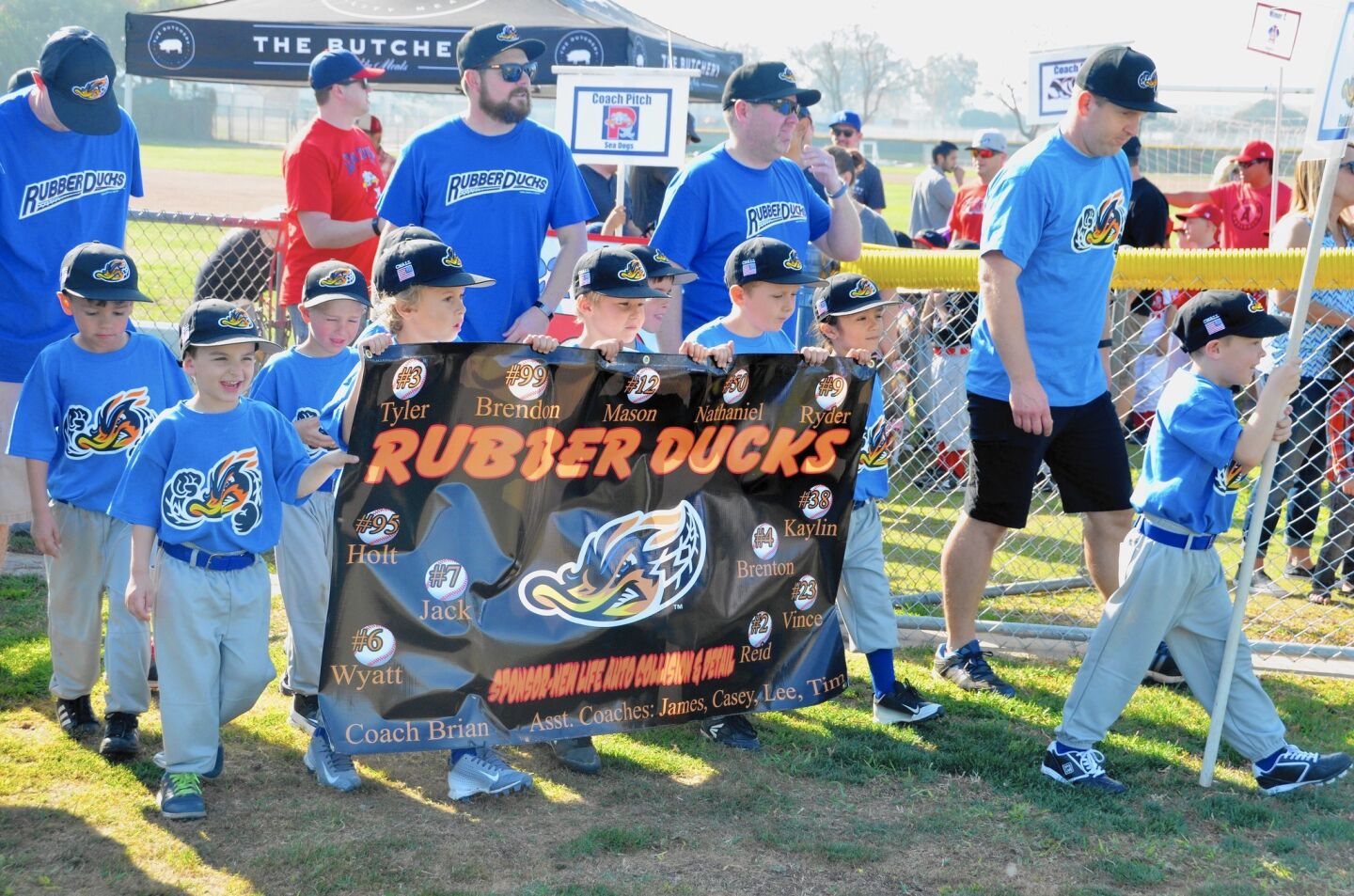 The Coach Pitch Rubber Ducks march across the field during the CMALL opening day ceremony.
(Susan Hoffman / Daily Pilot)
Minor B Division Mariners march onto the field during the CMALL opening day ceremony.
(Susan Hoffman / Daily Pilot)
Major Division, Angels team member, Trevor Emerson is introduced during the CMALL opening day ceremony.
(Susan Hoffman / Daily PIlot)
Mike Stute, in his second year as CMNLL president, says the participation numbers are down for the league. Stute and others affiliated with the league are hoping there will be more players like Gordon, who stay with the league, from T-ball to Majors.
"We're in a rebuilding year," Stute said just before Opening Day festivities began at TeWinkle Middle School on Saturday around noon.
Costa Mesa American Little League held its Opening Day ceremony Saturday morning at Costa Mesa High School. There were also plenty of photos taken for Opening Day for Irvine Ranch Little League at Las Lomas Community Park and Northwood Little League at Hicks Canyon Park in Irvine.
The challenge of attracting more youth to baseball and keeping them in the sport was among a few important topics surrounding Opening Day in Costa Mesa.
"Too many parents are giving too many kids too many options," said Gordon's father, Chad Gordon, who is the manager of the Fighting Irish. "We're losing kids to too many different activities. The kids are playing baseball at the same time they are playing Friday Night Lights (flag football), at the same time they are playing rugby, and the same time they are playing basketball, and they are not getting good at necessarily one of them. And, they are not having as much fun."
CMNLL has improved its fields with new fencing in the outfield and new bleachers for fans. The parents, many of whom are volunteers, want to keep the youth involved in the league so they remain.
Chad Kreuter, a former Major League Baseball player, attended CMNLL Opening Day and offered advice.
"The biggest challenge in youth baseball is keeping a solid tempo where it keeps everybody's attention," said Kreuter, who helps run the new Pitch Catch Hit Academy in Costa Mesa with fellow former major leaguer Gregg Olson, a Newport Beach resident. "Baseball is a slower sport by nature. Baseball is losing kids to soccer because soccer is moving all the time. The onus is on the coach to create a tempo that involves everyone."
Opening Day created an upbeat atmosphere at both sites in Costa Mesa. Both Costa Mesa Little Leagues did a great job of putting their younger players in the spotlight.
At CMALL's Opening Day, the Lake Monsters T-ball team was the first squad to enter the field during the annual parade that featured each team's banner.
Saturday morning wasn't so much about playing ball, especially during the ceremony. The Lake Monsters team of 4-, 5- and 6-year-olds did their best to behave, stay with their group and cheer on other teams.
Abraham Crawford, Bodie Jackson, Charlie Swain, Devon Clark Jr., Evan Bradfield, Jeremy Ramos, Liam Wells, Micah Deryeghiayan and Stellan Olson are the Lake Monsters. They are the future. They slapped hands with Majors Division players as each of the older players were announced and ran toward home plate from right field.
Recently, Little League implemented new rules that allow for players to join the league that is in the area of their school, Chad Gordon said. That means kids who live in Costa Mesa but attend school in Huntington Beach have joined leagues in H.B. And other youth in Costa Mesa that are in schools closer to CMALL's area have joined that league.
"It wasn't necessarily a bad move for Little League to do, but it sort of backfired on us," Chad Gordon said.
Perhaps it would be best for CMALL and CMNLL to merge. But all the Costa Mesa players can really do is play ball. They're left to hold on to the closing of the Little League pledge: "Win or lose, I will always do my best."
---