Around Town: Vanguard University conference addresses human trafficking
More than 150 people gathered at Vanguard University in Costa Mesa on March 4 and 5 for the annual Ensure Justice Conference presented by Vanguard's Global Center for Women and Justice.
The conference, featuring national and local leaders, students, law enforcement, teachers and child welfare professionals, began Friday with a Walk for Freedom 5K. It concluded Saturday with panel sessions, healthcare provider training and networking with a focus on providing more resources for victims of human trafficking and their families.
Parts of the event were streamed nationwide.
*
Sage Hill School celebrates opening of tennis center
Sage Hill School in Newport Coast hosted a ribbon-cutting ceremony Friday for the new Tennis Center. The center will allow the school to host play-off and other tournaments for the CIF and Academy League.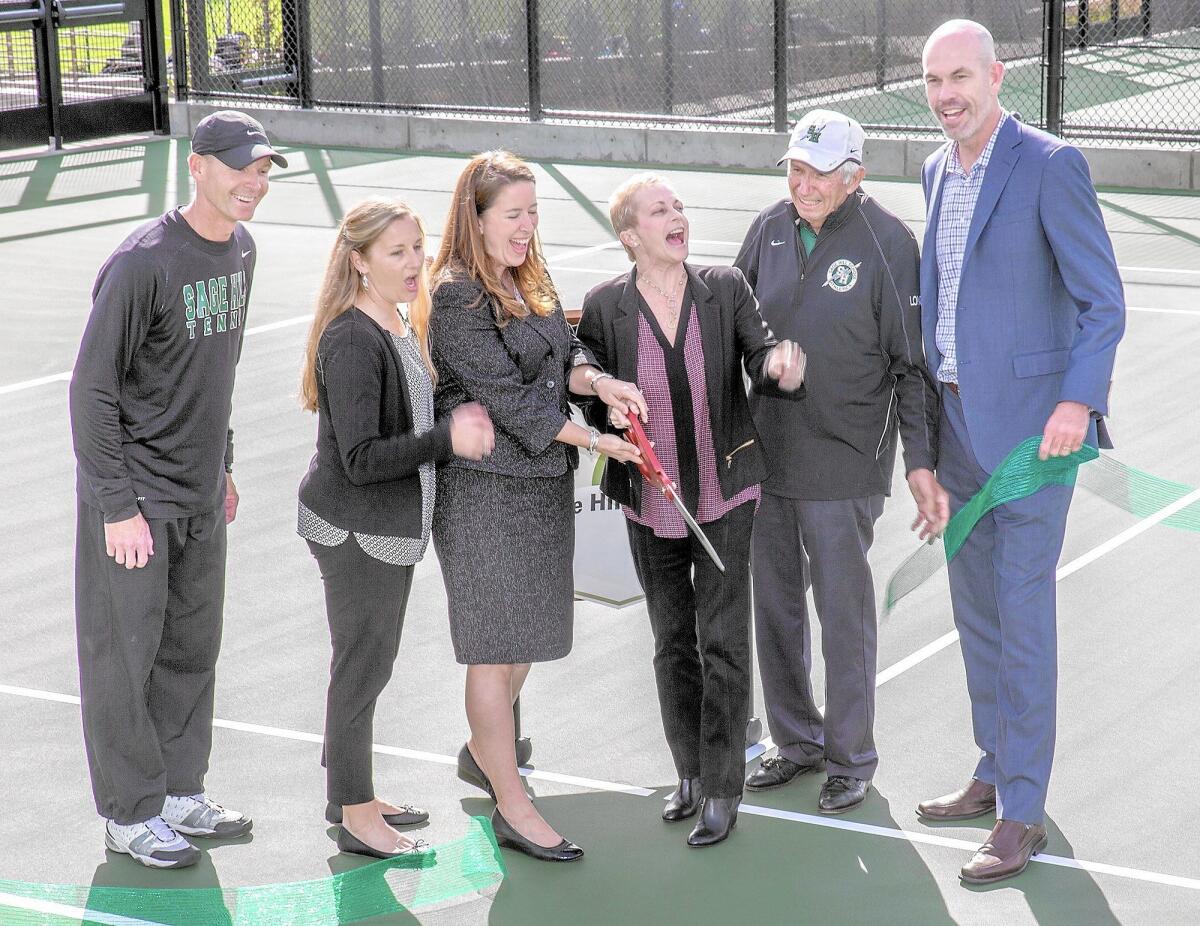 The new facility contains two center and four regulation courts with spectator seating.
The Tennis Center is part of a $13 million campaign that also aims to pay for an aquatics center. So far, Sage has raised $8.6 million for the campaign.
*
Sage Hill School students to compete in robotics competition
Students from Sage Hill School and 65 other high schools from California, Hawaii and Chile will compete in the 24th season of the Los Angeles regional FIRST — For Inspiration and Recognition of Science and Technology — Robotics Competition. Matches and awards ceremonies for the competition will take place 8:30 a.m. to 6:15 p.m. Friday and 8:30 a.m. to 6 p.m. Saturday.
The robotics competition will have teams use their robots to weaken and capture their opponent's tower.
Over 1,500 students are expected to participate.
The competition will take place in the Long Beach Arena, 300 E. Ocean Blvd. Admission is free.
*
National Review editor to speak at research institute gala
The Pacific Research Institute will hold its fifth annual Baroness Thatcher Gala Dinner 6 p.m. Friday at the Island Hotel in Newport Beach.
Jonah Goldberg, senior editor of National Review magazine, is the keynote speaker. Goldberg has also been a political and cultural columnist for The Wall Street Journal, The New Yorker and the Los Angeles Times.
Tickets for the gala and dinner start at $350.
For tickets, visit pacificresearch.org/event/2016-baroness-thatcher-gala/
*
Project Independence director named to state group
Tim Chervenak, director of employment services at Costa Mesa-based Project Independence, was recently named president of the California Disability Services Assn.
The Sacramento-based association represents more than 100 other community-based groups that work to improve the lives of people with disabilities.
Chervenak has been with Project Independence since 2003.
*
Radio, aviation and technology expo to be held at OC Fair and Event Center
The annual RCX event will take place Saturday and Sunday at the OC Fair and Event Center in Costa Mesa.
The event, now in its 14th year, serves as a radio control and action technology expo to showcase drones, robotics, aviation and more. Guests will get the chance to observe, demo and buy products.
The expo will also feature demonstrations from Drone Village and an RC dirt surface-racing course built by Motorhead Raceway.
RCX is open 10 a.m. to 5 p.m. Saturday and 10 a.m. to 4 p.m. Sunday.
Advance discount tickets are available $10 for adults, $5 for children ages 6 through 12 and free for children 5 and under at RCX.com. On-site tickets will be $15 for adults and $5 for children.
The OC Fair and Event Center is located on 88 Fair Drive in Costa Mesa.
*
Balboa Bay Resort to host International Justice Mission benefit
The International Justice Mission will hold its annual benefit Saturday at the Balboa Bay Resort.
Proceeds will go toward the mission's worldwide operations to protect those affected by violence and injustice in developing countries.
International Justice Mission founder Gary Haugen and senior vice president of Justice Operations Sean Litton will speak at the event.
The mission is a U.S.-based nonprofit that utilizes the skills of criminal justice professionals and partners with local authorities in different regions of the world to help victims of violence and abuse, bring criminals to justice and restore survivors.
The event's reception will begin at 6 p.m. and dinner at 7 p.m. Individual tickets are available starting at $300.
For more information or tickets, email events@ijm.com or call (703) 740-9923.
*
Head-shaving fundraiser to take place in Costa Mesa
The St. Baldrick's Foundation will hold its signature head-shaving event at The Harp Inn, 130 E. 17th St. in Costa Mesa, to raise funds and awareness for children's cancer research Sunday.
The foundation's goal is to raise $30,000. More than 25 participants have registered for the head-shaving event.
The event will also include raffles, live Irish music, face painting, food and drinks.
The St. Baldrick's Foundation is dedicated to supporting research to find cures for children fighting cancer.
The event begins at noon Sunday.