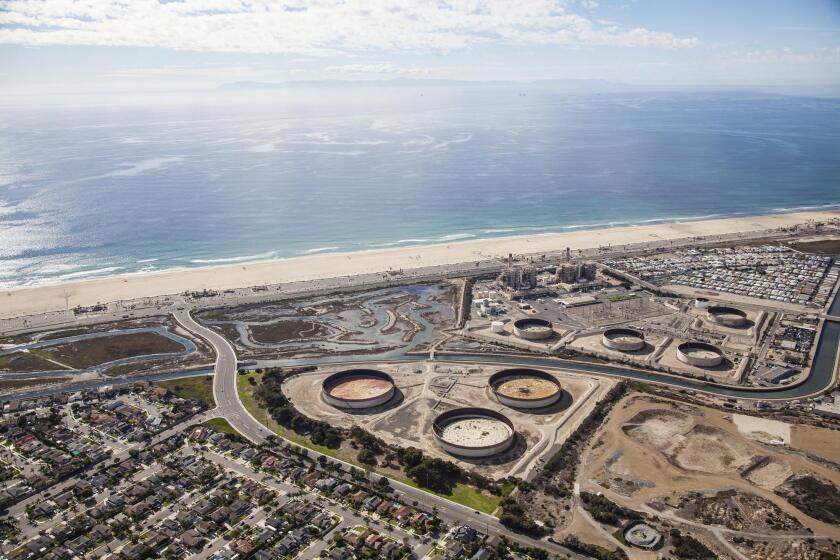 An Irvine-based real estate firm has acquired nearly 30 acres in Huntington Beach and intends to redevelop the property into a resort and commercial and residential offerings.
Shopoff Realty Investments acquired the 28.6-acre parcel near Magnolia Street and Banning Avenue for $26.5 million, the company said in a news release.
Bloomberg.com, which first reported the acquisition, said Shopoff is committing $500 million on new development for the site and has met with the Huntington Beach Wetlands Conservancy about the project.
Specifics of the plans were not disclosed.
The parcel, about 400 yards from the Huntington State Beach entrance, had been an oil storage tank farm and pumping facility. The site contains three 500,000-barrel tanks, which will be removed.
"The land parcel is in a phenomenal location with close proximity to the Pacific Ocean," William Shopoff, chief executive of Shopoff Realty Investments, said in a statement. "Redevelopment of a site like this is a challenge on many fronts but creates incredible opportunities, making it an ideal project for our unique team of value-add experts."
John Santry, Shopoff's executive vice president, added, "We believe that the replacement of this large industrial facility with a beautifully designed mixed-use development will better serve the community by providing improved aesthetics and services."
Other Shopoff projects have included Uptown Newport Village, a mixed-use development near John Wayne Airport in Newport Beach, and the Bayside Square office development in Corona del Mar.
---