Newport bans water jetpacks from harbor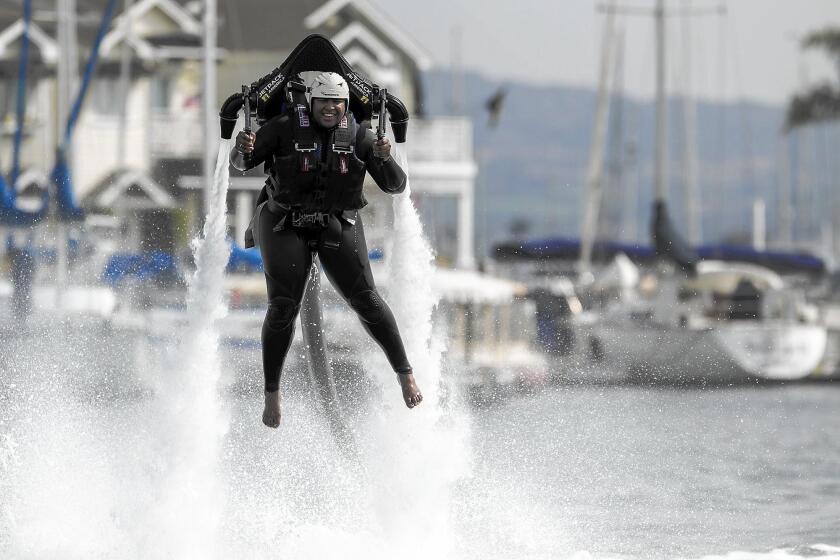 Three months after the city's lone water jetpack operator closed up shop at Newport Harbor, the Newport Beach City Council on Tuesday night barred businesses from operating the machinery in the harbor in the future.
Without discussion, the council voted 5-1 to approve the ban, with Mayor Kevin Muldoon dissenting. He did not explain his reasoning.
Mayor Pro Tem Marshall "Duffy" Duffield recused himself because he has business in the harbor.
The vote alters an ordinance, adopted in 2015, that permitted one water jetpack operator to use Newport Harbor on a year-to-year basis.
That business, Jetpack America, ended its Newport operation in November after its permit expired. It had been in the harbor since 2011.
Following Jetpack America's departure, city officials and the Harbor Commission suggested the council end the possibility of another operator coming in.
Jetpack America President Dean O'Malley said the company left because of the "very tight restrictions" Newport Beach placed on his business, which was allowed to provide water jetpack rides at the turning basin between Lido Marina Village and West Coast Highway.
Jetpack America, which has other locations in San Diego and Pahrump, Nev., also was limited to having one jetpack out at a time.
In 2014, the council enacted a six-month moratorium on water jetpack businesses following complaints that the activity was disruptive to homeowners, one of whom described it in a 2015 Daily Pilot article as "a cross between a vacuum cleaner and sometimes a jackhammer. It's like having a jet engine overhead eight hours a day, seven days a week."
The backpack-style jetpacks are strapped to the user and tethered to a boat. Bursts of water through the jetpack elevate the wearer, giving the sensation of flying.
Animal shelter contract extended
In other business Tuesday, the council extended its animal shelter contract by up to five years with Home Free Animal Sanctuary in Santa Ana Heights.
The facility, based at a home at 20302 Riverside Drive, will be paid $66,000 per year — up from $60,000 annually — with the possibility of the amount going up later.
For its money, Newport will lease a larger portion of the 1,432-square-foot home and surrounding property than it had been using. It will use two bedrooms, three parking spaces, an onsite kennel with dog runs, a separate 600-square-foot office, 27 cat cages and storage space.
The new agreement starts March 1.
City officials said they want to take a more active role in managing the shelter by hiring another animal-control officer and some part-time officers. The staffing additions are expected to cost the city $317,927 annually, up from the $190,275 cost of existing staff.
The new staff, however, may not come until the city's next budget is approved.
Home Free has provided Newport with animal services since November 2015, after the city stopped using the Orange County Humane Society, based in Huntington Beach. City officials contended the level of care at the society's facility was insufficient.
According to a city staff report, Newport's animal-control officers said they witnessed Humane Society staff "leaving the animals wet for several days," housing animals in a building without ventilation or sunlight and not regularly cleaning food and water bowls, among other allegations.
Twitter: @BradleyZint
---