Newport Coast estate on market for $55 million could set O.C. sale record
A 12.5-acre Newport Coast estate is on the market for $55 million — a figure that would break both the Newport Beach and Orange County records for home sale price.
The property at 1 Pelican Hill Road North overlooks the Pacific Ocean and The Resort at Pelican Hill. It is Newport's largest private-home parcel.
The gated estate features an approximately 18,000-square-foot, three-story mansion and a separate two-story pavilion. It has eight bedrooms, 17 bathrooms, a 17-car garage, gardens, a private lake, indoor and outdoor pools, a tennis court, vineyards and a horse stable.
Real estate agent John McMonigle headed a partnership that began working on the estate, formerly dubbed Villa del Lago, in 2003, according to the Wall Street Journal.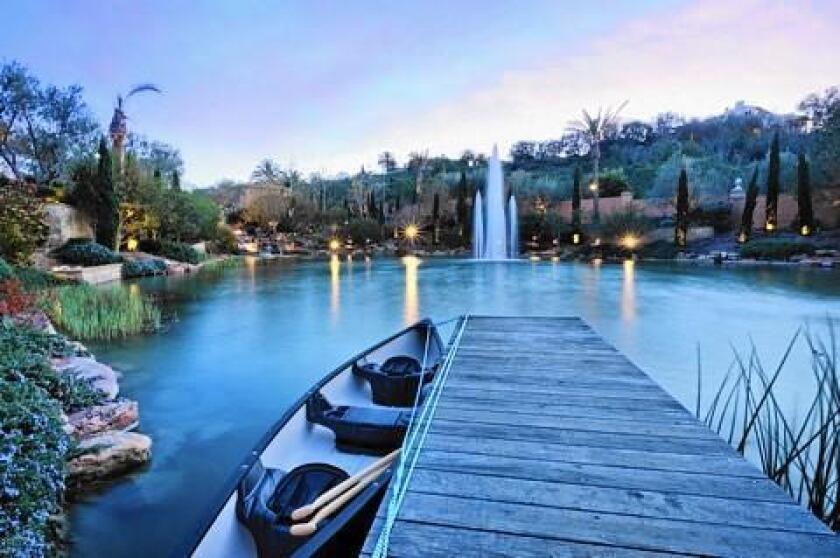 Amid financing troubles, the project was sold unfinished at auction in 2012 to Toshiaki Ogasawara, an industrialist and publisher of the Japan Times, for $18.5 million — far below its once sky-high $87-million asking price, according to the Orange County Register.
Ogasawara, also a trustee for USC, finished the home and made some modifications to it. He died Nov. 30 at age 85.
The listing broker is now John Stanaland of HOM Sotheby's International Realty.
Newport Beach's record home sale price is $35 million in 2008 for a property once owned by actor Nicolas Cage at 2692 Bayshore Drive, according to Arbor Real Estate, based in Newport Beach.
In January, an eight-bedroom, 12-bathroom mansion at 8 Mystique in Crystal Cove sold for $28 million, breaking the city record for most expensive home not on the ocean or harbor.
Countywide, the record is $45 million for the Twin Points property in Laguna Beach. The home there, which sold last year, is relatively modest — a three-bedroom cottage and guest house — but the 2.3-acre property at 1101 Marine Drive has two landscaped headlands stretching toward the Pacific.
For more information about 1 Pelican Hill Road North, visit JohnStanaland.com.
Twitter: @BradleyZint
---