Mural's message to O.C. jail inmates: You are loved
Towering over the pews of the chapel at the Orange County Central Men's Jail are words rarely spoken in a correctional facility: You are loved.
The phrase, painted in bright blue, purple and turquoise letters, is the centerpiece of a new 10-by-32-foot mural created last week that is designed to uplift and provide hope for some 1,200 male inmates.
"They are loved, whether it's by their family at home or the deity they worship," William Baker, captain at the Men's Jail, said. "It's important for them to remember that because they're not told that often while they're sitting in their cells."
Baker said the mural was part of a broader plan to refurbish the jail chapel, which for decades had been "dreary, kind of dark and not an uplifting place to be in."
But making the environment more soothing could help in the inmates' rehabilitation.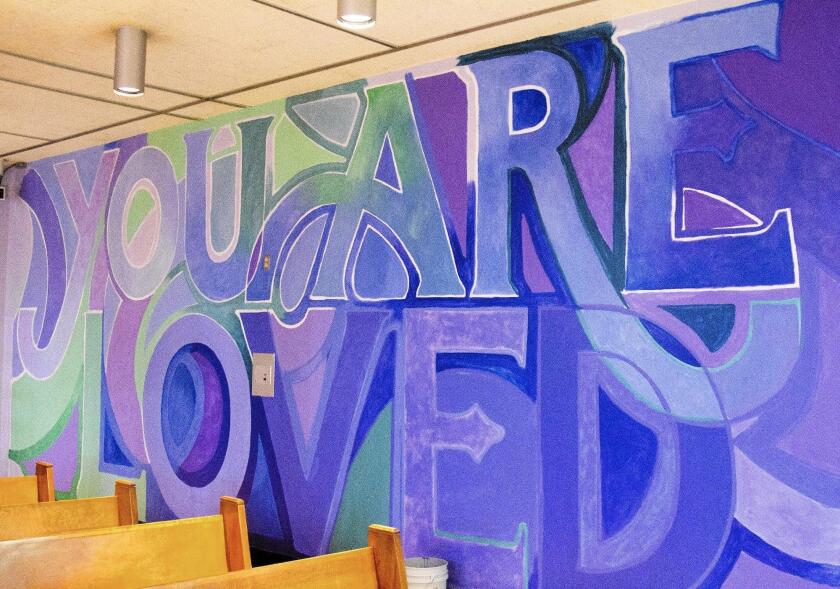 "We want to make sure they're in a better place than when they came in," said Geoff Henderson, programs and services manager for the Orange County Sheriff's Department. "Having an opportunity to grow is a part of public safety and them becoming responsible community members."
Working with the Christian Science Committee on Institutional Work in Orange County, which provides volunteer chaplains to the jail and also raised the funds for the mural, the jail brought in Alex Cook, a Boston muralist.
In 2014, Cook began the "You Are Loved" project when he was tasked with creating a mural for an elementary school in New Orleans designed to make students feel safe.
"I had this idea of, 'Why are we trying to be subtle or indirect or beat around the bush about what we want to make these children feel?'" said Cook, who has painted 110 murals worldwide. "Why don't we just be as direct as we can be?"
So Cook incorporated the words "you are loved" into his artwork and from there developed an entire project around boldly painting words of affirmation in public spaces. In addition to "you are loved," he also paints, "you are needed," "you are important," "you are beautiful" and "you can do it."
"Looking at the times I was most at risk, or at my lowest point, I thought if someone had whispered something in my ear that would have been helpful, what would it have been?" he said.
Since then, Cook has painted 17 "You Are Loved" murals across the country for churches, community centers and schools. The Orange County Central Jail Complex is his second correctional institution.
Cook is no stranger to jails. A former volunteer prison chaplain, he spent seven years ministering to inmates in Boston and said that his artwork in Santa Ana is in many ways an extension of this work.
"I found that so many people were longing to be supported in recognizing their own value, seeing their own ability to be forgiven and not being defined by the mistakes they've made," he said. "So this project just seemed like an obvious fit."
Cook began sketching the mural Sept.20 on a 10-by-32-foot wall in the jail's chapel. On the two following days, six inmates who are part of the jail's painting crew joined him in coloring in the words.
"They were excited to participate in something that's not the usual day in, day out activities," Cook said. "Some of them are artistic guys who don't normally have an opportunity to be creative."
Sandy Haase, a chaplain's assistant at the jail, said the mural's message fits well with the work she does.
"Some people come to chapel never having heard the words, 'I love you,' before," she said. "And until you understand that you have worth and value, you don't have a foundation to build on."
"Someone can tell you, 'I love you' and you'll hear it once, but on a wall, you'll see it constantly. I think it will help change people and get them to think more deeply about what they have to give."
---