Much like bubbles fizzing upward after cracking open a can of soda, Glendale High student Jamie Fritz and Crescenta Valley High student Solomon Kim are rising to the top.
Fritz and Kim were the only area students selected as Coca-Cola Scholars Foundation semifinalists late last month in a national competition with challenging odds but a high payout.
Fritz and Kim were two of 1,928 students selected from 93,000 entries. Both have a new round of applications to turn in by Jan. 8 before the field will be narrowed to 250 regional finalists in late January.
From there, 150 winners will be selected as Coca-Cola scholars, a distinction that comes with a $20,000 scholarship and a trip to Coke's headquarters in Atlanta, Ga., for a Scholars Weekend in April.
Elaina Marriott, a graduate of Crescenta Valley High, won the prize in 2018, while Amira Chowdhury, a graduate of Hoover High, earned the honor in 2017 as part of her prolific $100,000-plus scholarship campaign.
"My counselor came into my class and announced it and told me, and I was in shock," Fritz said. "I could not believe it. I don't know. I really wanted to move on, but I wasn't expecting it because of the stiff competition."
Fritz has enjoyed a successful run at Glendale High over the past two years that includes her athletic accomplishments as a two-time Pacific League girls' water polo first-team selection.
Regarding her charity work, she is a member of the Glendale Assisteens, a nonprofit organization, while her high school Adopt-A-Family Club has raised around $3,500 the past two years to purchase gifts for holiday youngsters from the Los Angeles County Department of Children and Families.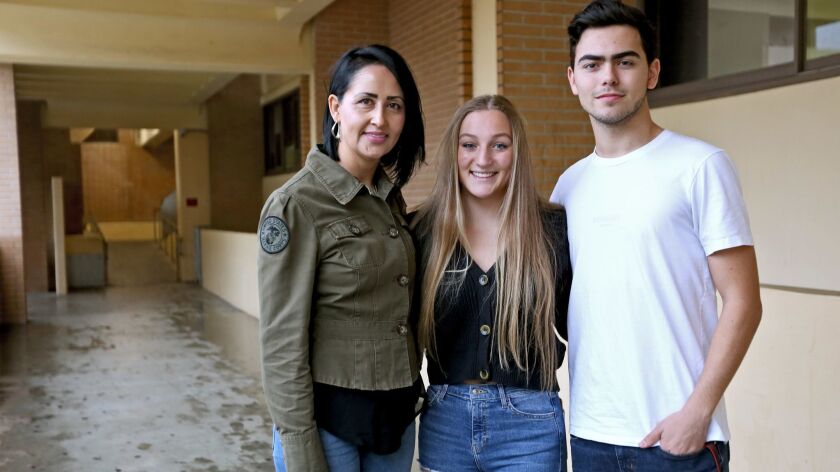 The club's most recent campaign ends Friday.
"I'm proud to represent not just myself but my wonderful school because you can have a great education at Glendale and Hoover high schools," Fritz said. "I'm proud to be graduating from Glendale High."
A potential Coke scholarship has extra meaning for Fritz, who said her No. 1 college choice is the University of British Columbia in Canada, which eliminates several funding sources.
"A lot of scholarships out there are for American-only schools," said Fritz, who wants to study nursing and public health advocacy. "Coke is an international scholarship, so that helps."
Kim has been a vocal advocate for several causes, including when he and a group of athletes unsuccessfully lobbied the Glendale Unified board of education to not move back the start of the school calendar deeper into August two years ago.
Also, Kim has been a key member of the off-campus group called Hospital Heroes, which recently completed a fundraiser for Children's Hospital Los Angeles.
Kim's principal, Linda Junge, said she thinks social work has been instrumental in the successes of Kim and her other students at Crescenta Valley High, which mandates a minimum of 100 community service hours prior to graduation.
"This expectation is reinforced in the wider community, with so many service- and faith-groups involving, mentoring and supporting youth in service opportunities and projects," Junge said.
"This becomes an approach to life, and a way that kids see the world — looking for needs, believing that they can make a difference, and then taking action to do what they can," she added.
---