Hoag and Capistrano Unified School District tackle vaping in second panel of teen wellness series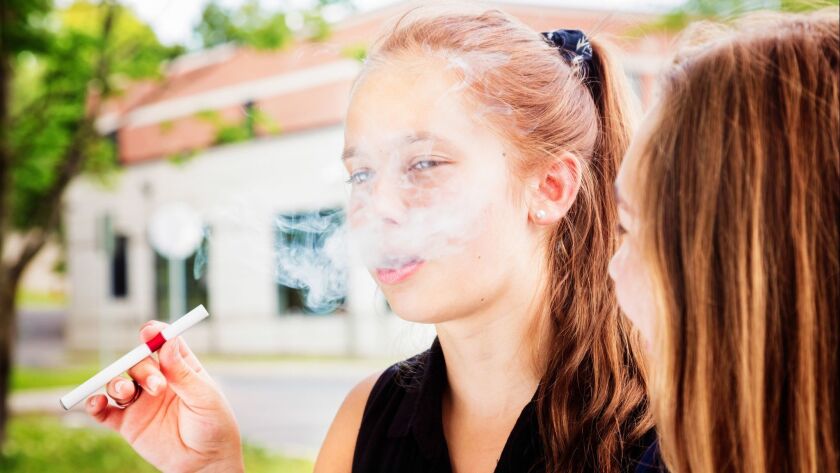 Lung damage related to vaping and smoking e-cigarettes has become so prevalent, the Centers for Disease Control and Prevention has come up with a name and acronym to define the problem.
"E-cigarette or vaping product use-associated lung injury," or EVALI, refers to symptoms including shortness of breath, coughing, nausea, hazy spots on lung X-rays and night sweats.
As of early October, 49 states have reported a total of 1,299 cases of EVALI to the Centers for Disease Control, with 26 deaths reported in 21 states.
Of the patients diagnosed, 15% were under age 18 and as young as 13.
That under-18 age group was the focus of a Nov. 13 presentation at Aliso Niguel High School called Identifying Substance Abuse Disorders and Vaping.
The presentation was the second in a series of community lecture events being conducted through a partnership between Hoag and the Capistrano Unified School District titled, "Helping Teens and Families Navigate Mental Health and Wellness." The first, dedicated to gaming addiction, social media and mental wellness, was held in September.
Led by Dr. Steven Ey, chief of service at the Hoag Addiction Treatment Center, the panel about addiction attracted parents of high school students and administrators from the Capistrano Unified School District.
Slide after slide, displayed on a large screen, listed startling statistics.
By senior year, 70% of high schools students will have tried alcohol, 50% will have tried an illegal drug, 40% will have smoked an e-cigarette and 20% will try a prescription drug for a non-medical purpose.
"So we've got a huge problem, and very few adolescents receive treatment even though it's available," Ey said.
He also explained that more high school students use e-cigarettes than regular cigarettes, and the use of e-cigarettes is higher among high school students than adults.
Vaping is also becoming the preferred method of using marijuana, according to a 2018 study conducted by the National Institute on Drug Abuse at the National Institute of Health.
The same study revealed that 80% of adolescents who vape used flavored products, which make vaping that much more appealing.
And since the use of vaping products is legal, along with the use of marijuana, the perception of risk is lower.
"The assumption that e-cigarettes don't cause cancer isn't true," he said.
Dr. Sina Safahieh, a child and adolescent psychiatrist and director of Hoag's mental health program for teenagers, ASPIRE, said nicotine is "the most addictive substance on the planet."
"Some kids just can't stop," Safahieh said. "They are literally addicted and sometimes have to be sent off to different treatment programs, just so they can get away [from] not only the nicotine itself but the temptation to use."
The district has seen a "dramatic increase in suspensions," in response to the use of vaping devices on campus, District Superintendent Kirsten Vital said, and they are also considering the installation of electronic vaping detectors in bathrooms.
The panel recommended two websites for information on the vaping epidemic: vapeoutbreak.com and flavorshookkids.com
"The bridge between mental health and schools has to start happening now," Prerna Rao, a marriage and family therapist and clinical program manager at ASPIRE, said.
"What I see as success is that we break the stigma of mental health and chemical dependency. A lot of parents don't want to acknowledge that their kids are suffering from a mental health condition. We have to start [realizing] that your mind and body are not separated."
The next discussion, "Self-Harm and Suicide" will be at 6 p.m. on Feb. 26 at Capistrano Valley High School.
---
All the latest on Orange County from Orange County.
Get our free TimesOC newsletter.
You may occasionally receive promotional content from the Daily Pilot.